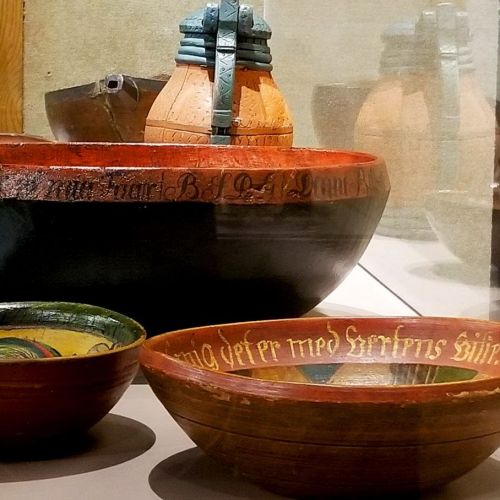 When I was first introduced to the traditional spirit of my ancestors, Akvavit (or aquavit), I never thought I'd ever find myself standing next to a giant "Viking" ship while comparing different brands of the "water of life" but there I was, on a Tuesday night at the Hjemkomst Center in Moorhead for the opening reception of "Skål! Scandinavian Spirits".
The exhibit is presented by the Historical and Cultural society of Clay County and is currently running through October 8th at the Hjemkomst Center, which is also the home of its namesake Viking ship, a sight every local or visitor to the area should experience at least once. On this particular night, we were guided through the exhibit by curator Tova Brandt, who explained that while the project began as a Danish spirits exhibit the idea was quickly realized that it should be about the shared cultural traditions of Denmark, Sweden and Norway and thus, "Skål! Scandinavian Spirits" born. It is an exploration of the rich culture behind the survival of a single but powerful word that has somehow survived a century of migration to a new country while the vast majority of the rest of the language has disappeared.
One of the first panels of the exhibit mentions the legend of Odin transforming himself into an eagle and flying over the pots containing the recent grain harvests. After he sprinkles the pots with a magic dust (wild yeast) it rains and shortly after, the gift of beer arrives, as if by magic. There are many other such legends and songs that bring to life the depth of which traditional and regional spirits of Scandinavian people were a part of both daily life as well as special celebrations. The combination of the artifacts displayed in the exhibit cases included both small simple single family sized drinking bowls and somewhat ornate larger vessels inscribed or engraved with wedding poems or told this story well. The fact that such large and often fragile items were transported across long journeys to this country does a lot to state how dear and important these non-essential items were to the Scandinavians who migrated to America.
As you continue through the exhibit, you will find some of the stories of early distillation of aquavit, a heritage spirit made from grain and potatoes and seasoned with caraway and dill, as well as other botanicals and spices, depending on availability. Alongside some information about aquavit history you will find a variety of brands of aquavit, including those available nationwide and regionally, including Fargo's own version by Proof Artisan Distillers. The exhibit also does not neglect to mention both European and American attempts at prohibition and in some ways connects the dots between both industrialization and the efforts to either temper or remove the influence of alcohol on Scandinavian culture to the near disappearance of aquavit in the States. It wasn't more than a decade ago that it was all but impossible to find a bottle of aquavit on your local liquor shelves. Today, the growth of the craft spirits industry has brought it back in a big way, with little pockets of production coming to life across the country. It isn't at all surprising that many of the distilleries delving into the production of this dill and/or caraway infused spirit, like Tattersall in Minneapolis or Fargo's distillery, Proof, are located amongst populations known for Scandinavian heritage.
Though we don't see a whole lot of Scandinavian beer in our local market, the exhibit does display some beer bottles promo materials from worldwide brands like the Danish breweries Carlsberg and Tuborg. This is most likely because while aquavit moved away from homemade production to commercial availability, beer brewing remained very much a homemade beverage, with many Norwegian families still holding on to a yeast log that was handed down from generation to generation. This practice of saving and keeping alive the Kveik (farmhouse yeast) on a paddle used to stir the beer, mixed with flour into a flat cake, or saved wet in a bottle was still going so strong that all across Norway you could find ancient yeasts used for homebrewing or baking until just a few years ago.
Even though many of the traditions and tales regarding Scandinavian drinking culture have fallen by the wayside and need to be relearned or revisited through exhibits and displays such as this, the traditional drinking toast of "Skål!" or "Skol!" is still shouted boisterously and proudly every time our regional favorite purple and gold football warriors take the field and almost always with a nice cold beer or cocktail in hand. I encourage you to dig deeper into the history of this word, its multiple meanings, and its connections to the Scandinavian cultures of celebration, family and storytelling. "Skål! Scandinavian Spirits: The heritage of beer and aquavit through stories, traditions, and recipes" is the perfect opportunity to do just that and runs through October 8th.