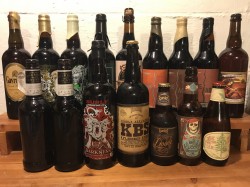 Dipping into your cellar to pull out a special bottle is something that used to be fairly exclusive, wine connoisseurs only. These days, cellaring is gaining more and more traction among hardcore craft beer consumers, who continue to revolutionize the industry.
If you are of the belief that every self-respecting beer nerd should have a few beers stored and aging in a cool, dark location at home, then you will certainly be excited about a special re-release from Surly Brewing company. I found it exciting enough to dip into my own cellar and pull out some bottles I had been aging, including the special re-release.
Leading up to this year's Darkness Days, Surly Brewing Company has dropped a small allocation of their 2016 Darkness, an annual high-alcohol Russian Imperial Stout that is always loaded with huge chocolate and roast flavors but is nuanced differently every year.
When I first tried this 10.3% abv beer when it was released last October, the first thing to hit me was chocolate and roast but it was immediately followed by a huge blast of alcohol. I also remember it pouring a rather large head that seemed somewhat over-carbonated. I immediately noticed that cellaring really did a lot to this beer, in my opinion, starting with the more reasonable head and subdued carbonation.
The alcohol also fades dangerously into the background and the burnt toffee, tobacco, cherry, and even hints of orange are pulled forward to play with the strong notes of bitter chocolate and roasted malt and coffee. The body also seemed to thin out a bit but it still comes across as fairly creamy for such a bitter, no lactose, no oat stout.
To me, when cellared for a year it seems to come even more in balance; and in my opinion, the only thing that could make this beer better is a bourbon barrel. I am now even more excited, so much so that I am currently cellaring the loan barrel aged Darkness I purchased this year.
Since I was already thinning out my cellar, I decided to reach for a 2016 Merry Christmas and Happy New Year by Anchor Brewing of San Francisco. This is always one of my favorite winter warmers and the 2016 is the first one I have ever cellared.
Even after spending 10 months in my cellar, it still delivered an abundance of toasty blend of roasted malts, chocolate, spices and dried fruit like raisin and prune with slight hints of pine. I remember the pine being a bit more present when poured fresh, but the spices now come through more in a way that somewhat resembles a Mexican spice cake. At 6.5% abv this is a cellar selection that you don't need to share or sip super slowly.
While I was depleting my resources, I decided it was also a great time to pop open one of my favorite beers that, in my opinion, is only slightly cellarable. While I do love Founders KBS, a bourbon barrel-aged stout that is released every March, something about the beer doesn't really hold up that well in a cellar.
Throughout the last couple of years I have been experimenting with aging this brew and personally enjoy it most either fresh or after six to eight months age -- so I'd better drink it before it goes bad, right?
Full of charred oak, chocolate and roasted coffee, when aged for this amount of time, the booziness of the whiskey barrel fades considerably; which again means you must remind yourself that it is 11.8% abv and not just a delicious chocolate and whiskey-flavored treat, which it very much also is.
Finally, I finished off my weekend cellar adventure by sailing the seas of beer to Colorado's Odell Brewing with their Jolly Russian as my captain. This huge Russian Imperial Stout delivers a whole bunch of yo ho ho and a barrel of rum that fired a warning shot across the bow.
When the first sip slid down my throat and was followed by a warming that started in my belly, I had to grab the bottle and check the abv to be reminded that it clocks in at a whopping 13.3% abv.
Cocoa and roasted coffee is rounded out well by just the right amount of rum barrel flavors like vanilla and spiced molasses. Hints of botanical hops and dark fruit notes come into play in the finish which also sees the return of the wood and booze from the rum barrel.
I hope you enjoyed following my weekend adventure into my beer cellar and I encourage you to find some beers to age at home in a dry, dark location that is temperature-controlled to be consistent, if not cooled.
Perhaps our next cellar adventure will be all about sours, but until then, cheers to good beer!