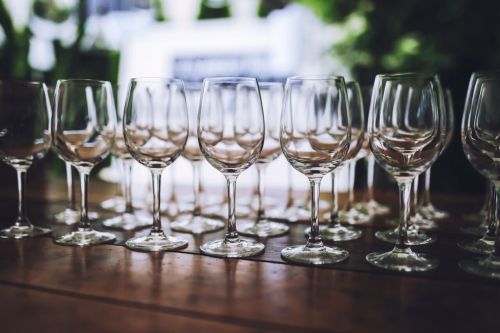 I consider myself an avid wine drinker, but I recently found out there are more than 10,000 varieties of grapes, and about 1,500 of those are used to make commercial wines. I don't know about you, but I could probably name about 50 before I exhausted my list (and I think that's pretty good). Looks like I have some studying (read: drinking) to do. Ever heard of Grand Noir de la Calmette? Me either. How about Magaratch Ruby? Yeah, didn't think so. And frankly, even if you had, you'd be hard pressed to find a lot of those varietals outside of certain geographic areas. But today, I'm going to introduce you to five varietals you may not have heard of and should check out immediately.
Piquepoul or Picpoul Blanc (peek-pool blahnk)
This is one of the oldest varietals in France and is primarily found in the Languedoc region, but is also grown in the United States, albeit sparingly. It's a highly acidic grape, with delicious minerality. Literally translated into English, it means "lip stinger" because of it's zippy composition and it goes incredibly well with fish and shellfish, specifically oysters.
If you love: Sauvignon Blanc or other bright and zesty white wines, pick this one up.
My pick: Domaine Delsol Picpoul de Pinet, $12.99
Hondarrabi Zuri (ohnda-rahbi zurr-ee)
Hondarrabi Zuri is a unique varietal grown in the Basque region of Spain (that's the northern coast for you geography junkies). The wine is also sometimes known at Txakolina (pronounced chock-oh-leen-uh), but that's actually the region and not the grape. This is an unusual grape with an insane amount of acidity. In fact, it's so acidic that sometimes there's a natural effervescence to the wine. The color is pale, yellow with green hues and fresh fruit aromas. It is dry and a peppered with minerals with twists of pear and citrus flavors, hints of herbs and a round fresh mouthfeel. Pair this Spanish gem with shellfish, oysters, fish, white meats, pickled vegetables and fresh cheeses.
In a white wine rut? Run to the liquor store and get this right now!
My pick: Ernio Txakolina, $13.99
Vermentino (vurr-men-tee-noh)
Vermentino is a massively underrated varietal and one that I am shamelessly obsessed with right now. I'm a Sauvignon Blanc HOUND, and this has all my favorite things about SB, but with a little bit more nuance and finesse. It's dry and crisp, but with bright stone fruit aromas like white peaches and refreshing citrus and orchard fruit flavors like grapefruit and pear. Sometimes it has a herby, floral twist to it with a smattering of honey. Plus, this wine complements everything from fresh, soft cheeses to grilled fish and seafood and a variety of lighter meat dishes.
If you love: A super lively Sauvignon Blanc, Albarino or Semillon, you will adore Vermentino.
My pick: Petraio Vermentino, $12.99
Dornfelder (dorn-fell-dehr)
It's kind of shocking that Dornfelder is the second most widely planted grape in all of Germany, but rarely makes an appearance on American wine lists. This wine varietal is a cross of two other German varietals and didn't even make its way onto the wine scene until the late 1970's. Dornfelder is a deep red color, medium-bodied with a very fruity and smooth taste of black fruit and hints of blackberry jam. The finish is sweet and refreshing. Make sure to serve this wine slightly chilled and serve it with light pastas or spicy cuisine.
If you love: Off-dry rieslings or pinot noirs, try this next time.
My pick: Sun Garden Dornfelder, $12.99
Nero d'Avola (nair-oh davo-la)
Nero d'Avola is well known in the wine world, but it's finally coming into its own with everyday wine drinkers as well. It hails from Sicily, the mysterious little island off the toe of Italy's boot. All anyone knows about Sicily is that the oldest Golden Girl, Sophia, is from there (and she makes killer pasta) and that Mafia's got its start in Palermo (the capital). However, Sicily is so much more than pasta and murder. Nero d'Avola is the flagship grape of Sicily and VERY important to their culture. It's an aromatic varietal with cherry and red berry flavors and hints of spice. Dry and medium-bodied with smooth tannins and gentle acidity, it pairs well with lots of Italian classics, but it's especially yummy with grilled foods and mature cheeses.
If you love: A big, fat cabernet or a jammy syrah, this little-known gem is going to be right up your alley.
My pick: Oynos Nero d'Avola Merlot, $14.99