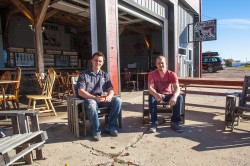 The brothers behind Junkyard Brewing Company in Moorhead are the type of guys who initiate handshakes. They are the type of guys who, rather than shrugging off compliments, say thank you. They are the type of guys who like to know where their customers are traveling from, how they heard of their brewery and who they know in common.
Aaron and Dan Juhnke, ages 25 and 22, are the co-founders of a local nanobrewery, which incorporated in 2012, started distributing kegs in summer 2013 and began serving growlers, which are 64-ounce refillers, in early fall 2013.
A nanobrewery is a brewery with a brew kettle no greater than three barrels, which holds 93 gallons. Junkyard's brew kettle, which was made by the brothers, holds 50 gallons.
Courtesy of River Cities Distributing, Junkyard's beer is distributed between Grand Forks, N.D. and Detroit Lakes, Minn. The guys also sell growlers from the brewery on Wednesdays and Fridays between 4 and 7 p.m.
The work
The brewery is housed in a small leased room on First Avenue in Moorhead. The brothers did most of the remodeling themselves and built most of their equipment, including a keg washer and a chilling system, which senses when the temperature of the fermentor, the apparatus where fermentation can occur, is too high and switches on a pump in order to lower the temperature. Both Aaron and Dan Juhnke have a background in construction, where they still work part-time because they are not at a point where they can pay themselves from Junkyard's profits.
Dan Juhnke was recently offered a position in the field of zoology, wildlife and fisheries, which he received a degree in, but turned the job down after a week of deciding.
"Starting my own company and being my own boss sounds way more appealing," Dan Juhnke says.
The guys are young -- and they noticeably choose to say they are turning 26 in April and 23 in July when asked their ages -- but they have established a mutual understanding that they are in this for the long-run.
"A lot of people think you should get established before taking big risks," the brothers' father, Neil Juhnke, says.
"You have a lot to lose once you're established."
Aaron Juhnke created the brewery's website and leads the graphic design. Dan Juhnke led the initial licensing process and typically orders the brewery's supplies. They don't have employees, but they do collaborate with local businesses and artists for tasks such as constructing promotional materials, like t-shirts and glasses, which the brothers design themselves. Both the brothers brew.
"You have to have really good time-management," Dan Juhnke explains.
During brewing hours, the brewery looks as one may expect: sanitary, but not tidy. Their brew often overflows their self-built, four-foot high brew kettle, which causes the brothers to wish they had built a larger kettle. Aaron Juhnke says they typically pour 50 gallons in the kettle; and when the brew boils, its volume increases by five gallons. When the brew cools down, it has dropped to 45 gallons, demonstrating how much beer has boiled over in the process.
"A lot of brewers say if you love washing dishes, you'll love brewing beer," Aaron Juhnke jokes.
He adds if someone was to come in during brewing hours they would think "no one is ever going to come in here and buy stuff from these people."
But during growlers hours, when the place is not in such a chaotic state, it is clear that many people do come in to buy -- sometimes merchandise, almost always growlers - including a selection of both light and dark beers.
"Even if you are the type of person who likes mashed potatoes a lot, you are going to want a steak from time to time," Aaron Juhnke says.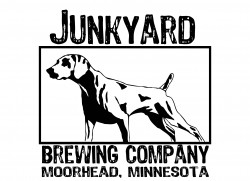 The history
The brothers' close friend Nate Haugen, whose thrifty nature was the inspiration for the name of one of Junkyard's first beers, says the brothers are very science-minded, and this comes across in the way they interact with their customers. He says the brothers like to converse about the science behind brewing: "They like diving into conversations about why it works or how it works."
Their tactics seem to be working: customers hang around sipping beer samples, sometimes engaging in conversation with the brothers, sometimes only casually observing the activity around them.
Occasionally, the brothers are asked how they got into brewing or how Junkyard was formed.
Aaron Juhnke says it was during college that he first considered, and began brewing, after his rugby team got together to watch a rugby game, and each member was asked to contribute beer.
"I didn't want to be the idiot who brought Bud Light," Aaron Juhnke jokes.
So he brought Guinness Extra Stout and realized, while he liked flavorful beer, it was expensive.
Around the same time, Aaron Juhnke recalled a memory of his grandfather saying he used to homebrew. Aaron Juhnke decided to experiment, realized he enjoyed the process, the results and dreamed of opening a microbrewery.
"I'm usually pretty ambitious when I get an idea," Aaron Juhnke says, "and try to just follow through with it and make it work."
After failing to secure investments, Aaron Juhnke decided to scale down his idea and work towards establishing a nanobrewery instead.
Dan Juhnke was the only one Aaron Juhnke asked who was willing to fully commit, so the brothers pooled together their savings -- they did not take out any loans -- and established Junkyard Brewing Company.
"Once they get it into their mind that they want something done, they figure out a way to do it," Haugen says.
The brothers
Aaron Juhnke's wife, Michelle Juhnke, describes the Juhnke blood as bold with a readiness to take charge.
The brothers acknowledge their similarities -- predominantly ambition and the drive to succeed -- but both agreethey may be more different than they are similar.
At events, Aaron Juhnke says he will talk to everyone briefly and his brother will talk to three people intensely. Dan Juhnke refutes and says he talks to more people than that.
The brothers' differences extend beyond who is more extroverted and who is more introverted. They also differ in the way they approach their work.
"I usually don't have a real good idea of how (something is) going to turn out, but I just want to get started," Aaron Juhnke says. "It usually works out."
"Dan is more so the type of person who wants to plan something really well before he does it," he adds. "It's really valuable for me to have Dan around because he's a good check on my sometimes wild ambition."
And they both have different ideas about their favorite aspects of working with family:
"Listening to Aaron's jokes," Dan Juhnke says with a straight face.
"The comfort of being with family," Aaron Juhnke chimes in.
"That's a good one," Dan Juhnke says and thinks.
"Realizing that each one of us has separate skill sets," he adds with the hint of a smile.
The two are the type of guys who do not take themselves too seriously.
"I think when you're dealing with family, you let loose a lot more," Aaron Juhnke says. "But you also tolerate more."
Dan Juhnke says there are certain things he wants to do with the brewery that his brother is skeptical of and vice versa. But, Aaron Juhnke explains, if one pushes for something enough -- like the chilling system Dan Juhnke argued for -- the other will eventually give in.
"You're a lot less likely to split the business over something little," Aaron Juhnke says.
The future
The brothers will be opening a taproom a block away from their current brewery this summer, an obvious next step Aaron Juhnke says. The transition will not only eventually allow the two to pay themselves and any employees they may later hire, but will also allow them to be more experimental with their beers.
The taproom will have a "warehouse" or a "worn barnhouse" feel, Aaron Juhnke explains. He envisions the room having timber frames, galvanized steel wall coverings and two overhead doors that will lead to an open patio during summer time. He said this feel makes sense with how the building is constructed right now, but it also fits the style of their brewery.
It is clear these guys do not plan on slowing down.
"We hope to be one of the top breweries in Minnesota," Dan Juhnke says.
The young brewers are in this for the long-run.