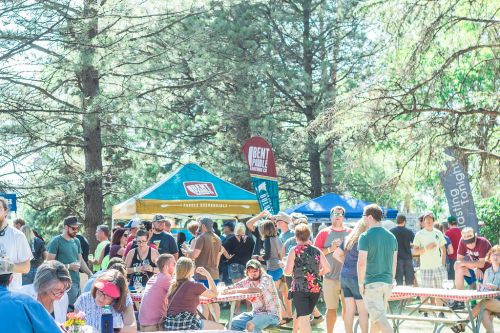 Once a year, fans of beer in the FM area have access to what their heart desires... bragging rights. The Rare Beer Picnic grants beer aficionados the ability to taste whatever their heart desires from their favorite beer categories. With 15 breweries from the region sampling their best "rare" beer there is something for every beer zealot.
In its fourth year the Rare Beer Picnic defines rare beer as aged, soured and infused. Look for tasty treats from local breweries, but also from those across the state and down the road from as far away as Rochester, MN. The local breweries include, Junkyard, Fargo Brewing Company, and Drekker. Those from out of the area include: Bent Paddle Brewing, Barrel Theory Brewing, Bemidji Brewing Company, Lupulin Brewing, Surly Brewing, Modist Brewing, Forager Brewing, Blackstack Brewing, and Talking Waters Brewing. Each brewery will bring their best for tasting.
I'm personally excited about a lot of the beers on this list. While Junkyard leads in experimentation and implementation of creative ideas in the FM area, some of the beers listed by the other local breweries could rival the innovative style that we have become used to tasting on first avenue.
Fargo Brewing specifically is intriguing me with their Campfire beer. People really loved it at Under Brew Skies, and it's guaranteed to be a beer connoisseurs favorite. The brew is a Caramel S'more porter which includes peanut butter, caramel, graham cracker and marshmallow. This decadent delight is perfect for the coming fall, and the campfires that we will all enjoy.
Forager Brewing out of Rochester is presenting an interesting showing, and one in particular the "Pudding Dribbles" is making my mouth water just reading about it. It is an Imperial Pastry Porter brewed with maple sap, conditioned on Maple Syrup, coffee, cinnamon, coconut, cacao nib and vanilla bean. I am amazed by the amount of vanilla in this years showing.
Modist Brewing is also presenting a vanilla heavy brew with their Wood fermented Raspberry Passion Fruit Sour which has been Fully fermented and conditioned atop red raspberries, passion fruit and Vanilla in our oak egg foedor(food-er). I love Modist's cold press coffee lager, and almost everything they make is beautiful. Including their brewery just blocks from Target Field in the heart of Minneapolis.
Lupulin Brewing has an interesting entry with their Operation CoHoperation-Odd13-Collaberation that they produced with Odd13 brewing out of Lafayette, Colorado. According to the organizers Lupulin has a deep love for Odd13 and it was a dream to work with them. They will be presenting the product of this love.
Bent Paddle's list of ingredients in their Tea Break Blonde have me swooning. It's a Belgian blonde ale comprised of green tea and lemon zest. While it sits at 6.0% The ingredients have me thinking refreshing, complicated and a bit zippy. A must taste.
Junkyard will be presenting the most beers on Saturday with a list of 8 beers. Most notably a 6.8% version of their Shake-o-matic comprised of Strawberry, Pineapple, and Peach. Produced with 1000 pounds of fruit puree and aged on real vanilla beans with lactose added for a creamy mouthfeel. Like Lupulin they also have a cooperative brew with Brett from Drastic Measures Brewing out of Wadena, MN. The beer is a German Hopped IPA code-named "Lederhazen."
Join the fun on Saturday at the park directly behind the old Usher's House location. Tacos will be provided by Rustica and will be included in the price of the ticket. Other sponsors include the HPR, Junkyard Brewing, 99 bottles, and The Rourke. A majority of proceeds will be given to The Rourke for their continuing support this year. Tickets are 38 dollars and can be purchased exclusively on Eventbrite.com
"Drinking games" will be hosted by 99 bottles along with prizes. Also the cultural and historical society will be bringing traditional drinking games for participants to enjoy while sipping on their lovely beverages.
The forecast for Saturday is 83 degrees and sunny, perfect beer drinking weather. Whether you like sours or stouts. Get your ass out to the Rare Beer Picnic and have an amazing afternoon! Let's all eat, drink and be merry!
IF YOU GO:
4th Annual Rare Beer Picnic
Saturday, July 21, 4 p.m.- 8 p.m.
W.H. Davy Memorial Park, 1st Avenue N. and 8th Street, N., Moorhead