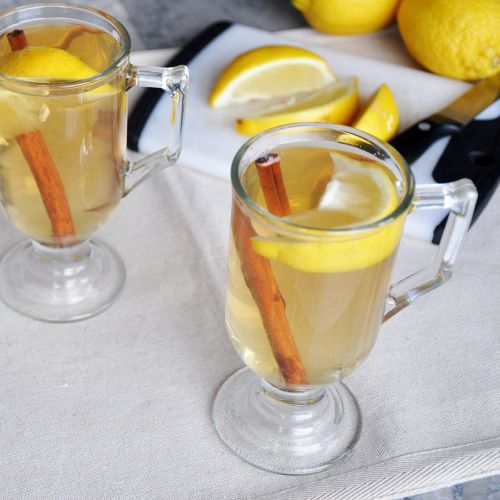 by Ben Myhre
benmyhre35@gmail.com
Fall is once again upon us. The leaves are turning, gardens have been pulled, and Summer's heat has waned into Autumnal frosts. Along with the change of seasons comes a change of seasonal flavors. One cocktail that comes to mind as the temperatures cool is the Hot Toddy. Today I am going to share my recipe for a classic Hot Toddy and also give you some of the interesting historical details of this cocktail.
What is a Hot Toddy?
A Hot Toddy is a classic brandy cocktail that is served warm and has many Fall flavors. The recipe I use includes cinnamon, cloves, honey, lemon, and brandy. Brandy is distilled wine, but whiskey is also a popular spirit for this cocktail. This drink comes together very much like what one might expect for a traditional hot tea, but one that meant for adults. I consider it a warm, restorative, adult cocktail that is perfect on a cool Fall or Winter night.
History Of The Hot Toddy
The history of a cocktail often reveals interesting world connections and stories. How did the Hot Toddy come about and when did it become a drink? There are a few different theories on how this classic cocktail came about, but I like one in particular, so that is what I am going to share today.
First, we have to talk about the medicinal purposes of alcohol and its place in history. Most modern doctors would call a person crazy if they suggested that we should be drinking whiskey or brandy as a medicine. The opposite was true in olden times. Medical professionals often prescribed alcohol to both heal and prevent problems. It really was not that long ago when a Whiskey Old Fashioned was considered a morning drink and the doctor might tell you to go home and have a brandy to ease your ailment. At one point, it really was the only anesthesia.
Second, let's talk about water. In Scotland in the early modern era (the 1500s and 1600s), there was a water supply called Tod's Well. It was once a main water supply to Edinburgh and the water was considered very clean and to have medicinal properties. While other water sources may have been considered tainted or perhaps became polluted, this water supply was clean. Tod's Well was a spring of health and by the name of it, I bet you can see where this is going.
The health professionals of the time were prescribing whiskey, but whiskey can be considered to be difficult to drink by some. While this is a nearly impossible notion for me to believe, I can perhaps see why straight whiskey might be difficult to drink. Particularly in early times, whiskey was not aged and likely the stuff available to the average person was fairly rough tasting.
One way to soften the sting of a strong whiskey was with water and sweetener. Modern granular sugar was not a widely available product in this era and only for the rich (if available at all), but honey may have been available. We can turn the strong medicine of whiskey into a subtle and tasty tonic with some water and honey.
The combination of liquor, water from Tod's Well, and a sweetener come together to create the big bang of the Hot Toddy. And lucky for us! Time has allowed us to better refine the drink. And, if you are sick, I would suggest seeing a doctor before drinking any alcohol. Now, let's have at it and here is the adult cocktail classic, The Hot Toddy.
Ingredients
1 Cup Hot Water
5 cloves
1 Tablespoon Honey
1.5 ounces Brandy
1 Cinnamon stick
1 Slice of Lemon
---
Instructions
While water is heating, add honey, cloves, cinnamon, and brandy to Irish coffee mug or other coffee mug
Once water is heated, pour into mug
Squeeze lemon slice into water
Stir with spoon and serve hot
[Editor's note:Ben is the mind and tastebuds behind Ramshackle Pantry, for more information on the history of the toddy visit https://ramshacklepantry.com/hot-toddy-history/]