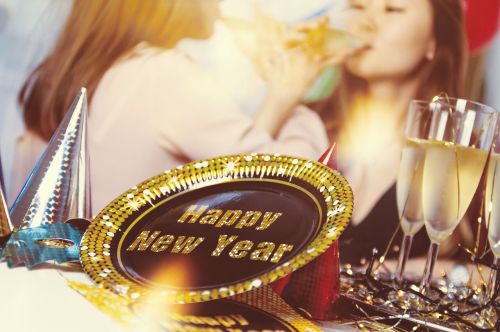 I don't remember where I heard it, but someone once said, "You don't save Champagne for a special occasion, Champagne IS the special occasion." I could not agree more.
Champagne is not only massively underrated as an everyday drinking wine (for good reason: it's kinda pricey), but it's way too misunderstood in the world of grape-derived beverages. It is however, HANDS DOWN, my favorite thing in the entire world to drink. On my bucket drinking list: a bottle of 1998 Krug Clos du Mesnil, a 100% Chardonnay, single-vineyard Champagne that is only produced in very good years. And I believe the last time they made it was 2003. It only runs about $2,000 a bottle. NBD.
Since New Year's Eve is just around the corner, I thought I'd dispel some myths about Champagne and "champagne;" and point you in the right direction to making educated decisions about sparkling wine in general.
When I say "champagne," imagine I'm doing air quotes and making a judgy face about the use of that word. I rarely judge when it comes to wine drinking, but when it comes to Champagne, if you call it Champagne and it's not, I will judge your ass off.
Hey, I'm cool with drinking sparkling wines other than Champagne. In fact, there are a lot of delicious alternatives, but they're different in name and in the way they are made. I know I've offended a handful of bartenders in my life by correcting them when I order a sparkling wine they're unfamiliar with and they say, "Oh, you mean the Champagne?" And I say, "Nope. I meant the [insert some other sparkling wine that's NOT Champagne]." I've gotten some um, … looks. But seriously, you don't go to a steakhouse and point to the filet mignon and the server says, "Oh, you mean the T-Bone?" Uh, nope. Not the same.
Ok, rant over. But let's just talk about what this all means and get you schooled on the likes of what I affectionately refer to as champers.
What makes it Champagne?
Let's be clear, Champagne is sparkling wine, but I tell people this: All Champagne is sparkling wine, but not all sparkling wine is Champagne. To legally be called Champagne, there are a few rules you must adhere to (this is not a complete list, but these are the basics):
Your wine must contain one of three grape varietals: Chardonnay, Pinot Noir or Pinot Meunier (they allow a few others, but those are the main ones).
It must be produced in the Methode Champenoise or Methode Traditionelle (same thing), which means the secondary fermentation (aka bubbles) have to happen in the bottle (Google it; it's pretty cool).
It must be produced in the Champagne region of France, which is about a 100 miles east of Paris.
However, these rules only apply under French law, and although the EU has some say in what other European producers call their stuff, and most winemakers in other countries bow to the French designation, several still insist on calling theirs "champagne," and the United States is very guilty of doing this. Shame.
Why is it so pricey?
Champagne is usually quite a bit pricier than other sparkling wines, and there are good reasons for this:
First, when you buy Champagne, you're getting a piece of history. Most Champagne houses have been operating for hundreds of years; they're not some fly-by-night operation.
Plus, land prices in Champagne are some of the most expensive in the world, so there's that.
Because Champagne is made using a very specific method, only certain grapes can hold up to this process as well as the fact that making Champagne is insanely labor-intensive, and many producers still do a good deal of the work by hand.
There are other sparkling wines made in France that are not Champagne -- and even if they're made the exact same way using the same grapes, they have to be called something else (usually cremant). Sometimes these are equally delicious and generally cost quite a bit less, so look out for them.
What are some alternatives to Champagne?
I mentioned earlier that I'm not judging you for NOT drinking Champagne, but you really should give it a try. And no, I don't mean at your friend's tacky wedding or at the NYE party featuring a "champagne" toast at midnight.
I mean, go to a high-end restaurant and order a glass (if they have it), splurge on the whole bottle, or take the cheaper route and buy a bottle at the liquor store, take it home and chill it up and pop it open with something yummy for dinner.
But after you've had that experience or until you can have that experience, here some super delish alternatives that are worth taking a sip of.
Prosecco
I like to refer to Prosecco as Champagne's sexy Italian cousin. It's made from a handful of Italian grapes, but the primary grape is known as Glera (which used to be called Prosecco), and it's named after the town of Prosecco, located in the very northeastern corner of Italy on the Adriatic Sea.
Prosecco is made using the Charmant Method where the secondary fermentation (remember, the bubbles) happen in a large, stainless steel tank, as opposed to in the bottle, like Champagne.
Prosecco is most famous for a little cocktail called the Bellini, which is combo of prosecco and peach puree. It was invented by Giuseppe Cipriani, who founded Harry's Bar in Venice, Italy. He named the drink the Bellini because the pinky/peachy color of the drink reminded him of the paintings of Giovanni Bellini, a 15th Century Venetian artist. And although most people think mimosa when they think prosecco, the Bellini is about as divine a cocktail as they come. Proseccos range in price, but you can generally find one for well under $20.
Cava
If prosecco is Champagne's sexy Italian cousin, Cava is its equally sexy Spanish relative. And if you're in Spain, sipping a little cava on the beaches of Barcelona, you'd actually pronounce it caba (with a very soft b).
Cava is made with some zingy and cool grapes like macabeu, parellada and xarello (pronounced zuh-REL-oh) but, unlike prosecco, DOES utilize the Methode Champenoise. It's what the Spanish drink when they're celebrating something special, and you can generally find some superb cavas for around $15. They tend to be a little drier and bubblier than prosecco, and are generally a little less expensive.
Other sparkling wines
Brachetto d'Acqui: This magical, slightly sparkling, sweet red wine from Italy is so worth getting into.
Moscato d'Asti: Yes, moscato can be very sweet, but it can also be incredibly complex and the perfect pair to something super salty like ham or popcorn. I like the sparkling kind because the bubbles tend to break up the sweetness a bit.
American Sparkling Wines: There are a handful of stunning sparkling wines that are made right here in the land of the free.
Here are some sparklers to light up the end of 2017 and welcome the new year. Enjoy and see you in 2018! Cheers!
M. Hostomme Champagne, France ($70.00)
DaLuca Prosecco, Italy ($14.00)
Gemma di Luna Moscato d'Asti, Italy ($22.00)
Cheateau Beausoliel Blanquette de Limoux, France ($17.00)
Atelie Pink Moscato, Italy ($13.00)
Baci Dolci "Sweet Kiss", Italy ($11.00)