It's time once again for the High Plains Reader's annual Cocktail Showdown where four fearless judges have the enviable, difficult task of judging drinks and shots from area bars to decide which bartenders are the best of the best.
Each drink is judged on a scale from 1 to 5 in three categories: creativity, presentation and flavor. Bartenders who present above-and-beyond drinks in each category will prevail.
HPR will visit at total of about 30 bars. With so many amazing bartenders in the region, you'll get to see quite the mix of styles, flair and demeanor, all appealing in their own way. After all, bartenders are responsible for returning customers and getting the most tips for their work.
Keep an eye on the HPR Facebook and Twitter pages for pictures of all the drinks as the showdown goes on. Like, share, favorite and retweet away! Go out and try them yourselves. Snap a photo and tag it as #HPRcocktailshowdown.
Most importantly, please drink responsibly and designate a sober driver.
Fargo Billiards and Gastropub, Fargo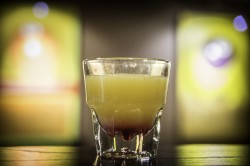 The shot: Sassy Pants
The creator: Megan Hanson
Don't let the fancy wood confines of the Gastropub fool ya, apparently these bartenders really want to make you shots. So we obliged. This shot consisted of a tasty mix of habanero, Sriracha, orange juice, pineapple juice, lemons, Jameson whiskey, Ketel One Orange, Ciroc Peach and grenadine. Bartender Megan Hanson wanted to combine her love of Habero and Sriracha with lemons and oranges. It is recommended to shoot the shot all at once to get the sweetness of the grenadine at the bottom mixed with all the other flavors.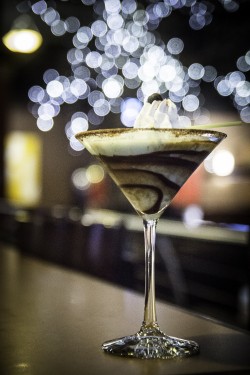 The drink: Blue Is The New Ginger
The creator: Megan Hanson
Megan Hanson had been watching episodes of "Orange Is the New Black" prior to making this cleverly-named drink; Blue is the New Ginger, Hanson says, reflects her love for blueberry cheesecake. This is a drink you probably need to share her love of all things blueberry if you want to enjoy it. The drink is finely presented in a martini glass drizzled with chocolate along with outside and rimmed with cinnamon sugar. The drink itself consists of fresh and muddled blueberries, UV Blue, UV Cake, DeKuyper Blueberry Liqueur, Stoli Blue, Rumchata, half and half, topped with whipped cream and a blueberry. It is quite a blast of chilly, sugary sweetness.
Three Lyons Pub, West Fargo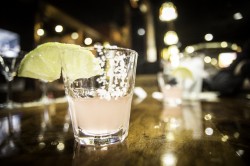 The shot: Salty Ruby
The creator: Kent Larsen
Kent Larsen created the Salty Ruby for those people who are hard to talk into taking tequila shots but still want the fun interactiveness of it. It's a pretty simple shot compared to the drinks we started with. It's ingredients feature Deep Eddy Ruby Red Vodka combined with Kinky Liqueur. Now, most would never say "give me a shot of Kinky Liqueur," however, the addition of Deep Eddy made it all the worthwhile. It's a fruity splash of booze that goes down smooth. Rimmed margarita salt and sugar coated lime for that tequila feel without the tequila hangover. Is there a reason my friend calls tequila to-kill-ya?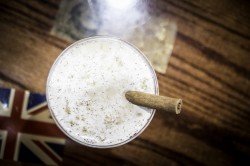 The drink: Minnechata
The creator: Kent Larsen
Going for a Minnesota feel here, Kent sought to create a fall/winter drink that didn't include any sort of pumpkin flavor in it. He succeeded in making a nice warm up alternative to all too many which overdo the pumpkin ingredients. Minnechata features Alander Rum from Hallock, Minn. for that regional feel combined with Kahlua and Rumchata. It's rimmed with chocolate bitters, a cinnamon stick and grated nutmeg. It's a perfect drink for a ski lodge. But also works at those things that keep us from going stir crazy during the holidays and winter months, bars.
Max Lounge, West Fargo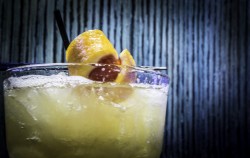 The drink: Bulleit Bittersweet
The creator: Chad Bjork
Well it's no surprise for its only entry that the Max Lounge would feature a no-nonsense, old fashioned, booze-filled drink. While it is quite delicious, I would imagine you would be hard pressed to see UV Cake included in any specialty shots here unless by request. The Bulleit Bittersweet included Bulleit Rye Whiskey, Woodford Cherry Bitters, orange cinnamon simple syrup and a splash of fresh orange juice. Chad came up with this drink while experimenting when he worked at the Hotel Donaldson. This experiment quickly gained fans and it's easy to see why.
Dempsey's Public House, Fargo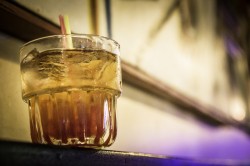 The drink: Doc Holliday
The creator: Cory Schlack
Cory sought to make an old timey, boozy drink namesaked after his favorite gunslinger featured in the film "Tombstone." He was also inspired by Milkhaus, wanting to use the local ice cream as an ingredient, but had to opt out because of the gurgling that comes with an alcohol and ice cream mix. Doc Holliday includes Jeremiah Weed Sarsaparilla Whiskey, Galliano Liqueur, cherry bitters, muddled cherries and a splash of coke. The mix of liquor works very well together. If this is old timey, send me back to the wild, wild west.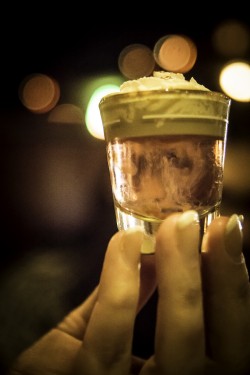 The shot: Gingerbread
The creator: Cory Schlack
This shot was created to become a bar favorite of bachelorette parties. With all the whipped cream on it and it's cute and sexy presentation, it's not too tough to see how that could happen. Whether it will become a bar favorite for non-bachelorette parties is another story. The Gingerbread features Cinnamon Schnapps, Butterscotch Schnapps, Irish Cream, Whipped Cream and Cinnamon. It seems like a good fall/winter holiday warm up shot, however, remains to be seen whether or not it will be enjoyed by those without penis straws in their cups.