We are in the final week of the 6th annual HPR Cocktail Showdown. Hard to believe but time flies when you are sampling some of the region's finest drinks. Stay tuned in coming issues for the finalists from this year's field and details on when and where they will face off to crown a winner for the finest drink and shot.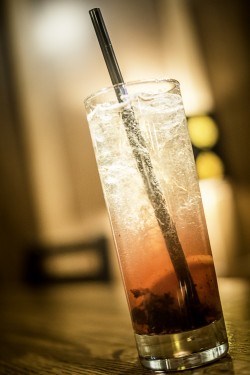 Usher's
The drink: Ulfberht
The creator: Andrew Hardy
This take on an old fashioned was named after the Ulfberht sword (the term "Ulfberht" being an inscription found on some Early Middle Ages Germanic swords of the 8th to 11th century). After watching a documentary on the sword, Hardy wanted to create something mythical and epic that would be safely known as a slayer of taste buds. It features Bulleit Rye bourbon, Grand Marnier liqueur, clove simple syrup, muddled huckleberry and oranges topped with a splash of lime juice and soda. It's a nice mix that could quite possibly slay your tastebuds on any given night.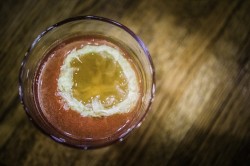 The shot: LA Paul
The creator: Andrew Hardy
The LA Paul was named after one of Andrew's colorful customers named Paul who was a recent Fargo transplant from Los Angeles. He sought to make something sweet, fruity and tarty that wasn't a shot. The LA Paul consists of tequila, Chambord liqueur, cherry juice, lime juice, and sweet and sour with a floating lime on top. If you like tequila and fruity drinks, this may be your jam.
Labby's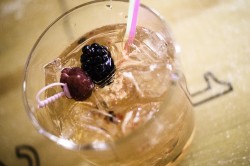 The drink: Uncle LeRoy
The creator: Al Honzay
The Uncle LeRoy was created for a regular who liked bourbon. It contains Maker's Mark bourbon, Grand Marnier liqueur, Disaronno liqueur, lemon juice, muddled blackberries and raspberries, topped off with with ginger ale and garnished with raspberries and blackberries. It's a fruity mix that could leave even the saltiest of regulars walking out with a smile on their face.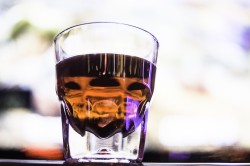 The shot: Cindy Lou Who
The creator: Mackenzie Martin
Mackenzie is a big fan of Christmas and named this shot after the character in "How The Grinch Stole Christmas." She wanted to create something that tasted like Christmas in your mouth. The Cindy Lou Who features Deep Eddy cranberry vodka, Goldschläger, Midori liqueur, cranberry juice and lime juice. Although Cindy Lou Who would not be old enough to try this shot, after a few of these, her parents may have an easier time getting through the holidays.
The Green Mill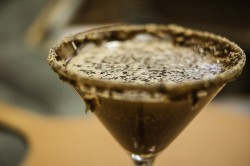 The drink: Butterfingertini
The creator: Anthony Dub
This candy flavored martini was concocted for Dub's co-workers whose favorite candy bar is Butterfinger. It consists of Godiva chocolate liqueur, Kahlua liqueur, Frangelico liqueur, DeKuyper Buttershots liqueur, Smirnoff Kissed Caramel vodka, Smirnoff Fluffed Marshmallow vodka, Fireball and a dab of peanut butter. It is rimmed with chocolate and Butterfinger bar. The candy flavored martini seems like something we should have seen before but haven't. If you have a sweet tooth, this may be the drink for you.
Monte's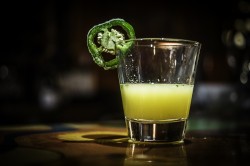 The shot: Warlord
The creator: Andrea Anderson
Andrea's kids helped her name this drink, saying its ingredients reminded them of the Mele Kalikimaka Hawaiian Christmas song. They felt Christmas in Hawaii would represent both war and paradise and that led to the name Warlord. This shot contains caramelized pineapple puree, muddled limes, cilantro, jalapeños, Absolut Cilantro and is garnished with a candied jalapeño. The warlord is a spicy, fruity mix with a bit of a kick. Definitely something that could provide some much needed relief from the stress of the holidays.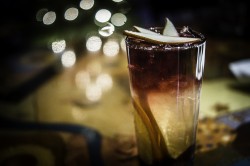 The drink: Scarecrow Boat
The creator: Andrea Anderson
The name for this drink was inspired by the popular TV show "Parks and Rec." She sought to create something really warm to heat you up on our frigid winter evenings. The scarecrow boat is made with poached pears (which Anderson poached herself) and fresh tangerines (both of which are layered on the bottom of the glass), St. Germain liqueur, Grey Goose pear vodka, a lemon, Locations E2 Spanish red wine, a splash of 7UP and with leftover poached pears as garnish. This may be a quality drink to saunter downtown and give you some liquid courage for the rest of your adventures.
HoDo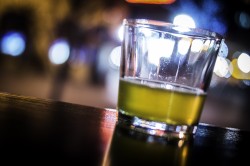 The shot: Apples to Apples
The creator: Anthony Ryan
Ryan sought to make Apples to Apples a seasonal, cold weather shot with good alcohol content and flavor that would warm you up. He also wanted to make something reminiscent of apple pie. This shot consists of Leopold's Apple Whiskey, Stirrings ginger liqueur, apple juice, fresh squeezed lemon and bourbon barrel bitters. If you are at all an apple fan, this is probably the shot for you.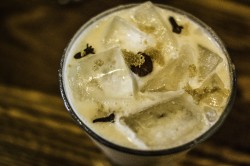 The drink: Banana Fashion
The creator: Joseph Ficenec
This is a drink that Joseph has been perfecting since he became a bartender two years ago. With its ingredients, he feels it has a bit of a timeless historical feel; it is a drink that could be popular in the 1800s (when Woodford Bourbon started), in the 1960s (when banana drinks became a fad), and in the present. The Banana Fashion is made up of Woodford Bourbon, freshly sliced bananas, Frangelico liqueur, black walnut bitters, crème de banana, heavy cream, a splash of vanilla ice cream and is garnished with cloves and hazelnut. The banana taste of this drink will have you dreaming of beaches in no time.
The Boiler Room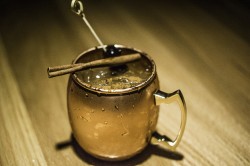 The drink: Winter Mule
The creator: Jacob Johnson
Jacob came up with the Winter Mule as a holiday seasonal take on the traditional Moscow Mule. It's served in the traditional copper mug and includes fresh squeezed lime juice, house-made simple syrup, Grey Goose Cherry Noir Vodka, Gosling's Ginger Beer, orange juice and a dab of cinnamon garnished with cinnamon sticks and Luxardo cherries. If Jacob's hair ever turns white, he will be the spitting image of Santa Claus. With this seasonal invention, he may be soon spreading holiday cheer throughout downtown Fargo.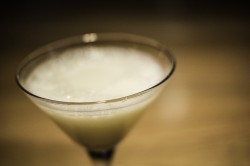 The shot: Stacee's Iced Lemon Cake
The creator: Paul McMahon
This shot was named after a customer who came in and said she had the most amazing lemon cake. A while later, that customer became McMahon's fiancée. Stacee's Iced Lemon Cake contains agave nectar, fresh squeezed lemon juice, Limoncello liqueur, Smirnoff Cake and half and half. Like German chocolate cake and other shots of that ilk before it, it tastes just like the dessert treat it's named after.
We thank all of this year's participants for their time and efforts and encourage you to stop in to try their inventions. We also would remind you to drink responsibly and do as HPR did every week -- designate a driver for your visit.