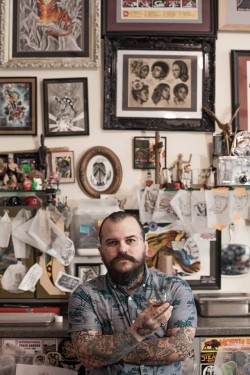 by J. Earl Miller
Now that the Cocktail Showdown has wrapped up this year, we needed to gather all of our scoring notes and information, to find out who will take part in this year's Bartenders Battle. For those of you who are not familiar with the Bartenders Battle, it is a head-to-head competition, pitting one bartender against another mixing craft cocktails in a small amount of time on stage in front of all their peers.
The bartenders are supplied a full bar with an array of many of the finest ingredients, along with everything they need for mixing their drinks for the three judges. We arrange the challengers in a tournament fashion: one versus eight, two versus seven so on; each round the best drink and bartender move on to face the winner from the next bracket.
This year we have moved the event to a new venue at the Ramada Crystal Ballroom. The theme this year will be Vegas-inspired, along with a casino featuring craps, roulette and a few card games. You won't be able to win any money but we will have prizes to give away. We also have confirmed that the ladies from Blue Belle's Burlesque are excited to dress up as Vegas showgirls.
As far as attire for this event, you can go as old Vegas, maybe part of the Rat Pack or going out to the newest club on the strip. Being we are carrying the Sin City theme, we might as well have an Elvis Presley costume contest while we are at it, just to make the evening a little more entertaining.
Our Sponsors this year are helping us hit this out of the park. Republic National Distributing Company will be supplying all of our spirits and are also promoting their new products, along with Whiskey Fest and the Fargo Chapter of the Bartenders Guild.
Bergseth Brothers will also be there supplying our beer, cider and a new secret product they have been holding back just for this event. The Bartenders Battle could not happen without these sponsors and we want to thank them for all they do for us and our community of bartenders.
Last but not least -- our competitors:
Elijah Larson from Proof Distillers
Jared Winmill from Rustica Tavern
Kyle Berglund from Rustica Restaurant
Steve Dahl from The Fargo Cork' n Cleaver
Mistelle Stein from The Sidestreet
Andrew Hardy from Usher's House
Matthew Llewellan from the HoDo Lounge
Anthony Dub from the Greenmill
YOU SHOULD KNOW
Bartenders Battle at The Crystal Ballroom (Ramada Plaza and Suites)
Sunday, February 28th 6-11pm
VIP doors 6pm
Standard tickets 7pm
This is a 21+ Event only, no exceptions
Ticket Information can be found at Eventbrite.com; search Bartenders Battle