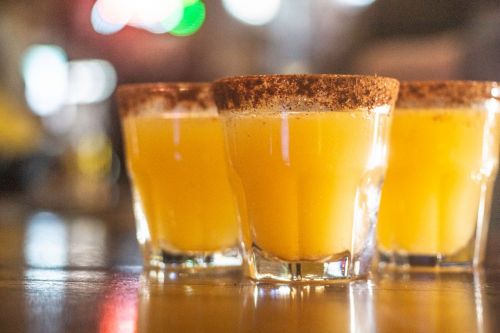 For our second week of the Cocktail Showdown, it was an abbreviated one due to the bitter cold weather closing down several of the establishments throughout downtown, including the ones we were set to visit. Thankfully, Andrew Hardy was excited enough about his competition entry to come in on a night off and treat us to a makeup Monday at the Sidestreet Grille and Pub, on 4th and 4th in downtown Fargo.
The Sidestreet is one of those hangouts that seems to have it all. One of the most extensive tap lists of local, regional, and national craft beers, a solid selection of whiskeys, TVs everywhere you look, a charitable gaming area that even includes off-track betting, pool tables, and dart boards. They also have a reason for you to stop on by, no matter what time of day or night. Whether it's their weekday and weekend specials, daily happy hours, all-star open mic/jam nights every other Tuesday, or an eclectic mix of live music every weekend, there seems to always be something going on at the Sidestreet. Perhaps the one thing they aren't typically known for is creative cocktails with an attention to detail but every time I see Andrew behind the bar I know that should I choose to be "that guy" and order up something fun, flavorful, and a little fancy, he can get it done.
The drink: The Heilung
The creator: Andrew Hardy
While Andrew got his presentation area all set up and I waited for Raul and Sabrina to join me, I was informed that the word "heilung" is not only a word with old Germanic roots that roughly translates to "healing," but it is also the name of a pretty wild performance art/musical group from Denmark that is known for blending traditional tribal drumming, throat singing, banging of bones and swords, and a gorgeous harmonic blend from their two vocalists. The costumes bring it all over the top and their live performances really are stunning events that seem to be part of a broader Neo-Nordic musical and art movement. Grab yer smartypants phone and check em out on youtube because my description isn't going to come close to doing it justice.
The drink, however, is something I feel I can give an adequate review of. Andrew started this one days before we sat down, by fermenting blueberries with champagne yeast and some brown sugar to start it, then cooked off the resulting alcohol to leave behind a somewhat vinegary compote/jelly/shrub type extract.
The build that we witnessed began with about half of a lime muddled in a cocktail shaker. To that, Andrew added Novo Fogo silver cachaça, green chartreuse, Canadian Club 100% rye, the blueberry extraction, and some ice. He then balanced an empty rocks glass on top of that shaker and another empty shaker and then lit some dried rosemary under the rocks glass to fill it with smoke before he brought the rocks glass and shaker together for just a couple quick shakes. The drink was presented to us in a rocks glass with a simple pick as a stir stick and, thankfully, no little plastic straw.
This creation used classic ingredients from around the world in a new way that had a traditional feel without being directly inspired by a classic cocktail. The blueberries, brown sugar, chartreuse, cachaça, rye, and rosemary all brought a bit of earth in their own way but nothing was out of balance or overpowering. Andrew has become known throughout his years of participating in the Cocktail Showdown as someone who can almost always be counted on to bring the smoke and he really has become quite skilled at using it to enhance a drink without overpowering it.
The shot: The Karlsilege
The creator: Andrew Hardy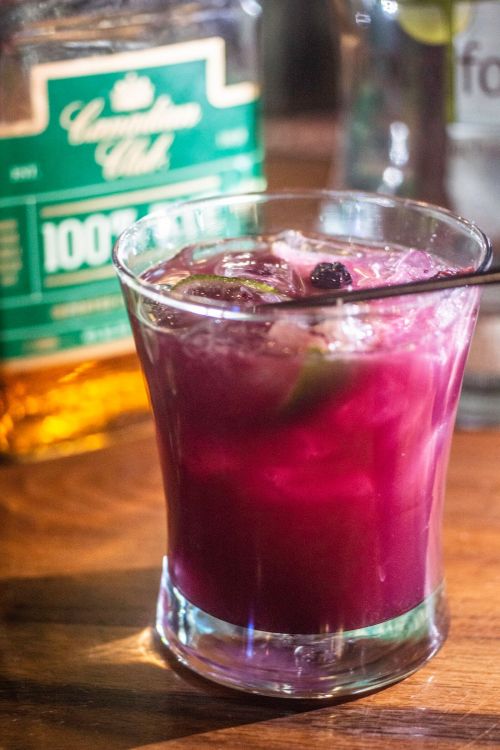 Andrew not only named this drink after a co-worker, Karl but took inspiration from Karl's Asian heritage when selecting the ingredients. He began with Ketel One Peach and Orange Blossom which he poured into a shaker with some lemon juice, orange juice and a touch of sour mix. This was shaken with ice before strained into large shot glasses that were rimmed with Thai chili powder.
The heat from the Thai chili came first, with enough of a blast of garlic that it surprised me at first but then the heat settled onto a nice spot on the tip of my tongue and lips. The peach and orange blossom did come through the fresh juices and sour mix and gave it a bit of an Asian flavor finish to compliment the Thai chili kick.