Rooters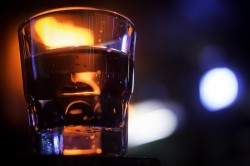 The shot: Barry Manilow
The creator: Dirk Thiedeman
This shot features red Liquid Ice and blackberry brandy with a splash of blue Curacao Liqueur. When Rooter's got the Liquid Ice in stock, Dirk set out to experiment and come up with a shot featuring it. The Barry Manilow is the result. He is pretty sure he found a winner with this concoction. With shots, definitely, sometimes less is more.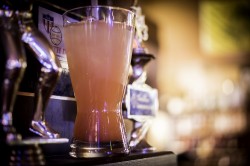 The drink: Tropical Kink
The creator: Dirk Thiedeman
Dirk challenged his other manager to come up with a shot and this fruity drink is the result. Tropical Kink contains Kinky Cocktails Pink, Citron, Bacardi O, pineapple juice and Grenadine. While braving cold winter temperatures, it may have you dreaming of sipping it under the sun on a beach. God knows, I daydream all the time while drinking.
Radisson Level 2 bar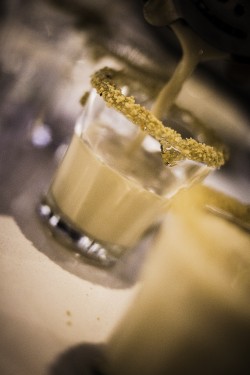 The shot: PB Hold The J
The creator: Davin Henrik
The bar with the best bathrooms in all of Fargo-Moorhead came up with some fancy drinks to match. PB Hold The J was Davin's answer to coming up with an elaborate dessert drink to be consumed after dinner. It contains Hennessy, vanilla bean ice cream, Bailey's Irish Cream, Frangelico, powdered peanut butter and whipped cream. It is rimmed with maple syrup and crushed cashews. The peanut taste especially comes through following suit on the name of the shot. If you have a sweet tooth, this is the drink for you.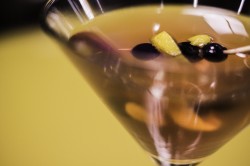 The drink: Blueberry Jessa #2
The creator: Davin Henrik
This martini was created when a woman came in and asked for something fruity, but not sugary, and tart, but not bitter. She had been drinking all night so that helped Davin find the solution. The Blueberry Jessa #2 contains Skyy moscato vodka, Stoli blueberry vodka, Lost Angel moscato, St. Germain, pomegranate puree, white grape juice, muddled blueberries and basil leaves and a squeezed lemon wedge. It is garnished with a lemon twist and three blueberries on a toothpick. Though fruity, it's very smooth and balanced. And with all the ingredients, it's fun to watch the bartender prepare the drink.
Beefsteak Club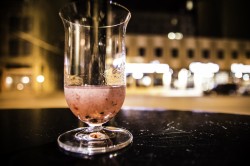 The shot: Giggleberry Cooler
The creator: Tank
This scrumptious shot was born when bartender Tank begged distributors to help them stock 44 North Whiskey out of Milwaukee, her hometown. Once they did, she made the Giggleberry Cooler which combines 44 North Whiskey, rhubarb bitters, muddled blackberries, honey simple syrup and strawberry syrup. A few of these and you will be giggling, just like the friendly Tank, in no time.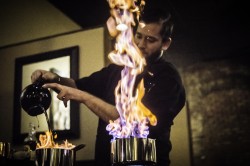 The drink: The ND Oil Tanker
The creator: Scott Motschenbacher
The ND Oil Tanker is Scott's take on a recipe he learned at culinary school. It contains a candied orange peel studded with cloves, brown sugar, spices, coffee, Appleton Reserve spiced rum and Grand Marnier Cordon Rouge, all of which is flambéed, a cooking procedure that results in a burst of ceiling-high flames. That is where the name "Oil Tanker" comes in. Scott may have been accused of being too soon with this drink a few months ago. Now, however, most will be ready to enjoy this warm, soothing and slightly charred drink while watching the flames singe the bar. If you like having fun and making a scene while you drink, order one of these bad boys.
Mezzaluna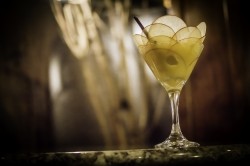 The drink: 309 Apple Flip
The creator: Michael Howey
This martini is Michael's take on an old school famous drink, the Colleen Bawn, which has been around for years and name saked after a famous murder from the 1800s. The 309 Apple Flip gets its name from Mezzaluna's address and the fact that it's surrounded by apple slices. It's made up of an entire egg, Green Chartreuse, Leopold Bros apple whiskey, Benedictine liqueur and rimmed with several thin apple slices. The apple rimming stacks quite high, creating a fancy flowerbed look. Howey's enthusiasm for mixology and passion for Mezzaluna kept us in good company while he served this sweet drink.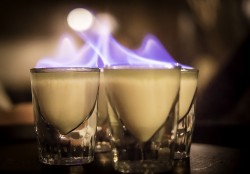 The shot: Christopher Wallace
The creator: Michael Howey
While working, the employees of Mezzaluna frequently listen to hip hop, so Michael sought to come up with a drink that pays homage to one of his favorite rappers, Notorious B.I.G., who's real name is Christopher Wallace. This colorful shot matches Wallace's trademark green sweater. It's ingredients include Sambuca, Baileys, Cointreau and Green Chartreuse, all of which are set on fire before you swallow. Yes, it's quite hot but what you consume is worth a little pain.
Stay tuned for more of the showdown as the weeks go by. If you are out drinking, remember to drink responsibly and designate a sober driver.