Rustica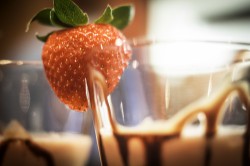 The Shot: Chocolate Covered Strawberry
The Creator: Kyle Berglund
This dessert shot consists of muddled strawberries, Tito's Vodka, crème de cacao and Godiva chocolate and white chocolate liqueurs. It is decorated with chocolate syrup drizzle in the glass and a fresh halved strawberry on the rim. Berglund said he was largely inspired by patrons' high demand for something sweet after dinner but were too full for dessert. Hence, bringing to his imagination, the alcoholic and liquefied version of a creamy chocolate and strawberry delicatessen.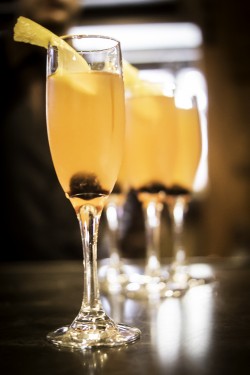 The Drink: Rye Tai
The Creator: Kyle Berglund
This beverage contains High West whiskey, Domaine de Canton French ginger liqueur, Aperol orange bitter, fresh lemon juice, Bittermens Elemakule Tiki bitters and a Spanish Cava Brut. It is served in a wine flute with a wide lemon twist and Luxardo maraschino cherry to garnish. The drink has just the right amount of sweetness with the champagne to balance out the sugar. The drink looks reminiscent of a Bellini, but tastes unique with its bitter aroma. The name is a play on Mai Tai, but it offers a much different flavor experience than the rum-heavy drink. He succeeded in creating a summer-y and bubbly cocktail.
Rhombus Guys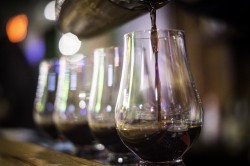 The Shot: Modena
The Creator: Ian Dickmeyer
Named after the Italian city known for expensive car manufacturers and balsamic vinegar production, the Modena offers an exotic and machismo flavor. The shot consists of Templeton Rye whiskey, blackberry brandy, balsamic vinegar reduction and Fee Brothers black walnut bitters. It is simply served in a Glencairn whisky glass. The sweet balsamic influences make the drink smell sweet like brown sugar and the color rich like red wine.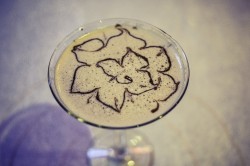 The Drink: Maria Ingrid
The Creator: Nathan Dickmeyer
This Spanish and Dutch-inspired cocktail is made with 1800 Reposado tequila, Vincent Van Gogh Dutch chocolate vodka, Godiva chocolate liqueur, Fee Brothers black walnut bitters and Aztec chocolate bitters. It is poured in a martini glass that's decorated with chocolate syrup designs resembling the look of an agave plant, including a chocolate agave flower on top. Nathan said he wanted to use a bold ingredient like tequila in his cocktail to create something unique in the competition.