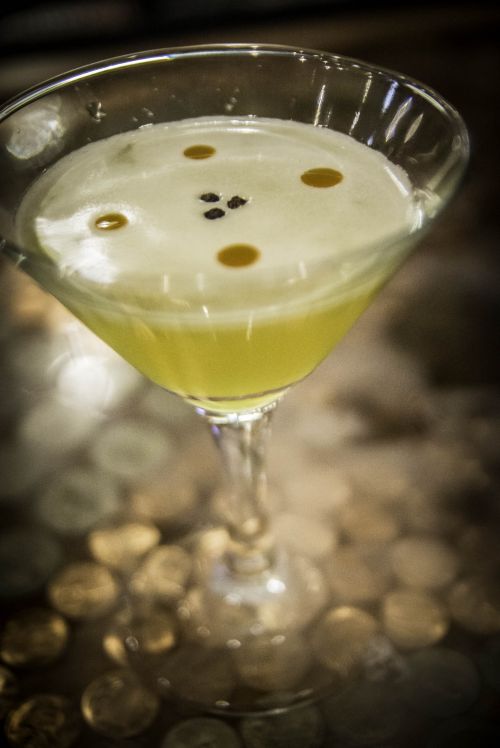 For the third week in a row, our panel of judges were out on the town with a thirst for cocktails and a focus on presentation, flavor, and creativity. This week's adventures took us to a couple of hotspots in south Fargo, as the four judges sat down first at Barbacoa, and then later paid a visit to Lucky's 13 Pub.
Barbacoa
Located on the corner of 32nd Avenue and 42nd street south, Barbacoa is one of the dining and drink options that is managed by the fine folks who also bring us Twist and The Boiler Room. Both their drink and food menus give extra attention to south of the border flavors that extend a bit further south and they proudly pour from one of the largest selections of mezcals and tequilas in town. It was not at all surprising nor disappointing that both of the creations that Adam Nehk served up to the judges featured spirits derived from the agave cactus.
The cocktail: Rocky Loves Emily
The creator: Adam Nehk
Adam added to a shaker a wedge of pineapple, a bit of cilantro and a couple drops of a special house-made black pepper tincture and then muddled those ingredients. He then added Los Amantes Mezcal Reposado, Damiana, green Chartreuse, a house-made yellow bell pepper juice, and shook the ingredients with ice for about 10 seconds. He then sprayed a martini glass with a spritz of a house-made cilantro tincture and lit the inside of the glass on fire briefly before straining the contents of his shaker into the martini glass. It was then elegantly garnished with three black peppercorns and a few drops of a house-made red pepper chili oil.
Balance is something Adam strives for with most of his creations and this drink is all about finding the best notes in the mezcal and coaxing the flavors forward without letting any one flavor overpower the balance. Smoke, citrus, and peppercorn come forward and are accentuated by just the right notes of both sweet and hot peppers.
The after dinner drink: Put the Coffee in the Coconut
The creator: Adam Nehk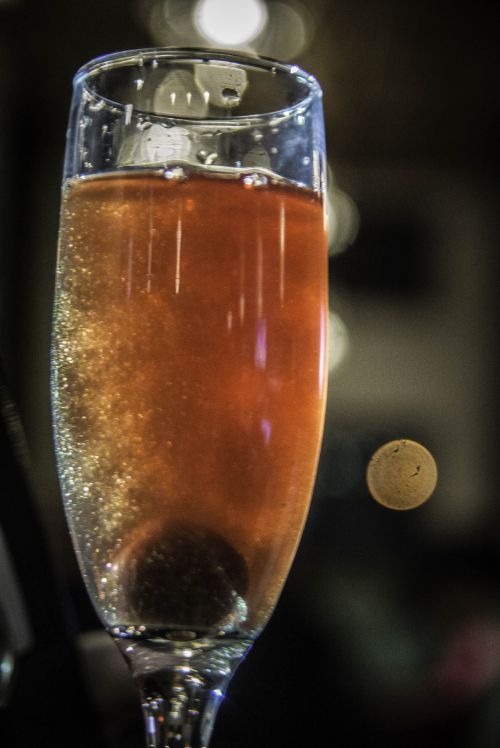 Adam again used special ingredients that are unique to Barbacoa when creating this after dinner sipper. He started by pouring ½ ounce of their special coffee-infused single-barrel select Patron Reposado tequila into a mixing pitcher of ice as he told us about how this special tequila is a single-barrel expression unique to Barbacoa because they bought an entire barrel of 14 month-aged tequila which they then infused in-house. In addition to the tequila, Adam used ½ ounce of Il Tramonto Italian Liqueur, 1 ounce of Rum Haven coconut liqueur, ½ ounce Bordeaux cherry juice, a drop of organic coconut extract, and a generous amount of a shimmery food-safe additive known as "luster dust." This mixture was stirred very well to agitate the luster dust and then strained into a champagne flute before a Bordeaux cherry was dropped into the flute.
This decadently sweet after dinner drink reminded us a bit of a cherry cordial without the chocolate. At times it was almost sweet, like cake frosting, but then the smoke and barrel notes from the Reposado tequila would come back into play just slightly and the coffee and coconut flavors provided enough of a backbone to keep the sweetness from becoming too overpowering.
Lucky's 13 Pub
Lucky's 13 Pub, at 4301 17th Avenue South, boasts "Great food. Good fun. Near you." and is part of a family of restaurants that extends throughout Minnesota and North and South Dakota. While the majority of their food menus are shared throughout the chain, there is plenty of room for creativity when it comes to their beverages, and bar manager Kayla Erickson offered up two of her own creations, including another nod to the hometown heroes of the "Thundering Herd."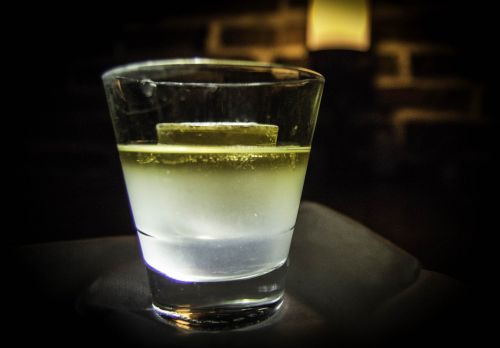 The shot: Sweet Peach
The creator: Kayla Erickson
Kayla created this shot as a "bomb" style drink with a mixture of Deep Eddy Peach Vodka and Jeremiah Weed Sweet Tea Vodka shaken with ice and strained into a shot glass set in the center of a rocks glass filled with chilled house-made lemonade. The hint of dry tea was quickly drenched in a sweet and peachy lemonade wash.
The drink: Bison Bellini
The creator: Kayla Erickson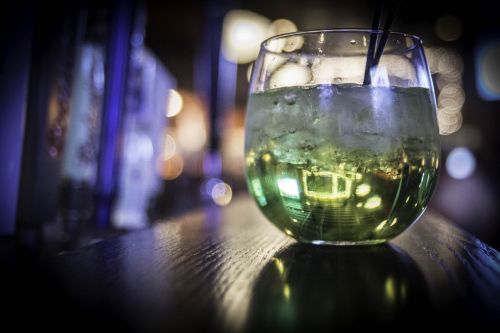 Bellinis are all the rage the last couple years, especially for those looking to branch out when it comes to brunch cocktails. Many are finding them to be a pleasant and refreshing break from the standard mimosas, and while I'm sure the choice of Midori was mostly about color, refreshing is a good one-word description of this creation. Kayla added a shaken, chilled mixture of Bacardi Superior Rum and Midori Melon liqueur to a champagne flute and then topped it with some bubbly for a green pride melon bomb of a Bellini, that looked quite suitable for toasting to success on the field or off.