Week 4 of the Cocktail Showdown brought us to four different bars. From upscale to dive, all of them had their own charm. We are starting to near the end of the challenge. Stay tuned in the coming weeks for details on where and when the top vote getters will square off to see who can make the best shot and drink from this year's contestants.
The Empire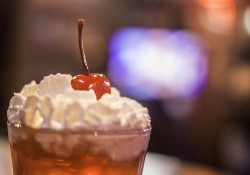 The shot: Cherry Popper
The creator: Lea Hanson
We kicked off this week at the legendary staple dive bar of downtown Fargo. Lea Hanson came up with this shot as an ode to the now-defunct soda shop that was in Zandbroz Variety next door to the Empire. The Cherry Popper contains Ketel One, Ciroc Berry, 99 Berries, soda water, sour mix, grenadine and is topped with whipped cream and a cherry. Shots at the Empire are larger than normal and this is no exception. The Cherry Popper will give your night a fruity burst and more of a kick than those cream sodas next door gave.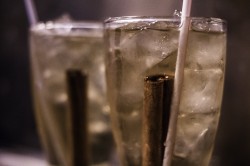 The drink: Royal Apple Spritz
The creator: Steph Basol
Steph came up with this simple and tasty drink after Crown Royal introduced its new apple-flavored whiskey. She wanted to make something smooth for fall and winter and thought these ingredients mixed well together and could be served cold or hot, something important on these frigid winter nights. It contains Crown Royal Apple, sparkling cider and a cinnamon stick, and it could prove that sometimes less is more.
The Bismarck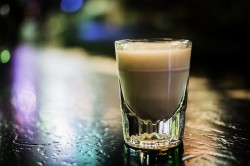 The shot: Apple Sinister
The creator: Kristen Ditch
Located north of the tracks, The Bismarck is the sister dive bar of the Empire, with the same owner. Kristen Ditch wanted to make a shot similar to Apple Jacks or Apple Cheerios and that was her inspiration for creating the Apple Sinister. It mixes the ever-popular Fireball Whiskey, Crown Royal Apple and Rumchata. Mix them together and you've got yourself a great shot if you fancy cereal in the morning or, like Jerry Seinfeld, at any time of the day.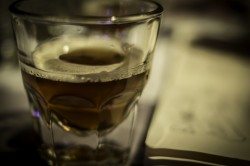 The shot: Samoa
The creator: Paul Metcalf
Paul sought to make a shot that tastes like the popular Girl Scout cookie of the same name. The Samoa combines Malibu Rum, Crème de Cacao and Stoli Salted Karamel for a shot that does indeed live up to its namesake. So if you find yourself craving boxless, scout-less Samoas, head on down to the Bismarck to get your fix.
TGI Fridays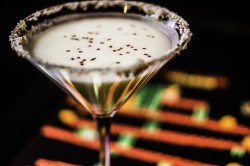 The drink: Hawaiian Frostbite
The creator: Michael Pruis
Michael came up with this beachside type drink for a friend's Christmas party as a way to help escape the cold-temperature mindset. The Hawaiian Frostbite Martini is made with pineapple rum, coconut rum, pineapple juice, coco real and a splash of Crème de Mint. It is rimmed with crushed peppermint and spearmint candy. While the rum mixture gives it a definite beach-drinking taste, the mint on the rim creates a bit of a holiday feel.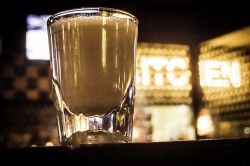 The shot: Sarsaparilla Bite
The creator: Julie Walsh
For a Cocktail Showdown first, a bartender brought in her own homemade root beer recipe. Julie Walsh concocted a shot containing her root beer along with vanilla vodka, amaretto and Bailey's Irish cream. She really wanted it to have a root beer float taste and the Sarsaparilla Bite succeeds in that goal.
Maxwells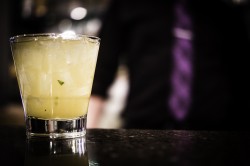 The drink: Shadow Roll
The creator: Charles Smith
This drink is a funky take on the Mint Julep, and named after the piece of equipment that partially blinds a horse's eye during horse racing. It's made up of muddled mint, muddled lemon and lime, Templeton Rye whiskey, St. Germain, Regatta ginger beer and house-made chicory tonic. It's garnished with a mint leaf and lemon peel. With all the Kentucky Derby parties happening in Fargo, they may want to sample this new take on the staple drink of that day.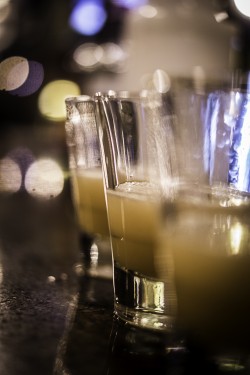 The shot: Black Cat
The creator: Charles Smith
Charles knows that shots can be difficult to make well so he sought to mix a classic cocktail into a shot with this invention. The Black Cat combines Basil Hayden's bourbon whiskey, Luxardo apricot liqueur, Leopold Bros absinthe, along with lemon juice and simple syrup for a tasty, booze-filled shot with an old school feel.
Feel free to ask for any of these drinks when you visit these bars and when you do make sure to have a designated driver as HPR has for every week of the showdown.