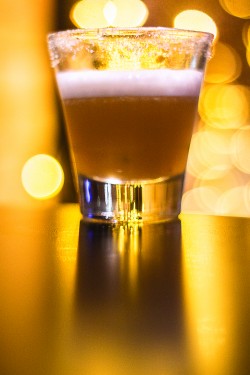 Cocktail Showdown Week 4
By, Sabrina Hornung
For Week Four of the Cocktail Showdown featured "The Noks Mule" and "The Blood Orange" from Cassie Hanson at Ft. Noks, "The Farmer's Market" and "The Maduro Rustico" from Jared Winmill at Rustica, "The Blueberry Embrace" from Marcus Dennis and "The Auburn Tide" from Gennifer Christianson at The Radisson.
Fort Noks Bar of Gold
Fort Noks is located at 52 Broadway, Fargo. It is housed in a former bank building that retains much of its original character with its high ceilings and tiled floors, but maintains a clean contemporary feel. They feature a seasonal drink menu and offer Pizza Corner and Hagge's Pizza for munchy patrons. Fort Noks is under new ownership but Hanson assured us that they aren't anticipating any big changes.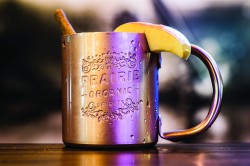 The Drink: The Noks Mule
The Creator: Cassie Hanson
"The Noks Mule" is Hanson's twist on the ever popular Moscow Mule. It contains a mix of peach/apple puree infused with cinnamon and simple syrup, Tito's vodka and Gosling's ginger beer. It is served in a copper cup and is garnished with a cinnamon stick. Just when we thought it couldn't get any better Hanson told us that the last sip is the best. "The Noks Mule" is a wonderful blend of fall flavors. Our guest judge Russel summed it up best when he proclaimed, "It's like apple pie in a drink!"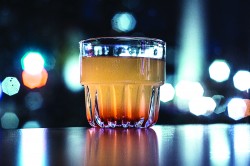 The Shot: The Blood Orange
The Creator: Cassie Hanson
"The Blood Orange" contains White Monster Energy drink, Ketel One Oranje, Shady Fruit-which is a valencia orange flavored vodka and grenadine. Hanson was inspired to create "The Blood Orange" once they received a bottle of Shady fruit which was a new product for their establishment. She knew she wanted some kind of citrus but didn't want a generic orange name for it, just add grenadine and "The Blood Orange" was christened.
Rustica Tavern
Rustica is located at 315 Main Avenue in Moorhead. Rustica is split into an eatery and a tavern. For this particular jaunt we found ourselves in the tavern. The tavern features wood fired pizzas and has a killer bar menu. Rustica is known for their seasonally focused ingredients and pride in quality. The atmosphere is hip, elegant and casual yet upscale, and it has a large window that overlooks downtown Moorhead.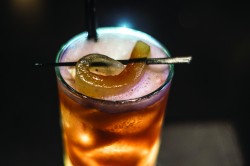 The Drink: The Farmer's Market
The Creator: Jared Winmill
"The Farmer's Market" got its name because of Winmill's choice in using fresh and local ingredients. It contains a golden beet infused rye whiskey, fresh squeezed orange and lemon juice, a shrub made of macerated rhubarb, blueberries and basil with a touch of sugar dissolved in vinegar, tiki bitters (which contain cinnamon, allspice, and paprika flavors), Ruby Ferreira port wine "to add color, sweetness, and complexity." He then added Cynar, an artichoke bitter liqueur, Grand Marnier and a bit of pickling liquid that was used to preserve the pickled watermelon rind garnish. One of the key flavors in this liquid was the grains of paradise--which is essentially related to the peppercorn but more citrusy. To top it all off he took out an immersion blender and created a watermelon foam before our eyes. He also used a sunflower lecithin to aid in the suspension of the foam. He opted for sunflower rather than soy because a friend at Swanson's suggested that it was the healthier option. The end result was a complex flavorful cocktail with a sweet vaguely nostalgic earthy spice.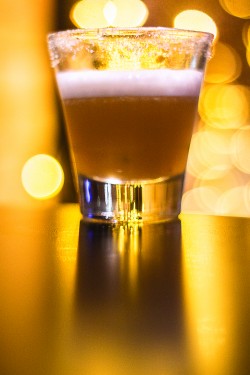 The Shot: Maduro Rustico
The Creator: Jared Winmill
Madura Rustico contains Casamigos, muddled cucumbers to release the oils, Mezcal, Aperol, fresh squeezed orange, lemon and lime juice, housemade jalapeno simple syrup, agave nectar in the raw and egg white (to round out the textures). He used a dry shake to get the foam going without dilution, and a Grand Marnier rinse. The glasses were rinsed with a jalapeno sugar with a dash of salt.
The jalapeno sugar was a bit of a happy accident when one of the chef's attempted to candy jalapenos in the kitchen. "The Maduro Rustico" is a mature, rustic, smoky cocktail that Winmill thought would best reflect the house.
The Radisson
The Radisson is located at 201 5th St N in Fargo. The hotel bar has a hip modern appeal to it with its glass chandelier, smooth white surfaces and disco ball bathroom. The lounge features a limited restaurant menu. Half of the walls are windows creating a nice open feel.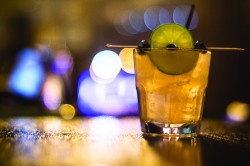 The Drink: The Blueberry Embrace
The Creator: Marcus Dennis
"The Blueberry Embrace" contains Skyy blueberry vodka, muddled blueberry, half a lemon, St. Germaine, Limoncello, and X Rated then garnished with an orange slice and blueberries. Dennis was on a retreat and while away he found himself experimenting behind the bar and here he came up with "The Blueberry Embrace." The drink itself has a light refreshing quality to it almost reminiscent of a lemonade.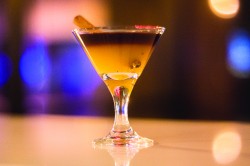 The Shot: The Auburn Tide
The Creator: Gennifer Christianson
The Auburn Tide is Christianson's spin on Sangria with a fall twist. It contains muddled orange and blueberries, Cointreau, Skyy blueberry and brandy topped with cabernet and garnished with a cinnamon stick. It was then presented in a small martini glass. Christianson was initially thinking about a Compari sangria but thought the blueberries would make for a better fall cocktail.