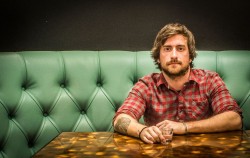 Barbacoa
Located on the corner of 32nd avenue and 42nd street in South Fargo, Barbacoa has been "bringing the flavors of the south a bit further north" since they opened in October of 2015. Featuring a menu of south-of-the-border flavors, with a focus on barbeque, their taco options have quickly become the talk of the town.
The bartop alone is worth a visit to the lounge area of the restaurant. American pennies serve as a backdrop for designs created by various coins from several nations south of the United States. The restaurant owner, his mother, their friends and some staff members laid the coins themselves over the course of two days and the staff is always delighted to show it off to new visitors.
They also proudly feature one of the largest selections of tequila and mezcals (30+ different options), a respectable whiskey shelf, and 16 different taps, with most of them being local or regional craft beers. Daily happy hours from 3:30-5:30 showcase half price margaritas and tequilas, $3 sangrias and $3 beers and they always have special features like $3 wine pours, half price wine bottle specials and $12 mexican beer buckets.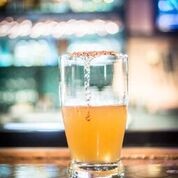 The shot: Gunslinger
The creator: Adam Nehk
Adam chose Alipus Santa Ana Mezcal as a tribute to small-production, farm-to-bottle spirits and shared with us the tradition of welcoming visitors to your home with a shot of mezcal. A shaker is filled with mezcal, a house-made chipotle sour mix, fresh squeezed citrus juice (oj, lemon, lime), a fresh lime juice mix with agave nectar, a bit of adobo sauce from canned chipotle peppers, and a couple of dashes of black walnut bitters, before it is gently stirred. He gives each shot glass a quarter rim with agave nectar and Tajin(a commercial seasoning of dried peppers & lime juice). The pepper spice hits first and is followed by the smoky mezcal with hints of roasted walnut. Sour citrus and agave sweetness are present throughout, but come in prominently on the finish when they are needed most to tame another blast of hot pepper spice that hits again in the finish.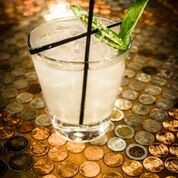 The drink: The Hornet's Bite
The creator: Adam Nehk
Adam wanted to create an upgraded twist on their most popular cocktail, the classic margarita. Filling a shaker with ice, he added Hornitos Spiced Honey tequila, lime juice, Thatcher's Tres Chiles liqueur (Jalapeno, Habanero, Thai), tiny slices of fresh serrano peppers, and fresh basil leaves. It is then shaken and strained into rocks glasses full of ice, and garnished with basil leaf and a long thin slice of serrano pepper that was salted, put on a spike, and set on top of the drink, daring you to take a bite after you sip. A delightfully strong nose of fresh basil and seranno pepper pulls you in for a sip and the lime and honey hit first. The middle washes your palate with basil before the heat builds from within in a slow and pleasing way. Those who want the heat sooner and stronger should take a little bite of the pepper after each sip.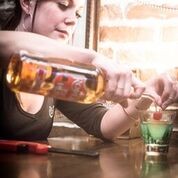 Lucky's 13 Pub
The third restaurant in a chain of now six throughout the Dakotas and Minnesota, Lucky's 13 serves up hearty portions of both classic American grill and pub choices plus interesting new takes on pub grub. Their homemade tater tots are a favorite of many patrons and their Fargo location, near the West Acres Mall and just off 45th Street is a perfect spot to meet for a drink or a meal while taking a break from the craziness of the holiday shopping season.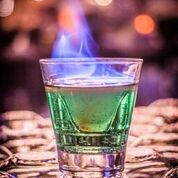 The shot: Wentz Bomb
The creator: Kayla Erickson
As a favorite spot to catch a football game on TV, a shot that pays tribute to local hero turned NFL quarterback Carson Wentz was absolutely essential. The Wentz Bomb is a bomb style shot where a shot glass with one set of ingredients is carefully filled inside a rocks glass filled with another set of ingredients and the consumer shoots both glasses at once, causing the flavors to wash over their palette one after the other. In this version, Kayla fills the rocks glass with Midori melon liqueur and Liquid Ice energy drink and then fills the inside shot glass with lemonade and Deep Eddy Lemon Vodka which creates a gold inside of green effect. She then floats Ron Diaz 151 which is set on fire. She then makes sure the flames are completely blown out before serving it up. This melon bomb has a bit of citrus flare that helps temper the sweetness of the Midori, but this is still a sugary sweet bomb shot through and through.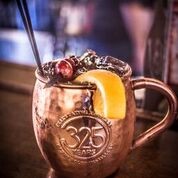 The drink: Midsummer Mule
The creator: Kayla Erickson
Kayla muddles orange slices in the bottom of a copper mule mug and adds ice and then Crown Royal vanilla-flavored whiskey, Crown Royal apple-flavored whiskey and Gosling's ginger beer, served garnished with a lemon slice on the glass and three cranberries on a spike. While the muddled citrus and ginger beer give this drink a sharp and slightly spicy nose, this is more of a mule for those who aren't all that excited about the spiciness that ginger beer typically adds. The syrupy sweet-flavored whiskeys all but take away the standard kick of a traditional mule, and instead this drink presents warm, comforting flavors of vanilla and apple, with light hints of orange zest and ginger.