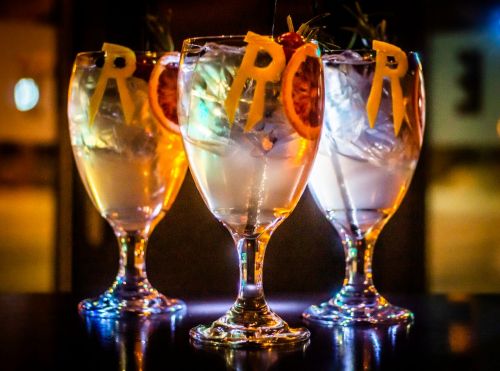 For the fifth week of the cocktail showdown, we packed three establishments into one night so let's get right into it with our first stop which was not only a first-time entry into the competition but also a brand new business. Opened in late October, 46 North Pints and Provisions is the newest addition to the downtown dining scene and brings a slightly elevated gastropub model to the corner to the east of the post office. The space is wide open and warm with a touch of sleek chic combined with warmed repurposed wood and lots of large windows that face both Roberts Street and 2nd Avenue North. During the day and early evening hours those windows let in an abundance of natural light but in the evening they seem to barely separate you from the bustling downtown scene in a way that makes you feel like you are experiencing this rebirth of downtown from a new vantage point. The space was designed with the intent of being the kind of place you could go to every day for a bite and a pour from one of sixteen taps but also serve as a destination for special occasions or date night. They also have a private room that seats 25-30 and is available by reservation.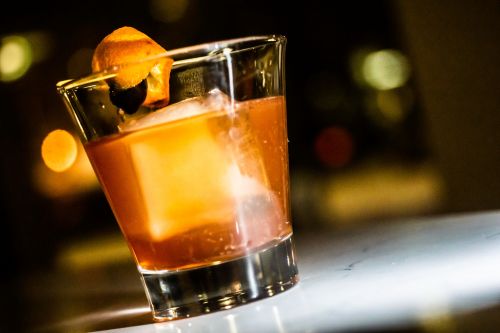 The drink: Bourye Old Fashioned
The creator: Conner Collins
Conner brought together a blend of Rittenhouse Rye and Maker's Mark bourbon for this take on the old fashioned. House-made demerara syrup (made with raw sugar) was added to the blend of whiskeys along with a lightly muddled orange wedge and a bit of Angostura and Peychaud bitters. Conner then stirred with ice before straining into a double rocks glass with a large ice cube. The drink was finished with a classic garnish of orange peel and cherry on a bamboo skewer.
While there wasn't much outside the ordinary in this take on the old fashioned recipe, it was well balanced, if not a bit more citrus forward than I usually go for. The addition of spicy rye was a welcome touch that helped temper the sweet bourbon, demerara, and citrus juice.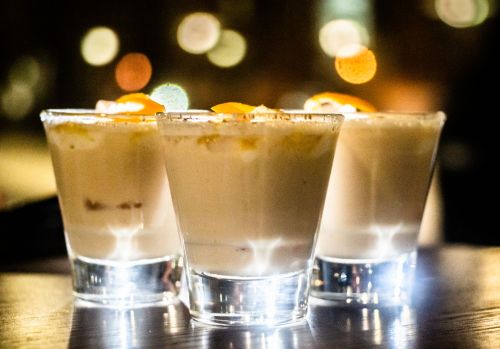 The after-dinner drink: Italian Irishman
The creator: Conner Collins
Beginning with a shaker with ice, Conner added Baileys Irish Cream, Disaronno and Tatersall Orange Crema before shaking to chill. He then pulled out a container of hand whipped cream that he had not only infused with Frangelico but had whipped into a thick but pillowy consistency. The shaker contents were strained into a large shot glass before the almost marshmallow-like cream was dolloped on top and then drizzled with a bit of caramel then topped with shaved nutmeg. The name seemed incredibly appropriate as the first flashes on the palate were Disaronno and Frangelico with the caramel, citrus, and nutmeg tying it all into the Irish cream finish. The thickness of the hand whipped cream was a great shelf for the caramel and nutmeg and held up even though I decided to sip and savor rather than shoot this shot full of decadence which meant that with each sip I got the full depth of the drink.
Our next stop on this particular evening was also a new entry into the competition but this time it came from a very familiar spot that is known for many things but maybe not so much their cocktail capabilities….until now. Luna (formerly Luna Coffee) had been a neighborhood coffee bar until Nikki Berglund purchased the spot several years ago and began transforming it into what it is today: a truly unique neighborhood eatery complete with coffee, wine & beer bar, and even well-crafted cocktails! If you aren't familiar with their award-winning Chef Ryan Nitschke you would do well to head on over to Luna as soon as you can and see why he was nominated for a Beard award and has two AAA Four Diamond Awards. Even if none of that entices you, their cheese and meat case is an absolute wonder to behold.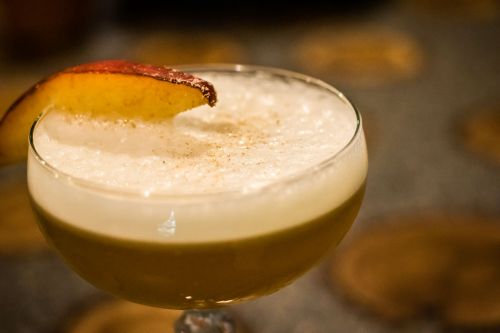 The after-dinner drink: La Petite Poire
The creator: Payton Berger
Most great cocktails have a great story and La Petite Poire fits that bill. A couple years back, Payton and his partner found some exceptionally delicious little pears at a farmers market that surprised them with an amaretto-like flavor. It made enough of an impression on Payton to not only get him to seek out the pears in subsequent trips to the market but also seek out those flavors when building his entry for the Cocktail Showdown.
Long before we arrived, Payton had made a brown butter washed vodka and explained the process for those who aren't familiar with fat washing spirits. Typically, the fat (or in this case butter mixture) is drained out of the pan and slightly filtered (in the case of meat fat washed spirits) before being poured into the bottle of spirits. The bottle is usually shaken to completely wash the spirit with fatty flavors before left at room temp for a few hours and then chilled overnight in a freezer. Then the fat/oil is skimmed off the top or the spirit is filtered out through a screen until you are left with a slightly cloudy but mostly clear spirit that is loaded up with flavor from all the tiny bits of oil infused in the spirit. The brown butter vodka was tossed into a shaker with ice, J Pear liqueur, Disaronno, house-made clove syrup, a couple dashes of Aztec chocolate bitters and a squeeze of lemon juice before vigorously shaken until chilled and diluted. The ice was then strained out and a reverse dry shake with egg white was performed before straining the cocktail into a coupe glass. It was then garnished with a slice of peach on the rim and a bit of shaved nutmeg.
The clove and nutmeg mingled well with the amaretto sweetness and brought flavors that reminded me of spiced poached pears. The vigorous shake was perfectly appropriate for diluting the sweetness enough to make the savory spices come forward just right.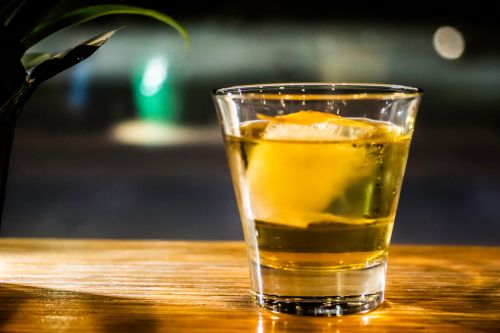 The drink: Anticuado
The creator: Payton Berger
The name alludes to exactly what this drink is, a south of the border take on the common old fashioned recipe. Payton began by "melting" a bit of golden light agave syrup with a few drops of scalding hot water. He explained that he found it helped to open up the sugars and deliver more flavor. For the spirits portion of the old fashioned recipe, he chose Hornitos Anejo with a touch of Tattersall Orange Crema. For the bitters, he chose Fee Brothers Gin Barrel Aged Orange bitters, which I felt, in conjunction with the orange crema, helped balance the earthy barrel-aged tequila with a bit of bright citrus and a touch of botanicals. The agave syrup helped boost the profile of the agave flavor in the drink as well and was a simple but smart choice.
Rustica has been considered a pride of Moorhead and truly the entire F/M dining scene since it was first opened by local restaurant legends, Eric and Sara Watson in late 2014. Featuring two very separate rooms, The Eatery and The Tavern, it is an inviting space that uses exposed brick and warm wood tones to create a comfortable and cozy atmosphere on either side. The pizza oven and beer taps in the Tavern side offer a bit more relaxed bar-like vibe but the Eatery isn't at all the type of place where things like your choice of attire or whether or not you have a cocktail or a full meal on your mind will hardly matter.
The drink: The FM Empress
The creator: Aaron Benson
Aaron calls this drink a "Superior Gin and Tonic" and is quick to state that the superlative is used as a description of the water source for the Vikre Distillery Boreal Cedar gin that he used in this build. Made with pride in Duluth and sourced from water from what some might call the greatest of the Great Lakes, this special gin is infused with sumac, juniper berries, black currants, grapefruit peel, ginger, and cinnamon, and rested on toasted red cedar wood. To this, he added a house-made tonic syrup that contained pink and black peppercorn, cinchona bark (a digestif), grapefruit & lemon zest, citric acid, salt, sugar, and vodka to extract. For simple syrup, he used a housemade lavender simple syrup. The gin, tonic syrup, simple syrup, and a bit of Fentimans Rose Lemonade was added into a wine goblet with ice and then topped with a bit of soda and then delicately garnished with a blood orange slice, a lemon cut into an R, some juniper berries, black peppercorns, and a sprig of rosemary which was torched a bit to release aromatics before presentation.
On paper, it might look like a bit more than overkill for a gin and tonic but Benson knows how to build flavors with some of the best in town and a gin and tonic with this much depth is worth seeking out. I'm a big sucker for the aromatics that gin and tonics give off when served in wine glasses and the cleverly chosen garnishes brought all the flavors inside the gin and syrups up into the aromas in a way that made me revisit this drink frequently and in short order as much to smell it as I did to drink it.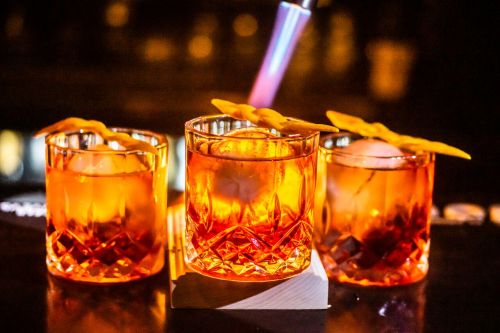 The drink: The Jabroney
The creator: Aaron Benson
Like many cocktail enthusiasts, Aaron is fascinated by the history of certain drinks. This fascination has led him to present a new take on the Negroni as a celebration of 100 years of history since Count Camillo Negroni asked his friend, bartender Forsco Scarselli at Cafe Casoni in Florence, Italy to strengthen his favorite cocktail – the Americano – by replacing the soda water with gin. Scarselli chose an orange garnish, rather than the lemon typical of an Americano, and the Negroni was born.
Featuring a tincture made with grapefruit hops grown by his brother, this drink once again called upon Vikre gin. Instead of the typical ⅓, ⅓, ⅓ mixture of gin, vermouth, and Campari, Aaron split the sweet vermouth part of the recipe between Antica sweet vermouth and Aperol to pair with the hops and grapefruit tincture. The mixture was shaken with ice before the other twist on the classic came in the form of smoke. When we sat down, it was in front of a sign made out of a block of cedar with the letters H.P.R. inside a sunburst burnt onto the block with a wood burner. Benson grabbed the cedar block and put a little pile of wood shavings on it before torching it and then setting a rocks glass on it upside down to gather some cedar smoke. The glass was then turned right side up and a large ice sphere set inside the glass before the drink was strained into the glass and garnished with a specially braided orange peel. As a fan of hops and grapefruit, this was the Negroni I've always been looking for. Botanicals and bitterness were tempered with just the right amount of citrus sweetness all tied together with a bit of smooth cedar smoke.