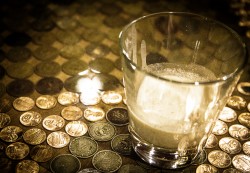 Participating as a judge in the cocktail showdown has opened my eyes to a whole different bar experience. Since week one I have learned new bar vocab terms, techniques, flavor combinations, and have tasted exotic liqueurs I never knew existed. Needless to say drinking on the job has never been so rewarding...and educational.
Week Five of The Cocktail Showdown featured Kent Larsen's "Barbacoa Coquito" and "The Ghost Rider" at Barbacoa. Molly Fontaine's "Irish Italian" was featured at The Holiday Inn Spirits Lounge.
Barbacoa
Barbacoa is located at 3241 42nd St. S in Fargo. Barbacoa is one of Fargo's newest restaurants featuring not only Mexican food but southwestern barbecue as well. Their menu features brunch items like the ever popular huevos rancheros, tacos, entrees, burgers, soups, salads, desserts, gluten free options and happy hour specials. Each cocktail on their cocktail menu is inspired by a classic cocktail as well.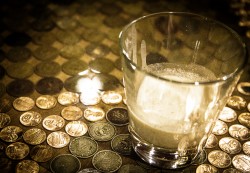 The Drink: The Ghost Rider
The Creator: Kent Larsen
"The Ghost Rider" contains Chinaco blanco tequila, fresh squeezed lime juice, blood orange puree, organic agave nectar and club soda.The ingredients are then stirred to balance out the ingredients and to avoid dilution due to ice melt. The club soda is then floated to create a gradient effect and is then garnished with a ruby red grapefruit. It is a take on the tequila-based Paloma. The drink is named after the popular Marvel motorcycle-riding, flaming-skulled Marvel hero portrayed by Nicolas Cage in the 2007 movie of the same name.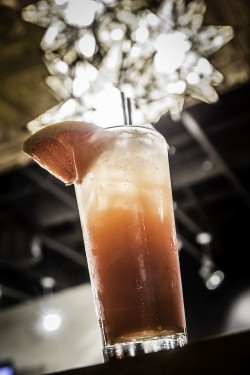 The Shot: The Barbacoa Coquito
The Creator: Kent Larsen
The Barbacoa Coquito contains sweetened condensed milk, coconut milk, evaporated milk, cinnamon, nutmeg, and vanilla and rum. The Coquito itself is essentially a Puerto Rican eggnog. Kent's intent was to create "a non-eggy eggnog", and this rum-based creamy cordial was born. Larsen did a Bacardi 151 rinse and sparked it thus creating a blue flame used to caramelize a mixture of cinnamon and sugar, creating a mini aromatic bartop spark show.
Holiday Inn Spirits Lounge
Spirits Lounge at Holiday inn is located at 3803 13th Ave. S in Fargo. Spirits Lounge has a nice open bar area complete with tables, booths, and even featured a space for live music. Onsite gaming is available and the full restaurant menu is available in the lounge. Daily drink specials are featured Monday through Friday as well as happy hour specials which include a free food bar. Stay tuned dear barflies, Spirits will be doing a full-on remodel in February.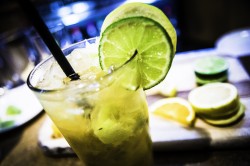 The Drink: The Irish Italian
The Creator: Molly Fontaine
The Irish Italian is Fontaine's interpretation of "The Big Ginger", it contains Jameson, Limoncello, muddled lemon, lime, orange, bitters and fresh ginger, sweetened with simple syrup and ginger ale. She then used the rinds to add a bit of zest to the cocktail. The name "Irish Italian" came from Jameson (an Irish Whiskey), and the Italian liqueur Limoncello. Fontaine was inspired to throw in an Italian twist as a tribute, because she grew up in an Italian neighborhood.