Chef's Table Catering recently converted the building that formerly housed the restaurant Barbacoa into a private dining and event space. Located just south of 32nd Avenue off 42nd street, they have kept all of the great lighting fixtures and features but opened the space up into one large dining room that can seat up to 125 and is worth consideration for your next special event. Adam Nehk is their Bar Catering Manager & Event Coordinator/Mixologist and he explained that they have been using the space for a variety of occasions including a 90th birthday party, corporate events, rehearsal dinners and last year's "Cheesin' for a Reason" fundraiser for the Great Plains Food Bank. Pairing the wonderful atmosphere and full bar and kitchen accommodations of this facility with top notch caterers like Kent Larsen and his team at Chef's Table would probably be enough reason for you to look into booking the space but the fact that they also offer bar catering services that include the possibility of having Adam bartend your private event makes it all the more appealing.
The drink: Warm Weather Waiting
The creator: Adam Nehk
Adam began with a house made syrup using regional honey and dried chamomile, ½ ounce of fresh squeeze pomelo juice, two muddled raspberries and ¾ oz of a strawberry shrub. To that he added two dashes of peach bitters, 2 ounces of Bloom gin and ice before shaking. That mixture was then treated to a reverse dry shake with a bit of egg white. Reverse dry shaking is simply shaking the cocktail with ice first to dilute and chill it and then straining out the ice to dry shake with egg whites to keep the drink chilled while also allowing the egg white to foam up into a real nice froth, which ice and water would inhibit. The drink was then strained into a wine glass and garnished with a sprinkle of dried chamomile. The aroma was quite big and sort of reminded me of a strawberry garden with the nice mixture of botanicals and fresh fruit. The choice of Bloom gin, which is known for not being overly piney, made for a softer, rounder bouquet of aromas and flavors that let the chamomile and fruit juices come through.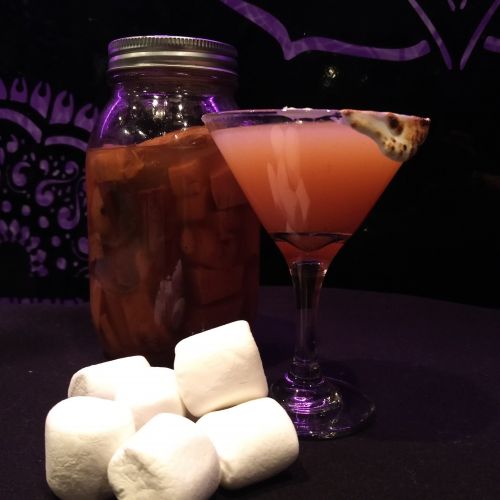 The after dinner drink: The Yamhattan
The creator: Adam Nehk
For the after dinner drink/shot portion of the competition, Adam presented us with a drink that is featured on the fall menu at Twist, which is also under the umbrella of the Great Plains Hospitality group. He began with two ounces of a special infusion of Four Roses bourbon with sweet potato and cinnamon. To this, he added ½ ounce sweet vermouth, 1 ounce of a marshmallow simple syrup, and a couple drops of Woodford Reserve spiced cherry bitters. He then rimmed half of a martini glass with a marshmallow creme which was torched until toasted. He then added a tiny bit of ice to the shaker and shook it briefly to chill the drink without diluting it much. This was then strained into the martini glass and garnished with a bit of shaved nutmeg that helped to finish off that sweet potato pie flavor. While it was made in the style of the Manhattan recipe, the original flavor profile is left far behind in favor of those popular fall favorites of yam and spice.
After operating Würst Bier Hall's downtown location for almost five years, co-owners Klaus, Burt and Lisa Meyers opened a brand new location called Würst Bier Hall West in the Bottle Barn plaza on 32nd Avenue and Veterans Boulevard in West Fargo. The new location features the same food menu that has been so incredibly successful at the downtown Fargo location and also features an extensive tap list of 36 local, regional, and national beers. A couple things that immediately stuck out as different than downtown was the warmer, slightly more upscale, less industrial vibe the new location has and also wine on tap selections for fresh and affordable glass pours of some very respectable brands.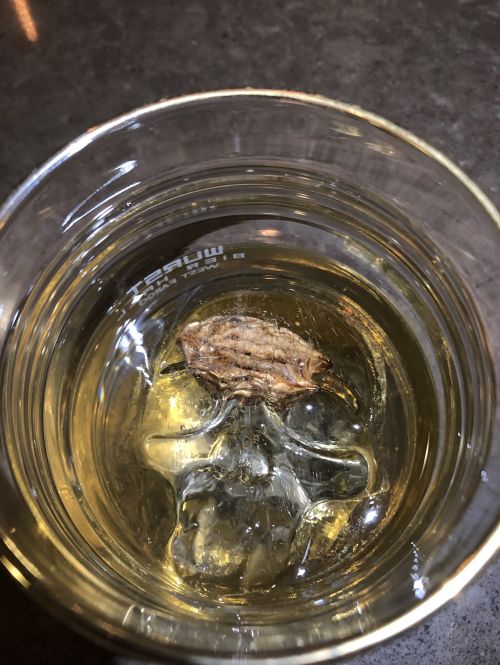 The drink: Wurst Gone West
The creator: Janna Hansen
A play on the new location and the base spirit used in the drink, this revamped Old Fashioned featured a house version of High West Double Rye that was infused with peaches. Two ounces of the whiskey infusion was married with 3 dashes of locally made Valhalla Mango Habanero bitters and ¼ ounce of simple syrup. This was stirred with some ice to chill and dilute and then a decanter was filled with hickory smoke before the cocktails were added to the smoke filled vessel. A special clarified ice skull with a peach pit frozen into the center of the cranium was placed in a rocks glass before the cocktail was poured out of the smoky decanter and into each glass. This new take on the old fashioned was fairly balanced and after just a couple minutes the hickory smoke became more subdued which allowed layers of peach, rye spice, and a touch of habanero heat to come through with each sip.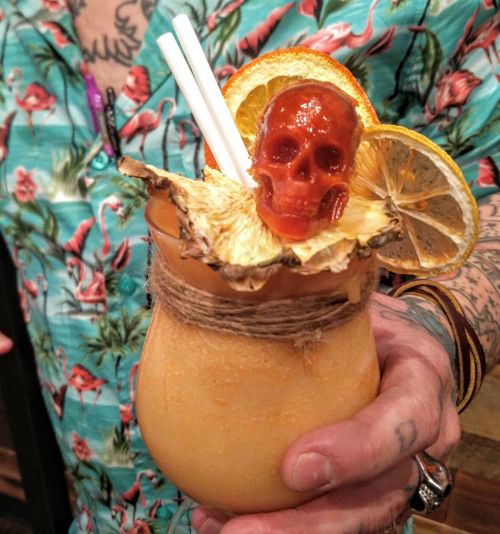 The after dinner drink: In Death
The creator: Elijah Larson
Every year he has competed, Elijah has brought some new sort of "flare" with his entry into the competition. In previous years he made cotton candy on site as part of his presentation and this year he once again brought something new to the challenge by preparing and presenting his cocktail to a specifically chosen soundtrack of music videos that played over the house sound system and on some of the televisions.
As steel drums began to get us into an island groove, he pulled out a bottle of St. Elizabeth's All Spice Dram and a special hemp wrapped bottle with his nickname "Poppa Shakes" on it that he explained contained a blend of Appleton Signature rum, Martell VS Cognac that was infused with overripe bananas, and a touch of Jagermeister for a little botanical depth. He also pulled out a tray of dried pineapple, orange, and lemon wheels and a tray that contained a half dozen large frozen orange cubes. He explained that the cubes contained a juice blend of coconut and coconut creme, pineapple, carrot, and a touch of tamarind. As the steel drums continued to pulse island rhythms he added two of the cubes, a splash of lime juice, splash of carrot juice, some St. Elizabeth's, and his special rum blend into a magic bullet with a couple of ice cubes. The drums began to fade sometime in the middle of his blending and as the blender whirred to a halt, the familiar strains of Garth Brooks' "Two Pina Coladas" came forward as he filled a hemp wrapped tulip glass with the blended colada cocktail. He then built a shelf out of the dried fruit wheels which would have been a plenty beautiful enough garnish for some but for Elijah, it was a shelf on which to balance the finishing touch on his drink called "In Death", a hand made candy skull that was made in the style of a Mexican candy pop and featured Juaritos mango soda, tamarind juice, tamarind paste, and chili powder. The cocktail itself had enough depth and plenty of spice hiding behind the blend of multiple juices but when you consumed the candy in tiny bites as you took sip after sip, the drink became not only a work of art but an experience.
While this drink is not really typical of the style of cocktails served at Würst Bier Hall West, it will be available by request for the next few weeks and is representative of some of the style, flare, and flavors that Elijah is building into the beverage program at the Meyers' upcoming restaurant venture, Beer Fish. If you can't make it out to try "In Death", keep an eye out for island style cocktails downtown this fall.