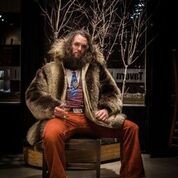 For our seventh and final week of the Cocktail Showdown, we headed back to Rustica at 315 Main Avenue in Moorhead, but this time sat down in the Tavern side of the building.
Chalkboard menus hang on exposed brick walls and copper tap handles catch the eye and enhance the rustic, comfortable feel. The wood fired pizza oven tucked away in the corner is often a very active area of the room, cranking out delicious and creative pizzas, especially during their happy hours of 5-6 and 9-11, when they are half off.
The wine list, developed by sommelier Jean Taylor, covers the essentials and then some, and the bar staff does not shy away from true mixology. We sat down with Jared Winmill who had prepared an array of ingredients as well as glasses full of grains which immediately caught my attention.
Jared explained to us that for both of his creations he took inspiration from working at both Rustica, where he often works with whiskey, and Junkyard Brewing where the focus is beer. As a nod to "the mash" that is responsible for birthing both beer and whiskey, Jared played with malted grain infusions of spirits for both his cocktail and his shot, and his intent was to allude to and even outright impart flavors from the brew world into the world of distilled spirit-based cocktails.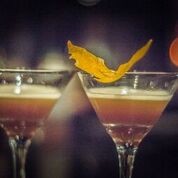 Jared Winmill's shot
Jared infused Templeton Rye with malts that are typically used in IPAs and Loral hops that are known for complex floral, citrus and even mint notes. In a shaker with ice, he adds the rye, fresh squeezed Meyer lemon juice, a simple syrup made from Bell's Best Brown ale, Bittermens Hopped Grapefruit bitters and Bauchant (a cognac liqueur made with orange essence). He then does a wash of green and yellow chartreuse on a martini glass before shaking and double straining into the glass. It is garnished with an artistic butterfly Meyer lemon zest.
The aromas are certainly reminiscent of an IPA, but a more complex IPA than you would usually find at a local tap room. While the aroma from the hops is most certainly more associated with beer, this drinks like a cocktail through and through. The hints of grapefruit, lemon, pine, and hops do not at all overpower the touches of spice from the rye and the herbal essence imparted by the chartreuse glass wash.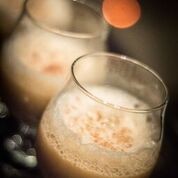 Jared Winmill's drink
To pay homage to the delicious frothy head that is a part of any good glass of beer, Jared created a whiskey foam to top this cocktail with and as he fills a shaker with ice and ingredients he tells us about what exactly is contained in his foam dispenser. This time around his malted grain infusion is done with Buffalo Trace bourbon. To that he adds a simple syrup made from Bauhaus Baltic Porter reduced with cinnamon and vanilla bean, a dash of lemon juice, some malted grains he infused with whiskey and a touch of allspice and clove. In the shaker he has a bit of Balvenie Doublewood, honey simple syrup, Buffalo Trace, cream and a bit of oatmeal stout. This is shaken and double strained into a tulip glass before a layer of foam creates the head. It is garnished with cocoa powder and freshly ground cinnamon and nutmeg.
The only thing I can think of to describe the flavors presented in this glass is to imagine an oatmeal milk stout that has been aged in a whiskey barrel with a variety of spices. The nose on the glass reminds me of experiences brewing beer and the influence of whiskey ranges from sensing its presence to really tasting it from time to time. Chocolate milk flavors are augmented with roasted grains as hints of spice and smoky peat dance around the palate. It's a well known fact that chocolate and whiskey can go together quite well and this cocktail, like a good barrel aged beer, is yet another example of that.
And thus, our weekly Cocktail Showdown has come to a close but we urge you to stay tuned in the New Year for an announcement regarding where and when our Fourth Annual Bartender's Battle will be taking place. This is our "Chopped" style competition where the top scorers in the Cocktail Showdown will go head to head to be named champion of the Bartender's Battle. This themed event always brings out the best in both the competition and the attendees and we can't wait to see what you do with this year's theme. Details to come after we return from our holiday break.