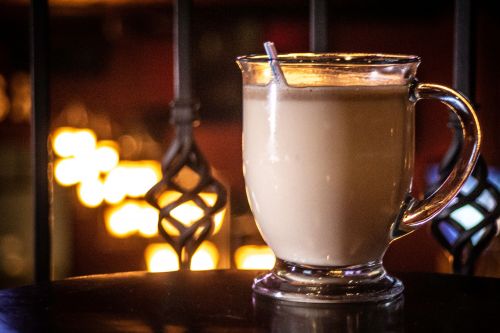 After a day of checking the weather updates and keeping an eye on any closing announcements from this week's entrants, our judges ordered up a ride share service and headed out to the western side of town for two stops in West Fargo. The fact that these establishments are located directly across the street from each other made it seem like such an easy trek between the two but the piles of snow covering every sidewalk corner made the short walk across 9th street east in West Fargo a memorable and laughter filled spectacle. After a few drinks and some great hospitality, we began to feel a nice warm glow and were all glad we took on the adventure of the third week of the Cocktail Showdown.
Blarney Stone is an Irish pub in West Fargo with incredible attention to authentic details both with the decor, and with their drink and food menus. Those looking to get away from the downtown madness that is St. Patrick's Day weekend would do well to make a stop out to Blarney Stone for some bangers and mash, corned beef and cabbage, Irish stew or other great Irish staples. Their breakfast specials would be a great way to start your weekend celebration if you are heading down to the parade but are almost a necessity for those intended to make it through the day-long event. Their Irish whiskey selection is unmatched and of course, they know how to pour a perfect pint of Guinness.
The Drink: Blarney Stone's Hot Buttered Rum
Presented by: Maggie Green
Maggie welcomed us to Blarney Stone with a steaming hot cup of their house recipe Hot Buttered Rum with an ounce and a half of Captain Morgan spiced rum in it. The recipe is a fairly standard mixture of brown and white sugar, multiple creams, butter, vanilla, clove, cinnamon, allspice, and nutmeg and while it may not look fancy on paper, the flavor and feeling that we got from drinking this mug of goodness was certainly something to savor. When I raised the mug to my face, before even taking a sip, I was filled with aromas of perfectly blended winter spices and an immediate warmth that made me think of mittens, boots, and scarves being taken off and exchanged for a cup of Hot Buttered Rum by a cozy fireplace. Sabrina called it "an oatmeal cookie in a cup" and to that, I would have to add "given to you by your Grandma and followed by a hug". A perfect example of how the right pre-batched beverage on the right night can be so much more than it appears on paper.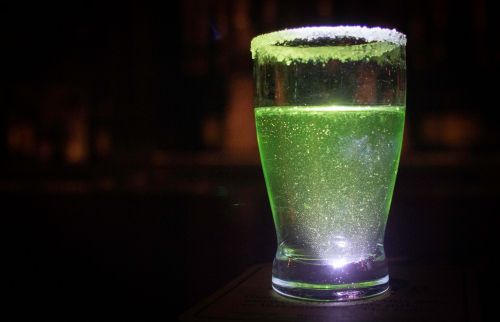 The shot: Lucky Charm
Created by: Maggie Green
Maggie brought together Bacardi Limon, Sour Apple Pucker, melon liqueur and a squeeze of lime in a shaker with ice. After shaking, the drink was strained into a sugar rimmed shot glass and presented. For a sugar rimmed shot, it was surprisingly well balanced and a great reminder of how just the right amount of freshly squeezed citrus can really tie a drink together. Another fine example of Maggie's understanding of flavors and how to use commonly available ingredients to create a tasty drink that certainly satisfies their customers over and over again.
Throughout their first year in the rapidly expanding city of West Fargo, Tru Blu Social Club has received a significant amount of praise and all of it is well deserved. Out of town visitors that are staying in a nearby hotel frequently give them excellent ratings for perfectly cooked duck and steaks and their exemplary service is also earning them great marks. The decor is stylish and romantic with lots of rich wood but somehow all the pretense of what could be a very fine dining establishment is removed in a way that makes farmers with mesh caps and families with children feel just as comfortable as a meeting of businessmen in full suits.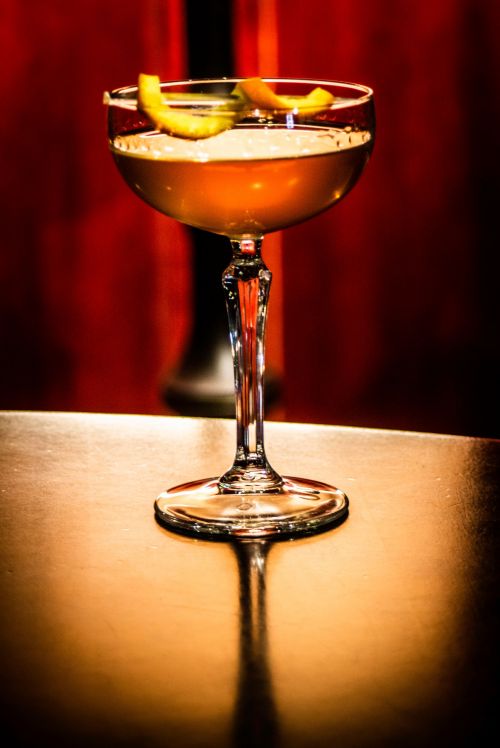 The drink: Erindring Drink
The creator: David Jørgensen
David created this drink as a nod to the first 20+ years he spent in his home country of Norway and the name roughly translates to "a vague memory that is more of a feeling or sensation than a visual memory." The vague memory, in this case, refers to his first experiences with the traditional Scandinavian spirit, Akvavit or Aquavit. This cocktail, however, is quite different from those initial experiences of swallowing the bitter, botanically enhanced spirit (he remembers his Mother preferring to chase it with her favorite beer) and presents a very delicate, palatable drink.
Linie Aquavit was added to Tattersall Orange Crema, honey, and a couple dashes of Peychaud's bitters before being stirred and strained into a coupe glass and garnished with an orange twist. I've had numerous Aquavit cocktails over the last few years and most of the time they are mixed with a bit of honey but the balance that David achieved in this drink really kept me coming back to discover not only the individual ingredients that made up the cocktail but helped the caraway and dill in the Aquavit really stand out and shine without overpowering.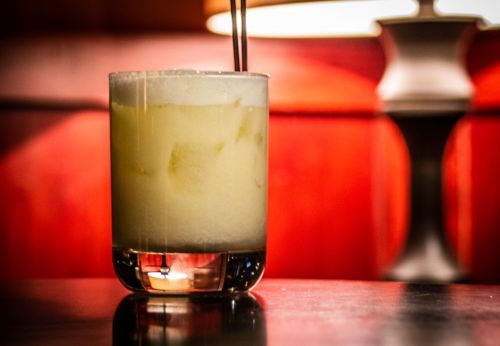 The after-dinner drink: Peaches and Cream
The creator: David Jørgensen
As he prepped this drink, he told us of another fond memory of his childhood in Norway that also involved his Mother and in particular, the simple dessert of peaches, sugar, and half and half that she would make for them on certain Saturdays. This immediately grabbed my attention and made me think of my dearly departed mother who would also sometimes treat us to this simple but delicious dessert.David brought together Ciroc peach vodka, St Germain elderflower liqueur, and orange juice before adding to a rocks glass and topping with half and half and then a topping of a special whipped cream that he infused with peach schnapps. If not the story that preceded the presentation, the intense peach and cream flavor really touched at my heart through my taste buds and the way the elderflower would peek out from amongst the peachy flavor really surprised me.