By Chris Larson Cjlarson75@gmail.com
Proof Artisan Distillers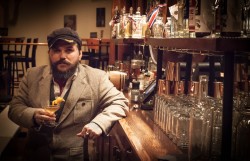 Located at 414 4th Avenue North in Downtown Fargo, Proof is a distillery that also houses both a tasting room and a restaurant that serves small plates as well as entrees. The tasting room and restaurant hours are Thursday 4pm to 10pm and 4pm to midnight on Fridays and Saturdays. The room features an ambiance unlike anything else in town with its windows looking in on the beautiful copper still and an impressive reclaimed bar as another focal point. Both the food and the cocktails focus on skilled hands using quality ingredients and get rave reviews again and again. Those looking to book a holiday party should know that private event reservations are available for groups of up to 100.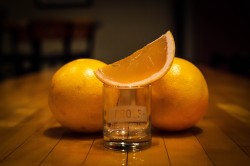 The shot: Shaddock Jelly Shooter
The creator: Elijah Larson
While his apprentice was grabbing the shots out of the freezer, Elijah explained to us that jelly shots and the modern version, the jello shot, have been a part of history for the last 100 years or more. His intent with this creation was to present a fun and interesting shot that even those who are not normally fans of jello shots would find enjoyable and unique. A play on the mimosa, Elijah adds Proof Minions Gin, sparkling moscato, local honey and gelatin to freshly squeezed grapefruit juice and sets it in a half-shell grapefruit rind. It is served on top of a shot glass as a slice that includes a real grapefruit rind to eat the shot from. The fair amount of gin reminds you it's a shot but the rest of the experience is nearly like eating a delicate gelatin candy packed full of fresh grapefruit flavor.
The drink: Old Tom cocktail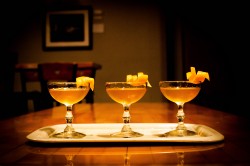 The creator: Elijah Larson
While their Old Tom gin is not quite ready for the public, Elijah has been playing around with it more and more as it reaches maturity, and wanted to harken back to the early history of cocktails, when the spirits all came in casks and were bottled to order. Following the classic three-part formula known as an "old fashioned" (spirits, bitters, sugar), he fills a muddling pitcher with Proof's Old Tom gin, a personal creation of stone fruit tincture that has aged for a year with peach and nectarine pits and honey syrup that includes vanilla bean, orange zest and whiskey. After chilling the drink with a giant square ice cube and some very persistent stirring, it is then served up in a stemmed cocktail glass and garnished with a very artistic orange twist.
The HoDo Lounge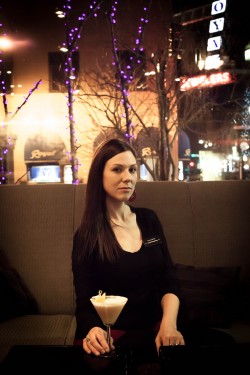 Since its opening in the fall of 2003, the HoDo Lounge has, in part, received local, regional, national, and international acclaim. Presenting cocktails that feature infusions, special spices, creative flair and always quality ingredients, the HoDo Lounge is well known for its constantly evolving menu and for housing some seriously creative and knowledgeable mix masters. On Thursday nights the lounge usually presents a remarkably talented local or regional musical act, ranging from R&B, Jazz, Blues, and Soul, to Americana and acoustic folk. This Wednesday evening we sat down with Tessa and the lack of live music gave us a great chance to hear some fun and colorful stories about two of her creations.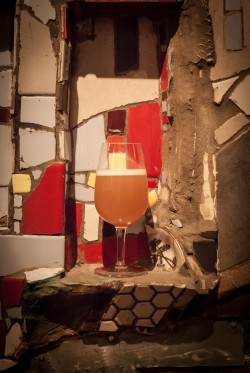 The shot: Honeysuckle
The creator: Tessa Bride
Inspired by thoughts of flirtatious if not racy fun, perhaps on a rooftop garden, this drink is meant to be savored more slowly than a normal bar shot. Thatchers Blood Orange liqueur, Stoli Vanil, honey brown simple syrup, pineapple juice and a bit of fresh squeezed lime juice is shaken and presented as a half full champagne flute that receives a vanilla spritz before it is served. The pineapple juice creates a nice white foam on top of a base that is sunset pink in color and the aroma of vanilla and pineapple is alluring and even a bit sexy.
The drink: Dream Tease
The creator: Tessa Bride
Dreaming about your job is often anxiety ridden and rarely do you wake up inspired or thirsty. While three months pregnant, Tessa had a lucid dream in which the recipe for this cocktail was created. She awoke and presented the drink to her co-workers that very day, recreating the drink from an extremely vivid recollection of each ounce that was included. With a base of pear puree she adds Maple River Rhubarb vodka, Stoli Vanil, lime juice, and orange cinnamon simple syrup,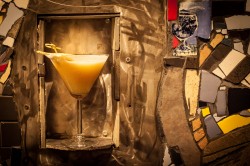 before shaking and pouring into a martini glass. The second layer is a fluffed mixture of egg white and honey brown syrup that creates a nice foam on which she lays a brûléed pear slice. The garnish does a great job inviting you in with a lovely caramelized pear aroma. The addition of rhubarb vodka imparts a subtlety that is interesting amongst flavors of pear, vanilla, citrus, and cinnamon. I wish my dreams resulted in a glass full of fall flavors like this.