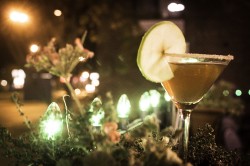 Cocktail Showdown Week Two
Week two of the Cocktail Showdown included the finest creations of Charlie Dawson and Katelin Dailey at Rhombus Guys, Alison Buecksler at Dempsey's, and Anthony Dub at The Green Mill.
Rhombus Guys
Located at 606 Main Avenue in Fargo, it offers an upbeat, hip, eclectic atmosphere featuring regional art, blending modern decor with the building's original architectural features, plus all of the tables are covered in white paper, with crayons for all ages. Though Rhombus Guys' pizza put the restaurant on the map, they have a variety of salads, seasonal soups, sandwiches and more. Be sure to check out their beer and wine lists as well as their signature cocktail menu.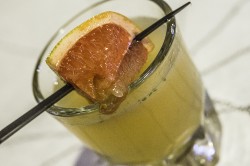 The Shot: Baby I got your honey
The Creator: Charlie Dawson
The name Baby I got your honey is a sweet homage to the song, "Baby I got your money" by the late great rapper 'Ol Dirty Bastard. It contains Cointreau, Ketel One Orange, Deep Eddy Grapefruit, grapefruit juice, honey, and mint. It is garnished with a chunk of grapefruit for your post shot glory. It's a shot with a deliciously sweet and tart citrus bite--in more ways than one.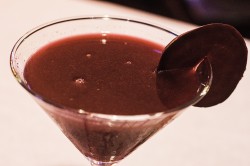 The Drink: The Beetlejuice
The Creator: Katelin Dailey
The Beetlejuice is made with housemade beet juice and exhibits a beautiful blood red hue -- the name is a clever play on the hit Tim Burton movie of the same name. It contains beet juice, Deep Eddy Lemon, honey, basil, and fresh-squeezed orange juice, and is garnished with a raw round of beet. Dailey was inspired to experiment with beet juice while pickling beets with her mother. The Beetlejuice offers a unique earthy flavor combination. The longer one sips the more the citrus notes are unlocked.
Dempsey's
At 226 N Broadway, Dempsey's is an Irish pub with a friendly-lively neighborhood bar atmosphere. It also features live music both in the bar and the Aquarium upstairs. Their menu includes an assortment of appetizers, sandwiches,housemade pizzas, a late night menu and Bert's famous beer cheese soup. Their recent hot drink menu features a variety of seasonal cocktails. Also, be sure to check out their daily specials and live music schedule.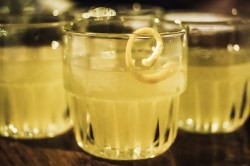 The Shot: The Sunny D
The Creator: Alison Buecksler
Takes it's name from the popular citrus-flavored soft drink also known as Sunny Delight. It contains Stoli Orange, Triple sec, Peach Pucker, and orange juice dropped in Red Bull. When Buecksler created the Sunny D she wanted to create a people pleaser, not too sweet, not too strong or too fruity.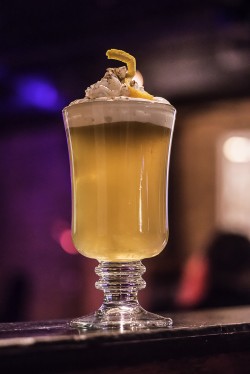 The Drink: The Irish Comforter
The Creator: Alison Buecksler
A creation that made its way onto the seasonal hot drink menu. What's more soothing than a nice warm cider concoction on a cold night? Just add Jameson and we're cozy. It contains a honey and citrus-infused simple syrup, apple cider, whipped cream and a dash of cinnamon. Buecksler adds, "It's Jameson spice and everything nice".
The Green Mill
Located at 3340 13th Ave. S. with a relaxed casual atmosphere. The Green Mill's menu features a wide variety of pastas, pizzas (dare we say chicago-style deep dish?), flatbreads sandwiches, burgers, wings, appetizers and desserts.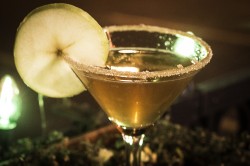 The Drink: The Fallin' Apple
The Creator: Anthony Dub
Its name stems from the season of fallin' apples, and it was inspired by a bar regular who ordered a drink but wanted Dub to surprise her. As a result he combined Crown Apple, Soco Caramel, an amaretto splash, lime sour with a splash of cranberry, then strained with ginger ale for a slight fizz. To top it off it was rimmed with a mixture of caramel, cinnamon, sugar, and salt to create a buttery sweet, salty, and tart combination, and garnished with a thin round slice of apple.
Bottoms up buttercups, stay tuned for week three!