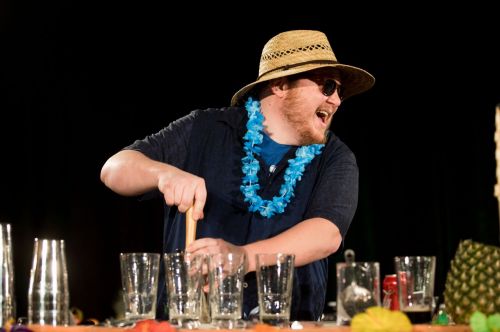 Round one: tequila
Strawberry Cilantro Sour
I chose Casa Noble Anejo Tequila for this drink because its deep vanilla and oak characteristics reminded me of a smooth whiskey. With whiskey on my mind, I decided to play on the traditional whiskey sour with egg whites.
I started adding 2 egg whites to an iSi Whipper with 1 oz. of fresh-squeezed lime juice and charged it with NO2. Then I muddled fresh cilantro with fresh strawberries, a bit of sweetened raspberry puree, and topped it with 2 oz. of Casa Noble Anejo Tequila. I shook and strained the tequila mixture into another shaker, topped it with my whipped egg whites and shook it over ice again to blend the tequila into the whipped eggs. I served the drink in a stemless martini glass with a fresh strawberry garnish.
Round 2: local craft beer cocktail
Prairie Brothers Raspberry Bulldog
In the 2nd round, I drew Prairie Brothers Brewing Company, and chose their Padfoot Black IPA. The first taste of the beer was a very pleasing burst of dark coffee, and I immediately thought of a Bulldog type Beer-Tail.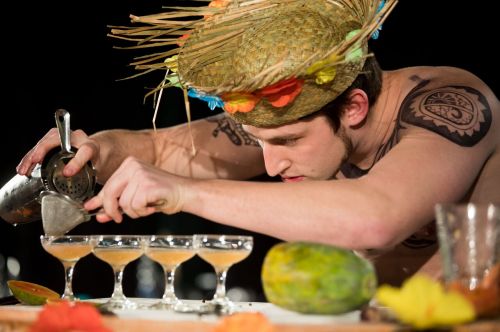 I started by muddling fresh raspberries in a shaker, and topped them with a light pour of Kahlua to sweeten up the coffee notes I planned on portraying in the drink. I then sweetened the mix further with a heavy pour of Stoli Salted Caramel Vodka and then topped it with Padfoot Black IPA, ice, and a splash of heavy cream.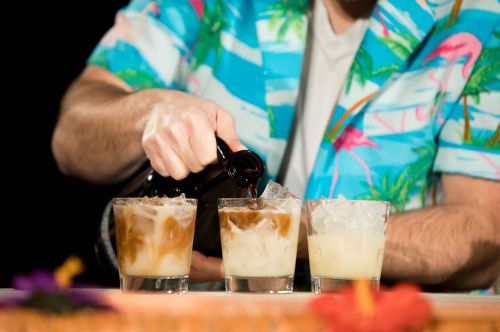 Final round: Malibu lime rum
The Chef's Shifter (Battle Edition)
In the moments before the final round, I thought of all the spirits that haven't been called, and thought "What's a Tiki party without rum?" I love dark rum and spiced rum, so Zaya 12 was definitely what I was hoping to use, since it's one of my top five favorite spirits. Josh (Goedtke) and I were completely surprised when we opened up our coolers to reveal Malibu Lime Rum. Malibu and Zaya 12 are on complete different spectrums, so I was kind of drawing a blank. I decided to taste the Malibu and make my shot while I figured out the cocktail.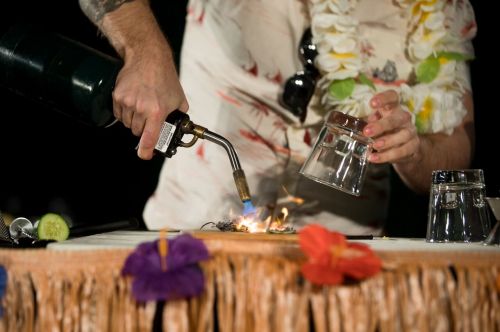 For the shot, I poured 1.5 oz of Malibu Lime and topped it with 0.5 oz of Sipsmith Sloe Gin, one of the most uniquely pleasing spirits, which I tasted for the first time at the VIP sampling the day of the event. I shook the mixture on ice, strained it out into a rocks glass and topped it with a splash of ginger ale for some bubbles and an extra kick of flavor. To finish the drink, I added a bruleed peach wedge, to bridge the gap of the sweet lime Malibu and the dark cherry flavor of the Sipsmiths.
For the cocktail, I was still stuck on wanting my Zaya, so I decided to use the Malibu like a lime cordial in a twist on a drink that I created for myself at Proof, called The Chef's Shifter. For the Battle edition, I used my house made triple sec, 1 oz Malibu Lime, 1 oz. Blackstrap Rum, ½ oz. Sweet Vermouth, ½ oz. of Luxardo Maraschino Liqueur, 2 drops of Bittermans Orange Bitters, a dash of vanilla syrup and a dash of cinnamon syrup. I stirred the drink for about 30 seconds, poured it in a coupe glass and garnished it with a paper-thin slice of lime.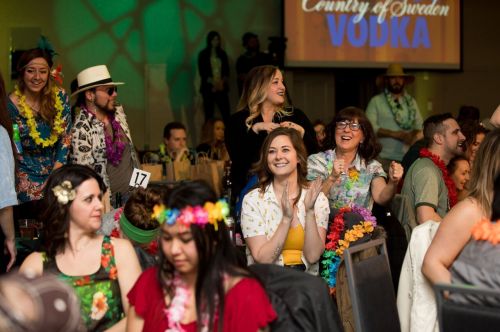 HPR: What were your expectations for the night?
Judd Eskildsen: I didn't have huge expectations coming into the battle. It was just an honor to be there as a chef going head to head against such great competition! I made it to the battle, and that's something that only a handful of people in town can say. I knew that Duma was going to put up a solid show, because he's an OG in this town.
I was a little worried to face Adam, Josh, and Jarad because of the quality drinks their bars are producing each day. Maggie, Molly, and Chris were definitely on my radar too, because I've never met them before and had no idea what they were capable of. I'll definitely be stopping by their spots in the future. To be honest I had it in my mind that I was perfectly fine losing to any name on the list, and it was a big enough accomplishment to be there. I was just there to have a good time.
HPR: How does it feel to win?
JE: I really won huh? It's still sinking in, and I'm really looking forward to the distillery tours in Kentucky this summer! The whole battle was a blur, but after each round, hearing my name and people cheering lit me up! The camaraderie backstage was outstanding too. It felt like all of us were cheering for each other and just wanting to put on a good show. I think we all killed it, and I'm really excited to be on the list of great bartenders who have won the competition in the past.