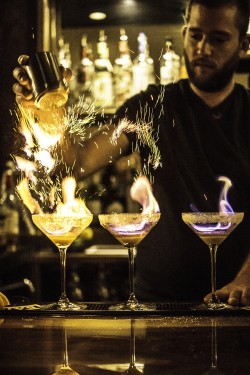 Crafting a cocktail
By Scott Motschenbacher
Cocktail -- what is a cocktail? What is the definition of cocktail? According to Wikipedia, on May 13, 1806, the editor of a local publication in Hudson, N.Y., defined it as such: "a potent concoction of spirits, bitters, water and sugar." Has that definition stood the test of time? Personally, I say yes; I'm sure I would be battled on this by many drinkers, drunks, beer tenders, bartenders and contortionists. Send me an email, we'll chat.
Now, when I look at this definition it screams one cocktail: The Old Fashioned, the cocktail that every bartender should have in his or her arsenal. This cocktail should be held to the highest standard -- no self-appreciating, salt of the earth bartender would ever use a rail bourbon for this. There have been many takes on it, but the true Old Fashioned is the same as its name: SIMPLE! Now, I could employ my recipe for an Old Fashioned. But, I would much rather you go visit one of the many great mixologists in town.
Cocktails can be crafted in so many different ways for so many different occasions. We are heading into our fall months, and I'm sure more than one tender in town is working on pumpkin spice something. Cocktails, like food, are all very seasonal: winter rolls around and everyone wants a hot toddy; spring comes back and we want fresh and unique; when summer months hit us, we want something cold and refreshing.
This is great for the mixologists because we won't get stuck blending the same margaritas all year round. For myself, and I'm sure for a lot of mixologists out there, fresh ingredients are a staple.
For instance oranges, to me, are the best cocktail fruit readily available. Utilizing all the citrus products is almost a mother sauce (mother sauce is one of five sauces that is utilized in the kitchen) of ingredients for libations.
Mixology is the new "science" of the cocktail. What drives the bartender/mixologist to create? Is it to please the guest, the dinner party, or some pretty girl you met at the laundromat? Well I'd have to say those particular people are a bit lower on the totem pole than the person creating.
The person creating the cocktails, in my personal belief, is more about impressing themselves than anyone else in the room. We bartenders/mixologists can be our own worst enemy. I've made a barrage of shots, martinis, margaritas, whiskey drinks and anything else you can think of, and when I taste my drinks, I only taste my regretful decision to add mint bitters over the pineapple cherry mint pigeon poop bitters, or really any other ingredient to make the beverage beyond great.
This is why we constantly try to better ourselves in our craft. Pushing the limits as far as possible. Why sit idle and constantly pour Jack Diets? Because myself and all the other wonderful people tendin' bar, are in a sense, artists.
Living in the Fargo-Moorhead area over the last few years has been an amazing transition in the cocktail business, from the Boiler Maker to the Dirty Fur Trader, which is one of my fav's in town from our good friends over at the HoDo. Try that tasty libation, or check out an Old Fashioned at any of our wonderful local establishments. Post haste!! Whatever it might be, please drink responsibly.