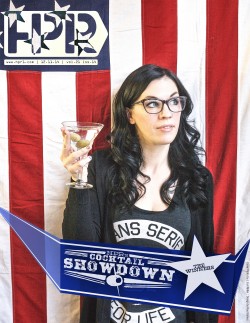 After weeks of the grueling task of sampling the finest drinks and shots from the best bartenders at bars and restaurants of all types throughout Fargo, Moorhead and West Fargo, the 6th Annual HPR Cocktail Showdown has come to an end. While the judges had varying opinions and tastes on the wide variety of contestants, the winners compiled the highest scores in categories of presentation, flavor and creativity.
All eight of the bartenders listed, including the runners up, have an automatic spot to compete in the Bartender's Battle portion of the HPR Cocktail showdown for ultimate supremacy. The competition will take place at The Venue on Sunday, Feb. 15.
Without further ado, it's time to let you all know who we thought was the cream of the crop from this year's field.
Andrea Anderson
Fargo, 34
10 years of being a bartender, a friend, and a much needed psychologist for some of the finest people the Midwest has to offer … I think David Sedaris put it best: "... in terms of emotional comfort, it's a belief that no amount of physical contact can match the healing powers of a well made cocktail ..."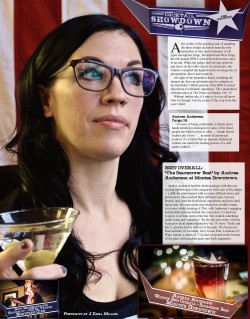 BEST OVERALL: "The Scarecrow Boat" by Andrea Anderson at Montes Downtown
Andrea Anderson had the whole package with this one, scoring high in each of the categories with each of the judges -- a difficult achievement with so many different tastes and preferences. She poached three different types of pears herself, and, with the fresh fruity ingredients and tasty hard liquor mix, the concoction was strong but wouldn't make you wince while drinking it. Plus, with Anderson's engaging and friendly persona behind the concoction, it's hard not to enjoy your time spent at the bar. She wanted something really warm and "harvest-y" for the fall and winter with the Scarecrow Boat (name inspired by the TV show "Parks and Rec"), and she hit the ball out of the park. The Scarecrow Boat includes St. Germain, Grey Goose Pear, Locations E2 Wine, lemon, a splash of 7-Up and is layered on the bottom of the glass with poached pears and fresh tangerines.
Runner up: "ND Oil Tanker" by Scott Motschenbacher at Beefsteak Club
---
Davin Henrik
Fargo, 32
After working at Dempsey's, I started working at the Radisson in May of 2013. I developed a love of crafting cocktails in high volume service. Customers from all over the world have shaped my bartending skills. Bartending is playing with the palate as much as conversation with the costumers.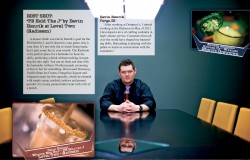 BEST SHOT: "PB Hold The J" by Davin Henrik at Level Two (Radisson)
A dessert drink was Davin Henrik's goal for the PB Hold the J, and if dessert is your game, this is your shot. It's not only fun to watch being made, but it puts some fun in your mouth. The Radisson is the perfect place for a bartender to hone his skills, perfecting a drink without rushing, but getting the mix right. You can sit back and chat with the bartender without 10 other people screaming at him or her for something. Davin used Hennessy, Vanilla Bean Ice Cream, Frangelico liqueur and whipped cream for this specialty, which he rimmed with maple syrup, crushed cashews and peanut powder. It's a tasty peanut butter treat with a bit of a punch.
Runner up: "Warlord" from by Andrea Anderson at Montes
---
Scott Motschenbacher
Moorhead, 32
My bartending experience started in a kitchen 14 years ago, when I realized the potential of marrying different ingredients. Shortly thereafter I took a job bartending with Duffy's, where I discovered major differences in alcohol. I am now trying to perfect my imperfections behind a cutting board and a bar with Beefsteak.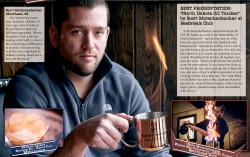 BEST PRESENTATION: "North Dakota Oil Tanker" by Scott Motschenbacher at Beefsteak Club
Scott Motschenbacher named this drink the ND Oil Tanker as a nod to the flammability of North Dakota oil -- and the fact that all of the booze he put in this drink was flambéed with flames nearly reaching the ceiling. So it's safe to say this drink is just as flammable. Not only that, but explosive, as it creates an explosion in your mouth. Watching Scott put this all together was quite the show, which resulted in the rare perfect score for presentation. If you bump into Scott at the Beefsteak, have him cook up one of these for you, and you will get a definite jumpstart to your evening in more ways than one. The North Dakota Oil Tanker includes coffee, Appleton Reserve spiced rum, Grand Marnier liqueur, butter, brown sugar, spices, candied orange peels and studded with cloves.
Runner up: "Apple Flip" by Michael Howey Howey at Mezzaluna
---
Jacob Johnson
Fargo, 35
Mos Eisley Cantina on the planet Tatooine. Brief stint at a pub where nearly everybody knew my name. Charles Bukowski ... Also, post script, I invented ginger ale and bacon.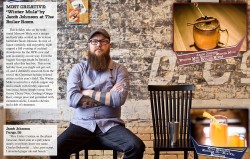 BEST CREATIVITY: "Winter Mule" by Jacob Johnson at The Boiler Room
This holiday take on the traditional Moscow Mule was a unique and tasty idea cooked up by veteran bartender Jacob Johnson. Its mix of liquor certainly, and enjoyably, night capped a full evening of cocktail showdowns for the HPR crew and sent us merrily on our way. Even the biggest Scrooge might be forced a smirk after this bad boy. This is one holiday treat you might not get sick of, and it definitely stood out from the rest of the Christmas/holiday related entries in this year's field. The Winter Mule is served in a stylish copper cup and is made with freshly squeezed lime juice, house simple syrup, Grey Goose Cherry Noir, Gosling's Ginger Beer, orange juice and garnished with cinnamon sticks, Luxardo cherries and a dab of cinnamon.
Runner up: "Rye Tai" by Kyle Berglund at Rustica
---
Andrew Hardy
Fargo, 27
I have been in the industry for about 10 years. I've been bartending for five now. I've only worked in a select few bars, but made TONS of friends doing what I love! Cheers!!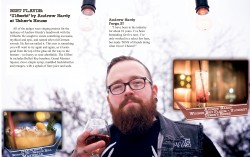 BEST FLAVOR: "Ulfberht" by Andrew Hardy at Usher's House
All of the judges were singing praises for the tastiness of Andrew Hardy's handiwork with the Ulfberht. He sought to create something awesome, mythical and epic, and named after old German swords. He flat out nailed it. This mix is something you will want to try again and again, as it tastes good from the top of the glass all the way to the bottom -- no boozy or sour afterfinish. The Ulfberht includes Bulleit Rye bourbon, Grand Marnier liqueur, clove simple syrup, muddled huckleberries and oranges, with a splash of lime juice and soda.
Runner up: "Shadow Roll" by Charles Smith at Maxwells