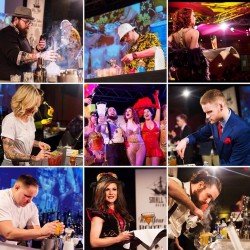 Last Sunday the Crystal Ballroom was transformed into a little slice of sin city, representing class, sass, and everything in between for the third annual Bartender's Ball. Attendees were spotted donning their finest evening garb, leisure suits and tuxes along with a few patrons channeling the late great Hunter S. Thompson. Ladies rocked sky high heels, high hemlines, chic cocktail dresses, glitter, and evening gowns.
Blue Belle's Burlesque greeted patrons in little more than smiles and sparkles. DJ Dextrious provided the soundtrack of the evening, mixing a unique blend of anything from Elvis to Richard Cheese to dubstep.
The featured bartenders shook rattled and rolled out some of the finest cocktails to hit the lips of Fargo. What wasn't being sampled at the judges table went up for auction, and we are proud to say that we were able to donate close to $5,000 to The Sisters of the Presentation to benefit area families in need.
It was a close competition and a challenge to judge. This year Jared Winmill of Rustica Tavern took home the gold.
Thank you to the competitors, Blue Belle's Burlesque, DJ Dextrious, our wonderful HPR staff, Kensie Wallner Photography, the friendly folks at The Crystal Ballroom, HB Sound and Light, and a big thank you to J. Earl Miller for being the man with the plan.
A warm heartfelt thank you to our sponsors Midwest Communications, Republic National Distribution, Bergseth Brothers, Rhombus Guys, Ramada Plaza & Suites, Free Poker Network, and all the companies that donated prizes for our guests and competitors.
Congratulations Jared Winmill of Rustica Tavern!