Best of the Best 2014: The Winners
Culture | May 1st, 2014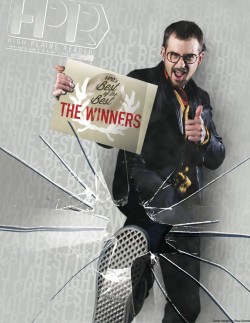 This year has truly been our "best awards ever." Hundreds came to our Best of the Best party on April 16, thousands voted (we nearly doubled our numbers from previous years) and spirits have been nothing but high all around. We at HPR are inspired.
Big thank you to our five comedian finalists, Adam Quesnell, Amir Bikic, Erik Block, JD Provorse and Will Spottedbear, for our being our best emcees ever. They kept the room elated, energized, laughing and moving.
Big thank you to Josie's Corner Café for providing the savory treats. Big thank you to the Plains Art Museum for providing the beautiful space. Big thank you to Carluster Crumplebee Orchestra for providing the jazzy music. Big thank you to YOU for being there and voting.
Next year, we are shooting for the moon. But without further ado, here are Fargo-Moorhead's 2014 Best of the Best:
Ben Holtz
Best stylist
Ben Holtz makes everybody look good. He's a dream hair stylist because he's wonderful converse with, full of personality and a master with scissors and other style tools. In fact, Holtz has so much personality, his "winner portrait" was chosen for our cover this week.
M.J. Capelli
Best Salon
With five locations in the Fargo-Moorhead area, M.J. Capelli has earned the trust of hundreds of local patrons simply by always being there and always offering great service. Style, color, personality and practicality are all offered at this homegrown salon, visited and revisited by men and women all over town.
Everett's Barbershop
Best Barbershop
Everett's, run by rad sisters Chelsey Ehlen and Maureen Cannon, is a hip, vintage-y man's man shop. Antlers, books on facial hair, sailor men and a big American flag adorn the shop — and every man that walks in comes out looking even fresher to deafer.
Justin Zaun, Independent Ink
Best Tattoo Artist
What started as a high school fascination with art for Justin Zaun has grown into almost six years in a successful tattoo parlor. At Independent Ink, Zaun is dedicated to one-on-one consultations with each of his clients, and he draws up designs for every tattoo he inks onto skin. It's his dedication to precision and originality that really makes him stand out. Check out his shop, mission and tattoo gallery at independentinktattooing.com.
Maurice's
Best Clothing Store
For both professional and casual attire, head to Maurice's for the latest in women's style. From purses and shoes to fragrances and jewelry, Maurice's has a great selection for all tastes and fashion senses. Stop by its two convenient locations in Dilworth and West Fargo to check out the latest styles for spring.
Plains Art Museum
Best Art Space
The Plains Art Museum is more than just a stellar art space. In addition to the fabulous art exhibitions, the Plains also hosts numerous events, including this year's Best of the Best awards. It is a versatile, creatively designed space perfect for showcasing quality art and quality people. Thanks for hosting our event, and congratulations on being Fargo's best.
Jon Offutt
Best Established Visual Artist
Jon Offutt is easily one of the most celebrated artists in the Fargo-Moorhead area. His repeat HPR Best Artist wins are a direct reflection of this. He's highly active, highly involved and an incredibly skilled glassblower.
Amber Parsons
Best Emerging Visual Artists
Ceramicist Amber Parsons is the brainchild behind local art co-op Midwest Mud. She has a knack for turning oddities into beautiful fine art, which is another reason she's also a great fashion artist, beautifying virtually anything she gets her hands on. Emerging artist Parsons is now right on the brink of being categorized as "established."
Carrie Wintersteen
Best Actor
Carrie Wintersteen is a founding member of Theatre B and has appeared in over 18 Theatre B productions. She currently serves as a member of the ensemble as well as Executive Director. She says she is humbled to be recognized and a bit embarrassed by the attention.
Fargo Moorhead Community Theatre
Best Theatre Troupe
The Fargo Moorhead Community Theatre snagged Best Theater Troupe, and with shows this season like "The Wizard of Oz" and "Joseph and the Amazing Technicolor Dreamcoat," it's easy to see why area audiences can rely on this company for live entertainment.
Bluestem
Best Large Music Venue
Thanks in part to Bluestem, we have been getting some of the best touring acts in the country to come to Fargo, including Prairie Home Companion, Bonnie Raitt, The Beach Boys and Sheryl Crow. The fairly new outdoor amphitheater has been a wonderful addition to our community, and it is absolutely gorgeous, especially on a sunny day.
Pat Lenertz
Best Musician
"He deserves it" was the running phrase as Pat Lenertz accepted the award for Best Musician. For more than a decade, Lenertz has been humbly serenading Fargo-Moorhead. And just this last month, the veteran musician released his first solo album, "Love, Loss, & Regret."
Post Traumatic Funk Syndrome
Best Cover Band
Post Traumatic Funk Syndrome, loaded with some of best musicians in Fargo-Moorhead, may perhaps never be beat in this category, simply because no other cover band may be willing or able to sound and as big and professional when it comes to remaking popular music. And no other group has teamed up with the community in the way the Post Traumatic has. As a community, we are privileged to have such dedicated musicians.
D Mills & The Thrills
Best Original Band
HPR editor Diane Miller is also North Dakota's lone female rapper. In D Mills & The Thrills she takes on a wild emcee persona, spitting crazy rhymes and busting weird dance moves to the thick beats and jazzy, rockin' melodies of The Thrills.
Rooters
Best Karaoke
Chances are, if you attend Rooters Bar for karaoke, you'll be singing to a crowd. That can be scary for some, but it makes singing into microphone all the more ravishing. Best yet, at Rooters, nobody will judge you for sounding like William Hung. Singers of all levels are welcome, and plenty of booze is available to help kick you to the stage.
Katie Lewis
Best Photographer
After graduating from the Hallmark Institute of Photography, Katie started Katie Lewis Photography in 2006 and has become one of the most well-known photographers for weddings and high school seniors in the F-M area. She also founded Get Hitched, an event featuring local wedding vendors, and Fate and Love Photography.
Erik Block
Best Comedian
Erik Block started working in comedy in October 2012 because he feeds on strangers' attention. That hunger is why Block has successfully orchestrated Fargo's first Comedy Brawl and his fifth (upcoming) comedy showcase. It's also why you might see him hosting trivia or performing in one of his three bands.
Stephanie Goetz
Best Local Celebrity
Valley News Live TV anchor Stephanie Goetz is not only a talented TV reporter, but also very involved in the community and a delight to be around due to her personable and positive demeanor. Locals are starting to find out that Goetz is a great singer, too.
Jesse James
Best Radio DJ
Texas native Jesse James gained popularity very fast in Fargo, especially considering how new he is to the area. His radio program on 98.7 has wide-reaching pop appeal, though James is cool, professional and charismatic enough, both on the radio and in person, to creep into the alternative crowd.
Lucy's
Best Asian
This is definitely not your average Chinese restaurant or buffet. Lucy's food is accessible to nearly all tastes, wildly affordable and consistently cooked to absolute flavorful perfection. Be sure to try the lo mein. It's fresh, clean, bold and heavenly.
The Shack
Best Breakfast
The Shack is as homestyle as it gets when it comes to breakfast. As soon as customers set foot in the door, there's a welcoming Midwestern vibe that very few other restaurants can emulate. Not to mention, its standard, classic breakfast fare consistently "hits the spot."
JL Beers
Best Lunch, Best Burger, Best Craft Beer Selection
JL Beers went home from HPR's awards event with a triple wiwn, so it must be doing something right. Clearly the extremely fresh and tasty burger selection, fresh-cut fries and variety of dipping sauces have something to do with it.
Rhombus Guys
Best Pizza, Best Outdoor Patio
Rhombus Guys brought home two awards this year, both very fitting as they're staples of Rhombus Guys pizza. Not only does a trip to Rhombus Guys ensure a phenomenal, untraditional pizza selection, but in the warm season, the killer rooftop patio can be taken advantage of as well. Add trivia nights, karaoke, open mic and an extensive beer selection and you've got a first-rate pizza place.
Vinyl Taco
Best Taco
Even though Vinyl Taco is fairly new to Fargo, its popularity and rave reviews are growing exponentially. The recently extended menu offers more "best taco" options for guests, along with a stellar drink menu. Great food and a great atmosphere (all the music is actual vinyl played in the back) makes Vinyl Taco a hotspot for a well-priced and enjoyable meal.
Wurst Bier Hall
Best New Business, Best New Restaurant
Wurst Bier Hall gained popularity so fast that the restaurant/beer hall has been packed virtually every weekend it's been open — and there's usually a wait to be seated. When you go out to Wurst, it really feels like you're "out." Truly, this is all because of the fantastic German-style food, rich atmosphere, massive craft beer selection and hip staff.
HoDo and Josh Tandberg
Best Cocktail Bar and Best Mixologist
The HoDo has consistently been a top contender in HPR's Best Bets contest. In the past, the establishment has won awards for Best Chef, Best Bartender and Best Fine Dining, among others. This year, The HoDo took home awards for two completely new categories, Best Mixologist and Best Cocktail Bar, proving this is the area's go-to place for upscale taste buds.
Mezzaluna and Eric Watson
Best Fine Dining, Best Chef
"This is a big step up from Best Kept Secret," said Chef Eric Watson as he accepted his award. Indeed, within the last year or so, Mezzaluna has absolutely exploded in popularity. Watson is a very inventive, professionally mannered chef who, with the help of his welcoming, knowledgeable staff, consistently delivers great-tasting, great-looking plates. We all love the gorgeous, silvery atmosphere, too.
Dempsey's
Best Bar, Best Open Mic, Best Bartender, Best Small Music Venue
Dempsey's is the winner of a whopping four awards, including Best Small Music Venue for its upstairs joint, The Aquarium. It doesn't matter what day it is or what time of day it is, Dempsey's is always happening because it regularly attracts an eclectic, hip and fun crowd. Plus, it has folks like repeat Best Bartender-winner Jeff Fonder on its staff, among other awesome servers and bartenders.