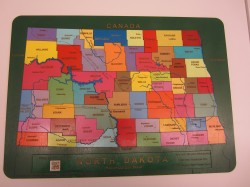 By Rick Abbott
If someone were to approach you on the street and ask you which county the North Dakota capital is in, would you know the answer?
That's just what Jonathan Melgaard did, and unfortunately, quite a few people had no idea. Some simply shook their heads or took a guess, with one man answering, "Bismarck County?"
Melgaard, a senior at the University of Minnesota's Carlson School of Management and entrepreneur in residence at Kilbourne Group in Fargo, is aiming to change this.
Melgaard is at the helm of a new project called ConNecteD Puzzles. The goal is to raise enough money – about $50,000 – to make around 400 wooden puzzles shaped like maps of North Dakota and to distribute them to fourth-grade classrooms around the state. The individual puzzle pieces will be in the shape of the state's different counties, and a scannable QR code on the back of each piece will direct students to information about the county. The puzzles will be made out of wood, hand painted and laser-engraved.
"It's a project that helps promote geographic literacy across North Dakota. These puzzles would be a good learning tool to supplement the fourth-grade curriculum. We feel that knowing where things are is important to be an active civilian and have an appreciation for the state," Melgaard said.
The group is also planning to collaborate with the North Dakota Department of Public Instruction.
"With the ConNecteD North Dakota puzzle, Jon has successfully brought a traditional hands-on teaching tool into the technological era and made it meaningful to today's students," State Superintendent of Public Instruction Kirsten Baesler said in a written statement. "North Dakota is lucky to have both innovators like Jon and the entrepreneurial support needed to bring their ideas to life. I'm sure I speak for many educators in our state when I extend my thanks to Jon and the investors who have made this project possible."
Melgaard hopes to raise half of the needed funds from individuals and the other half from corporate donors. He said they've already raised around $10,000.
There is still a long way to go to get the project completed, Melgaard said. In the next month or two, the group will be getting a little "creative" with their fundraising tactics, he said, and those interested in contributing should send donations to the Fargo Moorhead Area Foundation, which is hosting the project.
rickabbo@gmail.com
TO LEARN MORE:
https://www.facebook.com/connectedpuzzles/