Junk Giant offers "a fresh take" on antiques
by HPR Contributor | .(JavaScript must be enabled to view this email address) | Culture | October 7th, 2015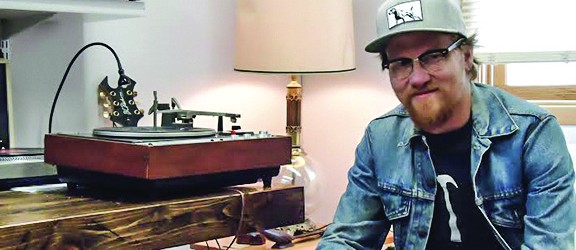 By Jamie Hutchinson
To Aaron Swinkels, co-owner of antique store Junk Giant, there's an art to selling antiques that extends beyond buying as low as you can and selling as high as possible. That art is about community and contrast.
"I price to where people can afford it here," Swinkels said. "Hopefully, I can move a lot of stuff and make a living that way rather than sitting on a few really uber, high-end pieces and just waiting to make a killing on them."
The store, which opened in mid-September and is located at 1304 13th Ave. S in Fargo, offers more than other antique stores, which are often strictly period, Swinkels said. This is where the art comes into play.
"I like stuff that contrasts with each other," he said. "If you put something really old next to something that has a completely different look to it, it makes both items more beautiful. I think we have a fresh take on that."
In the store you can find furniture, vinyl records, jewelry, trunk suitcases and even a collection of glasses and bowls from the 1962 Seattle World's Fair. But perhaps the biggest highlights are the hi-fi stereos and speakers for sale. Swinkels, who has been taking classes on electronics theory and repair, does some of the repairs himself, he said.
"This is really sensitive, really well-built equipment, and I want to make it work again and I want people to enjoy it," he said. The idea of recycling and reusing began with the first business started by Swinkels and his girlfriend Erica Sponsler, who is also a co-owner of Junk Giant.
At Plain State Farm in Moorhead, they sell sustainably grown flowers with zero chemicals used. "[Junk Giant] is an extension of that mindset — that reusing things and being a steward of the planet," Swinkels said.
Swinkels, who grew up in Washington state, got his start in collecting around 20 years ago when he began collecting vinyl records. He's since been hauling those records to each place he moved. Finally, he found himself in North Dakota, a state that's nothing like he thought it would be.
"I've lived here for three and a half years and every year this city has changed so much," he said. "The people have just embraced and loved the really progressive things that have happened and it's really cool."
After arriving in Fargo, he held a few successful yard sales and sold hi-fi pieces online, which led him to open Junk Giant. He then lucked out when he found a location just a few blocks from his home.
Business has been successful since day one, he said, and he thanks the community for that.
"The biggest thing I can say is just how grateful I am for this community and the people and their ability to engage and embrace things."
YOU SHOULD KNOW:
Junk Giant
1304 13th Ave. S Fargo