Local actor lands Hollywood roles, and he did it all from Fargo
by C.S. Hagen | .(JavaScript must be enabled to view this email address) | Culture | October 5th, 2017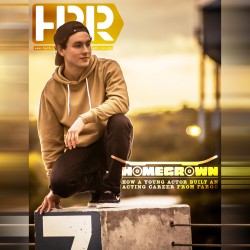 FARGO – Daniel Pinder doesn't necessarily have a process, or even the background many Hollywood movie stars try desperately to conform to. The 23-year-old is from Fargo. He found his opportunities in Fargo. One day he plans to return to Fargo, and he brings none of Hollywood's glamor to the table.
Standing tall at five feet four inches, a stunt skateboarder, dressed in a nondescript black baseball cap, tan hoodie, black jeans, and slightly used slip-on Nike sneakers, he flashes an easy smile before describing his young luck on the big screen.
His luck was made; it didn't fall into his lap.
"I just want to go with the flow, you know, I don't want to get too into myself," Pinder said. "I don't want to find a safe spot, because I feel if I have this safe spot behind me, then it's not going to make me want to work harder for what I am trying to do right now. I don't want to fall back into a nice comfort…I want to have pitchforks behind me."
Before landing the lead spot for upcoming movie "Paved New World," or his first role in 2014 as a thief in NBC's police drama, "Chicago P.D.," the 23-year-old stacked big books and dictionaries for a tripod, and self-taped his audition in his Fargo basement on VX tape. His mother helped read the scripts. Never before active in school theater or community plays, never having taken an acting class, he studied by watching and secretly mimicking conversations in movies like "A Few Good Men."
The gig for "Chicago P.D." solidified his confidence that he was destined for a career in acting. Coupled with his skills at skateboarding, he's found a niche -- sometimes, but not always, performing his own stunts.
"It was between me and ten guys, and I was like 'I am not getting this,'" Pinder said. But he sent the tape in, and casting called back, saying he got the role of a cellular phone thief for an episode in the first season of the television series "Chicago P.D."
He discovered the opportunity through weeks surfing the Internet, searching for possible roles while still living in Fargo.
"I never wanted to go to L.A. or New York without already having work," Pinder said. "What would make me different than any other guy if I went without work?"
He attended Sullivan Middle School, but was asked not to come back. He graduated high school from Woodrow Wilson, worked at Downtown's Sammy's Pizza for a few months while attempting a quickly fading dream at culinary school.
"I think I only like making pizzas." Pinder joked. "My dad was like, 'What are you doing? You got to do something.' And I told him I wanted to act. It was crazy because I only had three auditions before I went to 'Chicago P.D.'"
Skateboarding was one exercise that helped him land his role in "Chicago P.D.," Pinder said. After filming for "Chicago P.D." wrapped up, he became involved in a showcase in L.A. where he performed scenes and monologues for casting directors. Surrounded by NYU theater program graduates and aspiring actors from across the nation, he did well, he said.
"At that moment I knew I must be doing something right, and didn't need that theater education background," Pinder said.
Before he received the 130-page script for a lead role in "Paved New World," Pinder was slated to play a skateboarding character named Clash in "Skate God," to be distributed by Lionsgate in 2019. "Paved New World" will be released next year. All roles were found while living in Fargo, Pinder said.
"Don't think you have to move to do it," Pinder said. "That's just going to set you back, if you think you have to move to do it that means you won't be working hard to do it. With the Internet now, you can do so much. You can meet anyone. No matter where you are from, you can make it happen. You just have to work hard, which most people honestly don't want to do these days.
"And that's one thing that people in the business will love about you."
When asked about the process for getting into the mind of the character Pinder will play for "Paved New World," he said he plans to base the role on his best friend. There's little need to analyze the character because he grew up with him, in Fargo.
"I'm trying to do it all in the moment and how my friend, Nate, would do it," Pinder said. "He did all these things I didn't have the balls to do"
Resisting Hollywood temptations, the parties, the drugs, the women, comes naturally to him; he wants to stand out. Many people in Hollywood are from small towns, like Fargo, he said, and have pressure from friends and family to succeed. Too many times he's seen young people feel they have to live the life in order to get recognized.
"In L.A. they conform to this L.A. vibe," Pinder said. "A lot of people aren't successful, and don't want to move back home. It's funny as I am on the other side and want to be successful and move back home. I want to be the guy that says, 'Hey, I did it from here [Fargo].' I'm not going to be just another guy in Los Angeles."
His girlfriend, Melissa, also from Fargo, keeps him level, he said. "She would probably kick my ass, she's hard working, and I met her here for a reason. I honestly believe you can't find that in L.A., I always tell my brother you got to find a Midwest girl. They're tough."
Names like actor and director Ramon Estevez, director Ben Perkins, producer Alexander Garcia, roll easily from Pinder's tongue, but one name stands out above the rest: an actor he respects and can relate to the most.
"It's going to sound unoriginal as hell, but I like Tom Cruise a lot. He's short as hell."
His dream role? Acting in a war movie, to honor what his father went through with a career in the military. His father is his hero, he said, as well as his stay-at-home mother.
"He did it all." Pinder said of his father. "My dad was a tactical officer and was in the Gulf War. I want to know what that was like. He has set the standard for me to be successful, not with money, but with happiness. So I work my butt off."
If Pinder's Hollywood fortunes run out, he's not worried.
"Oh yeah. I would want to open up my own pizzeria or something," Pinder said.
In Hollywood, Pinder is frequently asked where he comes from, and a forced Dakota accent typically follows, he said. But he's proud of that.
One day he will return to Fargo, and maybe, just maybe, prove that the world isn't as far away as it can sometimes feel in the dead of a Dakota winter storm.