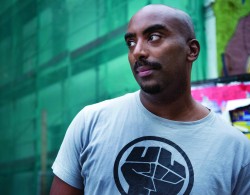 Photo credit: Jack Hastings
Josef Yohannes is the creator of "The Urban Legend," about the protagonist he claims is the first Norwegian superhero. The comic series features a black African immigrant who fights street crime with martial arts skills, protects the innocent, and is committed to justice in the fictional setting of Capital City, a city ravaged by corruption.
The first issue of "The Urban Legend" was published in January 2012 in Norway. The comic was received with critical acclaim and garnered a digital publishing deal with USA Today.
"The Urban Legend" follows the story of Malcolm Tzegai Madiba, a 29-year-old high school teacher. As Capital City is nearly bankrupt, and the police force is cut back causing crime to take over, Malcolm dons the alter ego of The Urban Legends to fight crime's reign over the city.
"I got the idea in 2010 when I visited Africa, went all over the place and saw a lot of things that changed my life forever," Yohannes, who studied political science and human rights at the University of Oslo, said. "I saw a lot of poverty and I saw a lot of kids without any parents or role models."
This is the thought that drove Yohannes to create a superhero that can inspire kids to believe that they can be somebody important in this world. From there, Yohannes developed his concept for "The Urban Legend."
Yohannes had a very clear vision of how he desired his superhero to be during its conception. He wanted to create a very human superhero people could relate to and see pieces of themselves in.
"I think a lot of people see something in him that they wish they could see in themselves," Yohannes said. "Like standing up for the people who cannot stand up for themselves and giving people who don't have a voice a voice, and then just fighting against injustice and crime in a whole different way than all the other superheroes."
The Urban Legend has set a significant precedent as the first Norwegian superhero. The superhero market in Norway is not nearly as strong is in the U.S. and Asia. That he is black, an immigrant and a school teacher are factors that also resonate in comics culture in the U.S. and abroad.
In the history of popular comic series, representation of people of color has not been relative to population demographics. Comics have had a long history of "whitewashing" their main characters. Through "The Urban Legend," Yohannes is creating a wider, comprehensive scope of representation and providing a role model for those who otherwise would not have one.
Yohannes has also used "The Urban Legend" as a tool to address social issues through several collaborations. A Nobel edition focusing on Ebola was created in accordance with the 10th anniversary of the Nobel Peace Center.
Yohannes also collaborated with the Malala Fund to focus on education for girl's rights. The comic sheet created from this collaboration was incorporated into school curriculum in Norway.
Along with being a part of curriculum in Norway, "The Urban Legend" is also taught in schools in South Africa, Kenya, Eritrea and Brazil, in subjects including Norwegian, English and media and communications.
The goal of "The Urban Legend" is to inspire youth to educate themselves and, in doing so, change the world in the process, Yohannes said.
"I want my superhero 'The Urban Legend' to really stand for something," Yohannes said. "To not only inspire a whole generation but to also empower them and make them believe they can be somebody and that if you want to change something in this world, you need to change yourself first."
The world of "The Urban Legend" is looking to grow internationally and Yohannes is also in talks with a major Hollywood studio to discuss the potential of turning the beloved comic into a movie.
To learn more about "The Urban Legend" and culture in Norway, visit www.oslorocksblog and https://hpr1.com/index.php/feature/hpr-abroad.
For biographies of HPR's correspondents in Norway, visit https://oslorocks.blog/staff/