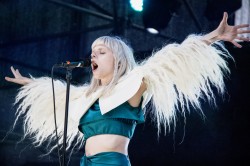 Norwegian native Aurora has achieved international recognition in her genre and has followings in the United States and Canada. Aurora is relatively new to the music scene, putting out her first studio album in 2016. This interview took place at OverOslo, the annual music festival on a hill overlooking the Oslo harbor.
Her first album: "All my Demons Greeting me as a Friend" (2016)
High Plains Reader: You're from a pretty small place in Norway, what was that like growing up?
Aurora: I quite liked it. You really get to know the people in your town, and your neighbors, and the guy working at the one shop we had near by -- which is 40 minutes if you had to walk. It's a long walk just to buy some eggs, but it's really nice. I think it is always going to be a goal for where I live, that I need to be able to walk around my garden naked without anyone noticing. Then you can be completely free. And I like that about my childhood house. It was a place where you could do anything you want, and it was very free.
HPR: How do you think being from Norway has affected your music, both lyrically and the sounds behind the lyrics?
Aurora: I'm very inspired by nature and the forest and especially the wild kind of nature that you can find here. And it's kind of brutal in a way sometimes. Very steep hills, falling rock, and it's ice cold and the trees are very dark, and they stand through the winter. It's quite a brutal nature, if that makes sense. It's dramatic, which I really like, and most often it can be mysterious and foggy, which is inspiring. It feels like it's just nothing. It's grey and it's empty and it doesn't affect you to be in any mood, it just lets you be, which I really like. I'm very inspired. Especially by the sound that wraps the soul of a song, the "bodies" around the songs are very inspired by this kind of nature. I think it has affected me a lot.
HPR: Has travelling to places that are different and that are loud and busy changed your music at all?
Aurora: It changes the way I write when I'm in a big city with noise. It's different sound waves there, with the way sound moves. There's a different kind of space, and there is no space sometimes. You can feel trapped. Because here, you can always see some kind of mountain far away. You can feel a sense of freedom because you know that you can leave here and walk over there and you can see that it's an exit, an emergency exit, which calms me down. But in cities there are buildings and it can be hard to see that.
HPR: It can be kind of claustrophobic.
Aurora: Right, and it affects the music. But it's exciting, and it smells different. It smells like people and not natural smells and food and it's nice, too. I write quicker songs when I'm on tour, when everything is moving all the time. It demands something of you all the time, a city. You need to be aware of your surroundings, which is the biggest difference from being here.
HPR: Is it different for you performing somewhere in Canada or the U.S. in comparison to here?
Aurora: The best thing about my fans or my listeners is that I get reminded of how people are just people and we need the same things and we feel the same things and most of us experience the same things. I see people from the age of 11 to the age of 80 at my shows which I really like. It's good to see how different they all look but how similar they all react to each song, which is beautiful. It's so uniting, which is a really important thing, to see how united we are and can be, especially through music. But at the same time, it is different from place to place. I can't really explain it. It's something with the sound, or the volume, or the way people are dancing. It's very special.
HPR: Is there a reason that you choose to sing in English as opposed to Norwegian?
Aurora: Well, it feels nice pushing the songs a bit further away from my heart. I feel like it is a wall between me and AURORA. Like this Aurora and the AURORA that lets the world know her. I need to have a slight difference between those two so I can keep me, the other Aurora, a bit hidden and grounded. It helps to do that by singing in English, because I sound different when I sing and speak in English, and my voice acts differently, so I feel like it's a bit more safe. I feel like if people don't like it then it doesn't hurt because it's not completely me.
And of course, English is a really poetic language. It feels nice not keeping it for myself and only people that can speak Norwegian. Music is so needed. You can't put it in a cage or in a box. It's a free thing, like the wind, and it deserves to be understood by all of us, at least insofar as I can try to make most people understand. I think it is important that it is for everyone.
HPR: Everyone needs music for something different, and you never know who needs your songs.
Aurora: Yeah, it's important to have a song that can be a friend when you need it. Sometimes people can't understand, and sometimes people don't want to bother people with our issues and our thoughts. It's nice then to have a song which can help you with an escape, and explain what you are going through without you having to think much about it yourself. It's nice to just have a friend in a song or in a book. That is what I really like. Becoming friends with a song when I need it, and then to kind of say goodbye, and go to another album, a new artist and to always keep moving. You need different friends all the time in music and books.
HPR: Before I came here, I was told that Norwegian people are quite reserved. Do you find that that is true, or maybe more of a stereotype?
Aurora: It's kind of a stereotype, and it's kind of true as well. I guess that's what happens when it rains so much, and when it's cold, and when we don't get a lot of sun. Maybe it's just the way that mother nature acts around us and the way it has been for a thousand years in this country. But I think we are open, too. We don't sprinkle things to be prettier and better than they are. It's a very honest people, which I really like.
HPR: Is it scary putting yourself out there the way you do, with your music being so vulnerable and intimate?
Aurora: Well, I don't know, I'm not afraid of being intimate and vulnerable with the world. I feel quite comfortable with it and it's a beautiful thing with humans when I see people around me being vulnerable and intimate with the world. It's such a sign of trust, if you like. It is a very beautiful thing.
HPR: Do you have anything coming up in the future?
Aurora: Yes. Not soon, but in less than like a year from now. And I will try my best to release like a single or an EP, if I can, before that. I can't wait to release more music. It's so weird to have moved on and become not different but maybe better at what you are doing. I'm so excited to share my new music.
I've realized what I need even more, and maybe what songs I need now. It's so frustrating to keep them to myself, because I've already written many of them.