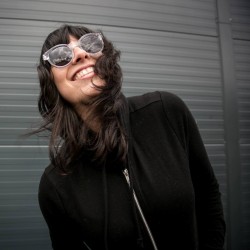 By Kaitlyn Huss
Twenty years ago, Fargo and surrounding communities had become one of the Midwest's most noted rave hotspots. Local artists such as DJ Sol and venues like Johnson's Barn helped the scene to flourish. Brainerd, Minnesota native Kristina Dunn, a frequent attendee, found freedom in this space. The sounds of international performers like Bjørk, Kraftwerk and Orbital, Kristina's favorites of the time, provided the soundtrack to raves across the Midwest. Little did she know that twenty years later, she would provide the same atmosphere for the next generation of electronic music lovers.
Kristina found her way to Fargo by 1996. While in the Midwest, Kristina studied Liberal Arts and Fashion at Minnesota State University of Moorhead, but left in 1999 for Los Angeles to chase bigger dreams. "When I was there, there was a lot of punk rock going on. It was kind of like the ska-punk scene together, I don't really know what to call it, but all these really cool indie bands were playing in basements and houses in North Fargo. So it was pretty cool."
In Fargo she fell in love with the rave scene and the people that came with it. During this time Kristina and friends regularly danced at Johnson's Barn as well as different venues and various house parties around the Fargo-Moorhead area. "We had huge names (DJs) coming from San Francisco and Canada and Chicago, and then we used to go down to Minneapolis where all the huge raves were, like DBS1 parties," she said.
Once in LA, Kristina continued to be active in the electronic music scene. She attended clubs and warehouse parties there and fed her craving to dance. American artists, Mark Farina and DJ Heather inspired Kristina to become a DJ, and with a friend's urging, she purchased a turntable in 2002. DJ Della was born.
Love took DJ Della to Norway three years later, and she has been there ever since working on her craft. Now a full time DJ, she is a resident at the clubs Dattera til Hagen and Jæger. She describes Oslo's rave scene as, "very strong" but "more of a controlled club environment." Until recently, raves were commonly held outside. When a few young party-goers overdosed on club drugs, all of that changed. Now the parties are monitored and held inside. Fortunately, Della believes Oslo has two of the best clubs in the world; The Villa and Jæger. Where she once found freedom dancing, Della now takes great pride in conducting the dance floor as a maestro would her orchestra.
Della was selected to kick off a new series just launched at Jæger on Saturday, June 4, dubbed "Jæger Mix" and was intended to showcase resident artists in Oslo. There she accompanied De Fantaskitske To, and mesmerized throngs of people with her vocal stylings.
This summer DJ Della is set to tour in the United States, beginning in Chicago, Illinois at Gramaphone Records on June 11th. After kicking off her tour in Illinois, Della will hit up Milwaukee and a few places in Minnesota and California. DJ Della hasn't set a date in Fargo but plans to in early July.
Reflecting on her time in Fargo and looking ahead to her trip to the States, she remarked, "Fargo had a really big stamp on electronic music and dance music and rave culture in the Midwest for sure. I don't know if it's really credited for that, but I know that it was like something incredibly special and everyone was very dedicated to what used to go on there. And it's developed me into the DJ I am today. And now I'm doing this full time. It's like the love of my life."
Della still keeps in contact with many old friends from the scene. "It's pretty awesome and, you know, if it wasn't for Fargo and those amazing people that [I was] surrounded by, I wouldn't be here today. There's something really special about Fargo".