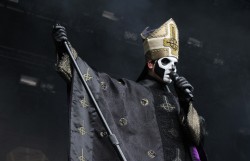 By Logan Harle
loganharle@yahoo.com
Norway is home to a myriad of music festivals covering all genres, from Norway's notorious black metal scene, to pop, folk, electronic, jazz, hip hop and many more.
Norway has one of the highest amounts of attendance of music festivals in the world, with over 1.8 million people who attended a festival in 2014, which accounts for nearly 40% of the population, according to musicnorway.no
The report also showed that a total of 4,470 concerts and events drew an audience of more than 2.2 million, which equaled to residents attending 2.5 shows per day. As well as over 200,000 artists held concerts or took part in a performance, with 31% of those concerts being of the rock/pop genre.
During the month of June, the Ieimedia Oslo Rocks' group covered six music festivals, including Musikkfest Oslo, Miniøya, Norwegian Wood, Bergen Fest, Over Oslo and Tons of Rock. Each festival covered a wide variety of genres of music for all age groups. Full coverage of each festival can be found at #HPRabroad and #OsloRocks, as well as http://vikingnews.org/category/first-person-accoun...
Musikkfest Oslo is held on Norway's national music day and according MusikkFest press contact, Astrid Fuglevaag, this year it held over 450 artists perform across forty venues and drew in an estimated 100,000 patrons for its 25th anniversary. Musikkfest Oslo is a way for patrons to listen to new artists of any genre.
"We have a lot of subcultures in the city," Tage Bratud, a long-time festival-goer and Oslo resident, said. "So it is good to have a day to showcase all of the bands that are around. You can find hip-hop, rock, metal, basically everything."
There's even a music festival for children, Miniøya, which is a "mini" version of one of Oslo's biggest music festivals, Øya Fest. Miniøya is held for families to enjoy the music and arts culture with their kids.
Oslo's second-largest music festival is Norwegian Wood, which is usually held over three days in June at Frogner Park. This year was an exception (see Norwegian Wood story).
On the west coast of Norway, is Norway's second largest city to Oslo, Bergen, which host's Bergen Fest which average's in attendance between 35,000 to 40,000 per year, according to BergenFest.no.
Located at a venue looking over the city of Oslo, OverOslo, which is a five day music festival, featured international acts like Tom Jones and Travis, and many other international and Norwegian folk artists.
Unlike the majority of music festivals that hold a variety of genres, Tons of Rock is three days of straight rock n' roll. Tons Of Rock is a camping festival held at Fredriksten Fortress and on just it's second year, the festival hosted popular artists such as Black Sabbath and Alice Cooper.
"I like a real metal festival because it is not a festival filled with so many people to see different genres of music," two-time festival-goer Glenn Gabrielsen said. "Here, it is all metal people and that is what is fantastic about Tons of Rock.
If you are looking for an international adventure in music, Oslo and southern-Norway is filled with non-stop music for all tastes.