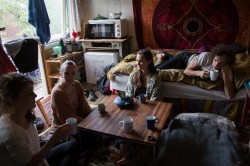 By Mrisha Sharma
mrishamsharma@gmail.com
Photos: Mrisha Sharma
"I really enjoy being a functional human being in the society, still living like this. This way of life is actually working out and I am actually happy with it."
Ida Frisch and her boyfriend, Martin Osvold, are temporarily crashing in an art studio in Hausmania, located in the center of Oslo, Norway. Hausmania was an abandoned building occupied by squatters until 1999. Now it is a cultural center for artists and musicians in the city of about 650,000 souls.
Ida grew up in a hippie family where she got used to people moving in and out of the house as well as her life. She started her career as a puppeteer in September 2016. Her professor encouraged her to study abroad in Prague for a semester where she was introduced to the art of puppetry. This intrigued her so much that she randomly decided to carve a niche for herself in this art form.
Martin on the other hand is a professional pirate of the good kind. He is an actor and his assignments as a pirate include organizing treasure hunts and magic shows for kids. He says that people believe in the romanticized version of pirates, in which they are generally associated with treasures, but it's all a myth. He started this career as a gag and then just got rolling with it.
"The kids are being taught that the world is not magic anymore and I find that quite horrifying. I just want to make some magic," Martin said.
Some artists and musicians come to develop their creativity. Others, well, they might stay a little longer.
"There Is a Director who has the right to use the room so we contacted him and he said send me a glass of dry white wine every day and that would be it for the rent," Ida said.
Ida and Martin were homeless when they first met in one of Ida's children's puppeteer show called Home. She believes it was symbolic, as they now co-exist in a tiny room at Hausmania.
According to Nicolai Gulowsen, a cultural worker and activist, Hausmania is run by the artists and everyone currently renting there has a vote. "It's like a direct democracy style we are operating," he said. "It's like running a small village in a way, with its local politics. We have the same issues you have in city council but on a smaller scale. Everybody has to take some responsibility about the house and the future of the house. It's a very good school to learn about society."
Gulowsen said the difference between neighboring squats and Hausmania is mainly the relationship with the owner where the squat is part of a "housing action," which has a main goal to create social housing, communal housing as a free place. Also, because there is a big need for social housing due to the sale of social housing from the city to private owners.
"The politicians say that they want to protect Hausmania, but they signed papers to sell all the rest except Hausmania," Gulowsen said. "We would be surrounded by new buildings. Those things can work to our benefit, but it can easily kind of whitewash everything. We will be like a little spot in between that nobody is enjoying."
Gulowsen said while the squats are kind of illegal, they are accepted since they have been working for so long.
According to Gulowsen, Number 40 squat, a neighboring building to Hausmania, has always wanted to get a rent deal with the community to acknowledge their responsibility and ownership. "There were negotiations and stuff but it failed," he said. "While Hausmania got a contract in 2008 so we are not here illegally."
Gulowsen is scared for the future of Hausmania and its tenants. The land and building once had very little value, but now with the city growing, Hausmania's value has increased dramatically. "Our contract is expiring in five years," he said. "Many of us feel a little bit choked by the development around us."
As for Ida and Martin, they enjoy their unique lives at Hausmania. "It's an active choice to live here," she said. "It's so good because it's so different from the way that everyone else lives. I really enjoy not having my own bathroom and we have to walk through the building to take shower and walk outside to get water."
"We don't call it our home as such," Martin said. "We have given it a name, 'the cabin' or 'ship's cabin.' We know it's temporary and just because we know it's temporary we really appreciate all the hours we have here," Martin said.
Martin calls Hausmania a 'hidden gem.' "It feels like I get very creative while I am here, because it does not feel like I am in the thick of the soup of Oslo. It feels like I am somewhere else," he said.
[Editor's note: link to Ida and Martin Video: https://vimeo.com/223056807]