A valve turner's trial: mostly guilty
News | October 6th, 2017
C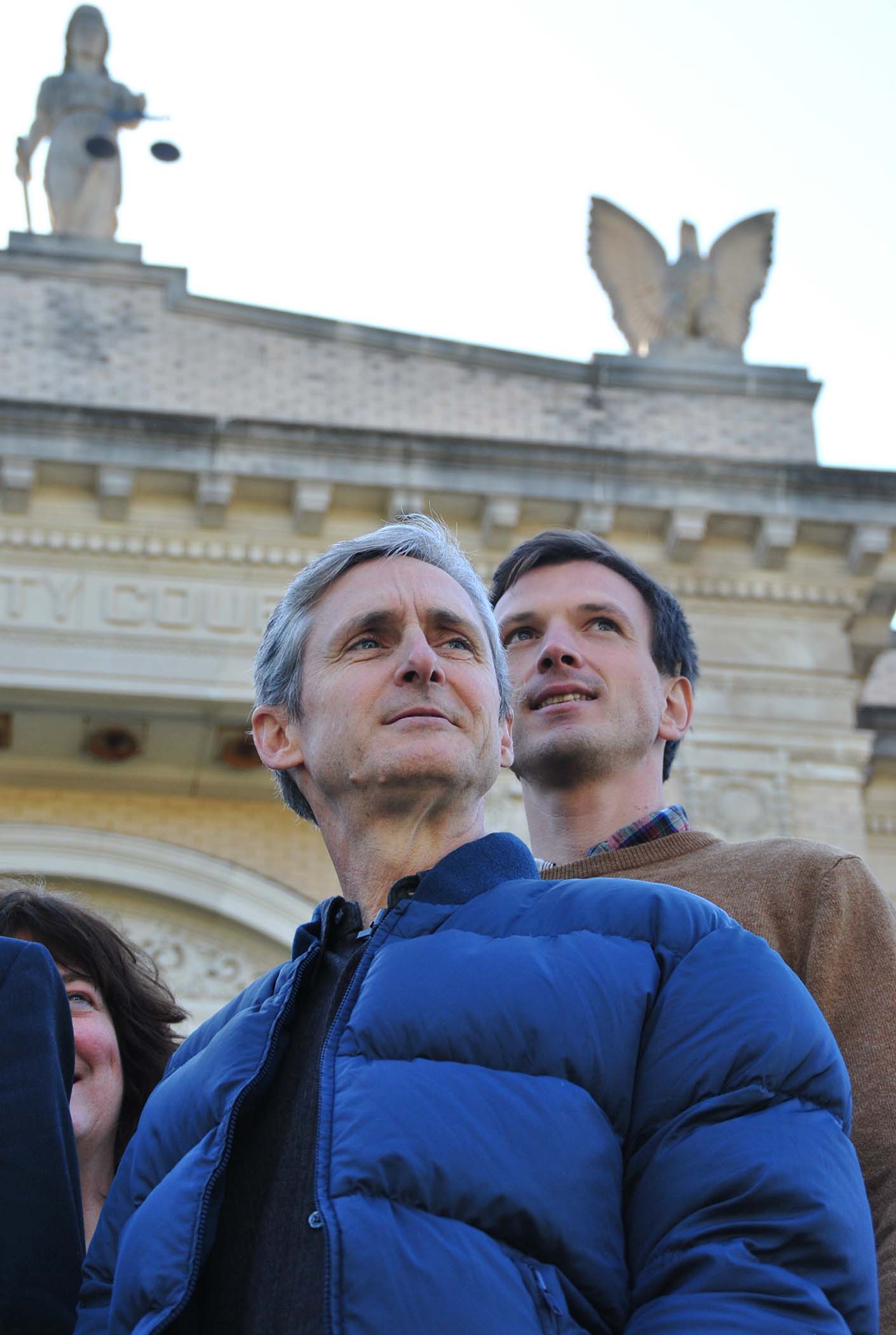 AVALIER – Friends call Michael Foster the valve turner a hero, the state is trying him as a criminal, and the Keystone Pipeline named him a terrorist for stopping their oil pipeline flow for eight hours in 2016.
After a week of trial and a five-hour deliberation, a jury found Foster guilty on all counts, except reckless endangerment, leaving felony criminal mischief, felony conspiracy to commit criminal mischief, and criminal trespass, a misdemeanor.
Foster's co-defendant, Sam Jessup, who filmed the action, was convicted of felony conspiracy to commit criminal mischief and misdemeanor conspiracy trespass, both sentences which could carry a maximum of 11 years imprisonment.
"I'm feeling so relieved and peaceful right now, because I've been wondering for a year how this would all play out, and now I don't have to wonder," Foster said. "I'm grateful to the jury for wrestling with this for several hours. There were some tearful faces in there, whether they were unsure, or whether they were simply feeling the weight of sending someone to prison, I think they were taking it as seriously as they could. I would not want to be on that jury."
Foster's trial brought activist groups, civil rights advocates, climate change analysts, reporters from Washington D.C. and New York, to the picturesque town of Cavalier, population barely 1,300, the seat of Pembina County.
Lady Justice stands tall above the neoclassical-styled courthouse, but her scales dipped heavily with Foster's case. On the trial's third and fourth days, Judge Laurie A. Fontaine denied Foster's necessity defense, denied the testimonies of four expert witnesses on Climate Change, and denied motions for acquittal by the defense.
"While the proffered experts could testify to the data supporting the existence and severity of climate change, there is no argument that they have the knowledge or expertise to testify on how knowledge of climate change affects an individual defendant's mental state, intent, or level of culpability," court documents said.
Foster, 52, stands accused of felonies with a maximum sentence of 22 years in prison, years more than any other activist arrested. His action – considered the biggest coordinated move on U.S. energy infrastructure undertaken by environmental protesters – has been covered by national media, but little has been reported by mainstream media in North Dakota.
Foster helped halt 15 percent of US oil consumption for the day. Jessup, who filmed Foster on October 11, 2016, is being tried as a conspirator.
Climate guru Dr. James Hansen, a former NASA researcher, was one of the expert witnesses planning to testify. "I'm the one who said tar sands are 'game over' for climate, and here [is Michael Foster] facing trial for trying to do something about it."
The state argued in court that Foster willfully shut down the Keystone XL pipeline with the intent to rob oil transporter TransCanada Corporation of nearly $1.2 million. The prosecution's team, Assistant Attorney General Jonathan Byers and Pembina County State's Attorney Rebecca Flanders, failed to properly admit evidence, and failed to notify the defense properly about their clean-cut star witness, Trevor Pollack, a manager for TransCanada Pipeline.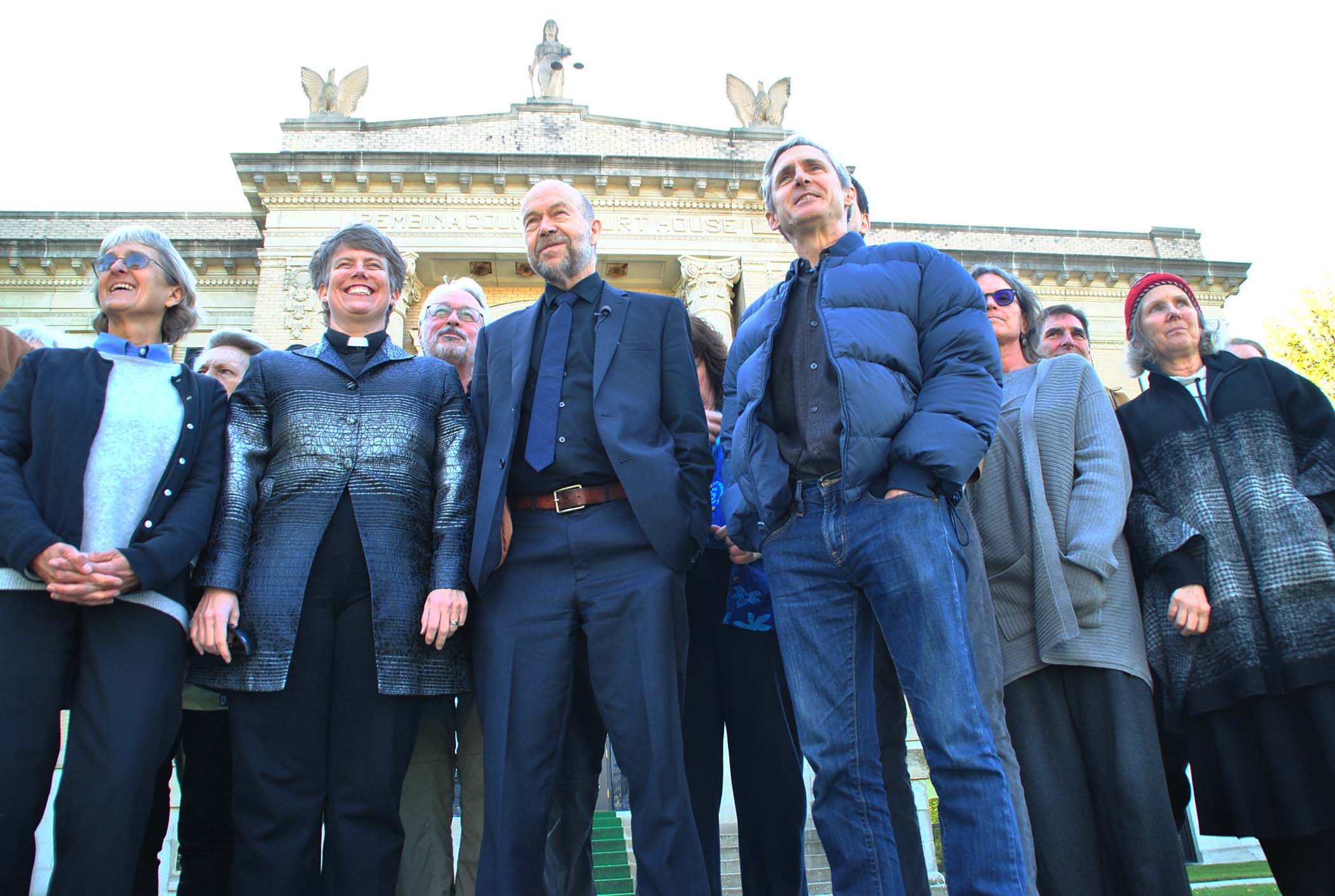 The defense argued that Foster is guilty of nothing more than trespass; that he gave proper warning to pipeline officials, who then called law enforcement about a terroristic threat, before shutting the pipeline down. The defense scored one point with the judge when they objected to the prosecution's lack of clearly identifying Pollack's credentials.
After a 10 minute recess during Thursday proceedings, Judge Fontaine came back into the courtroom, stroked her chin, flipped through law books, mumbled back and forth about arguments, then ruled in favor of the defense.
"I'm not going to allow to allow any more testimony about risks," Judge Fontaine said. "It's not the defense's job to keep asking for information." The prosecution wanted the case to be about potential risks to property and people; the defense wanted to include climate change and the pipeline's damage to the environment.
The defense may appeal the judge's repeated denials.
"There are a lot of judges who make that call," said Jessup's attorney, William Kirschner, of Kirschner Law Office in Fargo. "We are allowed to appeal. I was hopeful, but who knows, we're not done yet."
"It has become a case about free speech and the right of free expression in an economy dominated by the oil industry," said Emily Lardner of Washington DC, Jessup's mother.
Two Keystone lawyers dressed in black suits sat silently at the back of the courtroom.
"The company is trying to figure out how to prosecute without providing evidence for these crimes," Jessup said. Despite being on trial himself, the courtroom drama is the first he's seen up close. "They're testing us out to see what they can get away with. Climate change poses a threat to our nation and our future."
Ken Ward, 59, of Oregon, is another valve turner who was recently found guilty, but received no jail time in Washington State. He attended the trial after serving 30 days community service while working for Habitat for Humanity. He fully anticipated jail time, as does Foster. They both knew the risks before their group, a total of five valve turners with Climate Direct Action, stopped tar sands oil from flowing in Minnesota, North Dakota, Washington, and Montana.
Nine people were originally arrested in the coordinated action to safely shut down valves on five pipelines carrying tar sands oil from Canada into the United States. The additional three valve turners include Emily Johnston, 50, of Seattle, Washington, Annette Klapstein, 64, of Bainbridge Island, Washington, and Leonard Higgins, 64, of Eugene, Oregon, who are still awaiting their court dates.
All were involved in Climate Direct Action, and all believed their actions were morally and legally justified in order to avoid catastrophic harm to humanity.
Michael Foster, one of the defendants, is also a kayaktivist with the Mosquito Fleet Rapid Response Team, and involved with Al Gore's initiative, the Climate Reality Project.
Foster was disappointed with the court's ruling to disallow his necessity defense and the testimonies of expert witnesses. A sticking point with the prosecution was that he was untrained and put lives and property in danger, but the state failed to prove that, Foster said. Prior to him shutting down the pipeline in 2016, the pipeline had already been shut down five times.
"People doing this without error, without accident, there's some basic procedures that were followed," Foster said.
Until late Thursday, Foster planned to take the stand. In the end, he was not allowed to.
"I thought I am betraying myself, I will regret this for the rest of my life," Foster said. "The truth is if I'd taken the stand there would have been so many objections and fights, the jury would have had to leave the room. Without even getting on the stand, it's pretty obvious we knew what we were doing out there. North Dakota really wants to win something; they prosecuted very vigorously. The judge was very patient and kind. Everybody put a lot of time into doing this right."
Climate change is the reason he turned the valve, Foster said. He is committed to his cause and rarely drives a car, preferring to use a bicycle. His decisions have cost him much, personally, and may cost him much more.
A necessity defense is used to shield people who must break the law in order to prevent greater harm. So far, three of the four trials involving valve turners across the country have denied defendants the necessity defense option. One case in Minnesota remains to be determined.
Tensions were high between the prosecution and defense. The courtroom felt like a law room should, sturdy, dignified, with high ceilings, intricate millwork, fold-up school-style wooden chairs. A sturdy wooden bannister separates the onlookers from the legal teams.
Little evidence but memories remain of the 2005 burning and shooting rampage that occurred in 2005 by an angry local farmer, James Thorlakson. Once-blackened halls are clean. The 1912 dome, the only building designed by Buechner & Orth in North Dakota, stands somber and brilliant.
The jury, sitting like beached whales, chairs pivoted toward the judge, were frequently dismissed to allow for arguments on the prosecution's failings during Thursday's proceedings.
Evidence of the crime: Foster's white hardhat, his fluorescent work jacket, the bolt cutters, among other items used on the day the pipeline was shut down, sat on a desk.
"Ye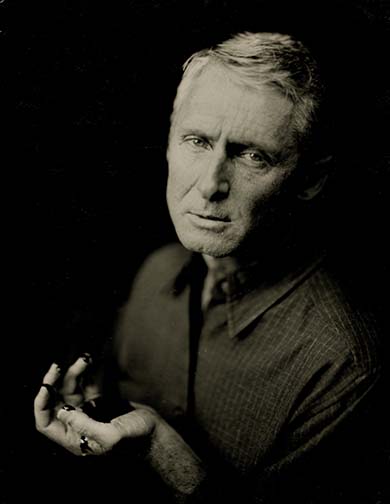 s, there was a risk," Foster's attorney, Michael Hoffman, said. "There's a risk if I walk across the street to go to my car. Pipelines have inherent risks. The state has not proven their case."
Nearby farmers and neighbors were not warned of a terroristic threat, Hoffman said, and the only conclusion is that law enforcement and the reporting pipeline company were not overly concerned.
"It all goes back to the fact that you can't have it both ways," Hoffman said. "You can't have your cake and eat it too, it is overcharging of these crimes against Michael Foster. His intent was to stop the flow of the oil as a change in the narrative of climate change, and this was a symbolic event, if anything. You do not have any evidence that any persons or property were in any danger, or that he was in a culpable mental state."
Even the state admitted, earlier in the trial, that Foster was trying to raise public awareness and that his actions would have a temporary effect, Hoffman said.
After turning the valve, Foster left chrysanthemums behind, and immediately confessed to Chief Deputy Sheriff Fred Marquaret. After hearing about a terroristic threat by pipeline field manager Lonnie Johnson, he went home to grab his binoculars, taking more than 30 minutes to arrive at the scene.
"I didn't know what was happening until I got there," Marquaret said. "Was I going to encounter some kind of fire or explosion? I didn't know."
After arriving, he first scoped out the area, then saw two people heading toward him. He asked Foster what was going on.
"He stated he had cut the padlock, and had turned the valve," Marquaret said. He said Foster was polite, and didn't resist arrest. Citing probable cause, deputies also arrested Jessup and a documentary filmmaker named Deia Schlosberg. Charges on Schlosberg were later dropped.
"Was 9/11 a peaceful protest? Was the Oklahoma City bombing a peaceful protest?" Kirschner said. "Is there a difference between taking action?"
"Yes," Marquaret said.
"Is it really fair to say the two are not comparable?" Kirschner said.
"Pipeline manager Lonnie Johnson just asked us to check it out," Marquaret said.
"How did you know it wasn't a hoax?"
"I didn't."
Kirschner argued for his client, Jessup, that the two did not conspire; Jessup was there to film, and he never entered the manual shut-off valve control area, known as Walhalla 8-2, as it is 8.2 miles from the Canadian border.
"My client was there when a crime was being committed," Kirschner said. "My client was there to record and live stream. Just being there doesn't make him a conspirator to criminal trespass. There is no evidence that he said or planned anything beforehand."
"He bragged ahead of time, he boasted after the fact," prosecutor Byers said of Foster. "He shut down the Keystone Pipeline, he knew he would cause losses of more than $10,000. Yes, nobody was injured, but an untrained operator not knowing the equipment he's using – it didn't go bad, but it certainly could have. There is enough evidence to have a jury possibly convict."
Did Foster put the pipeline and people's lives at risk when he decided to shut down the Keystone Pipeline?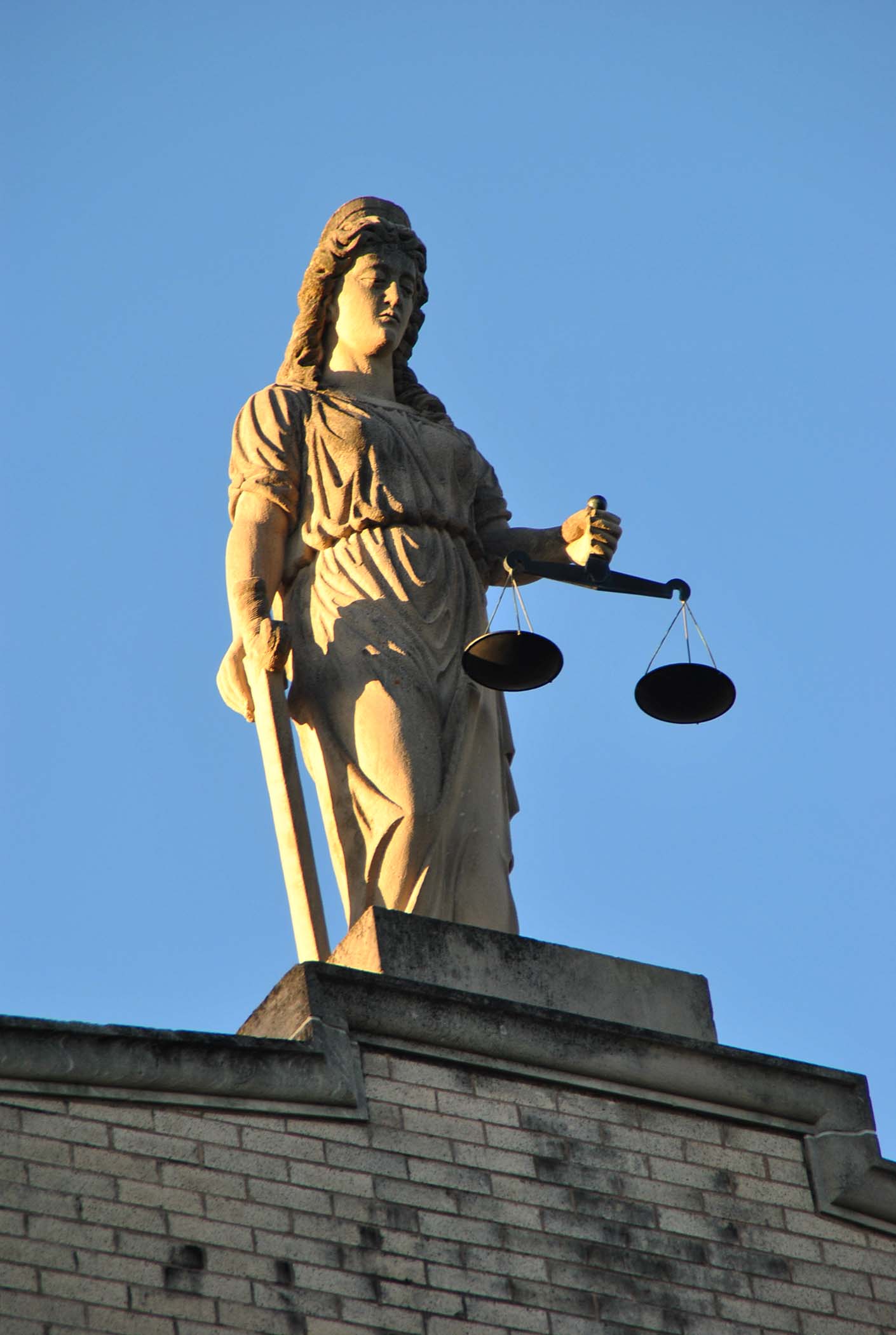 "It's a big system, so it's hard to stay on top of everything," Pollack, the manager for TransCanada, said. He was on duty the day Foster shut the pipeline down, and company employees immediately put the pipeline into a "safe mode" when they received the warning call. Later, when pipeline pressures fluctuated, they commenced an emergency shutdown, which took approximately 28 minutes.
"It was not a chosen controlled shutdown, but it was controlled," Judge Fontaine said.
The prosecution rested their case on Thursday, and defense gave short arguments on Friday morning, showing in full a video the prosecution had shown only 18 seconds of, and then turned the case over to the jury. Showing the video to the jury was considered a victory for Foster, who was unable to speak out on climate issues during the trial. Friday's proceedings were short but tense. Defendants Foster and Jessup, friends, family, and supporters, waited in the courtyard's lawn for hours while the jury deliberated.
The jury gave its verdict around 7:30 p.m.
The expert witnesses barred from testifying included: Dr. James Hansen, Dr. Tom Hastings, an author and co-coordinator in conflict resolution at Portland State University, and Reverend Rebecca Voelkel, director of the Center for Sustainable Justice.
Foster, a former mental health counselor, has been living in North Dakota for the past month. He traveled partly by rail and by bicycle from Washington to the state to prepare for the trial.
"I can't get over some of the things I've seen and learned, and how different the world looks from this point of view," Foster said. "I'm kind of disgusted with myself and my coastal elitism. I can just imagine how I look and sound, some of my attitudes -- and there's a part of me that thinks I may relocate to a place like North Dakota to do some climate work.
"This is where it is at, this is where people are real and understand the truth, and I think we can learn a lot from getting out of our blue states and our bubbles, and just having decent conversations with people who care about the land and care about their kids."
Sentences will be handed down next week.