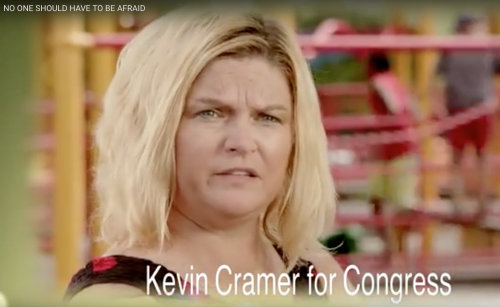 FARGO – Betty Jo Krenz is now in the Stutsman County State's Attorney's Office crosshairs.
Krenz, approximately 46, and formerly living in Woodworth, was once a case manager for the Spirit Lake Tribal Social Services. Her role within the tribe ended in 2011. She became a high-profile figure speaking out on tribal issues and was included in a 2014-campaign advertisement approved by Congressman Kevin Cramer, R-ND. She appeared in Cramer's campaign ad entitled "No One Should Have To Be Afraid" in 2014. Three years later, the video had 377 views and 15 subscribers onYouTube.
Government attorneys had one interview transcript before Monday, but received two reports since then, Frederick Fremgen, the Stutsman County's State's Attorney, said. The Stutsman County Sheriff's Office was the lead investigator, according to officials.
As the investigation is currently underway, Fremgen would not release any additional details about the case, he said, including if an arrest warrant will soon be issued.
During the time she was allegedly involved in faking adoptions, she frequently mentioned Cramer, and U.S. Secretary of Housing and Urban Development, Ben Carson, according to Autym Burke, who said she was "duped" by Krenz. She initially paid $1,800 in adoption fees, which were later mostly paid back.
Krenz was also a nominee for the 2017 L'Oreal Paris Women of Worth Award, but was not selected, according to L'Oreal management staff. She has a long criminal record involving forgery and writing bad checks, both under her current surname and former surname, Edland, according to North Dakota court records.
On September 27, 2017, the Spirit Lake Tribal Council banned Krenz from entering the Spirit Lake Reservation, tribal administration reported.
Since Burke made thesituation public on September 21, complaints against Krenz have gone viral on social media. Burke lives in Oregon, and although she met Krenz during the near year-long faked adoption process, she had no idea that 1,500 miles away the baby in question belonged to Jodie Blackboy, a registered member of the Spirit Lake Nation, she said.
Blackboy said she did not know Krenz was using her infant daughter's pictures for "her own gain," she said.
Other online messages between alleged victims and Krenz talk about Blackboy's baby Julissa, and Haisley Jo, believed to be the same baby taken during Savanna Greywind's murder on August 19. Krenz' messages about Haisley Jo were written on August 27. Haisley Jo and the suspects in Greywind's murder were found and arrested on Thursday, August 24. Haisley Jo was returned to her father, Ashton Matheny, in early September.
Krenz also had multiple GoFundMe accounts, raising more than $16,544, and $4,470 for a math camp for Lakota children. She was also involved in the Kind Hearted Woman Dream Shelter in Jamestown; with Robin's House, a shelter for women and children, and a blog called Restless Spirit Blog, last updated in 2016. During a September 2016 YouTube posting, Krenz also discusses a $2,000 micro grant she planned to use to help women for Damsel In Defense, a women-empowering organization.
Burke said in September that her family felt heartbroken for the baby's mother, Jodie Blackboy, and spoke out because she wanted to ensure nobody fell for Krenz's lies.
Blackboy said in a September 23 Facebook post that she knew Krenz for years, and came close to letting Krenz take her child, temporarily. Now that the Stutsman County State's Attorney's Office will be investigating the charges filed by law enforcement, Blackboy was pleased.
"That's great news," Blackboy said.
Burke had questions when she heard the news. "This is the first I am hearing of this news," Burke said. "Do you know what the charges are? Is she being arrested?
"I am thrilled that law enforcement is taking this matter seriously. So many people including my family have been hurt. This is great news."
Krenz taking the spotlight in Cramer's campaign is an issue Burke hopes will be noticed.
"He [Cramer] owes the people of North Dakota an apology for not doing his research on her before aligning himself with her so tightly," Burke said. "I have made it clear that he played an intricate role into my faith in her. I believed she was tight with him, she must be okay. I was a fool to believe that, and he is a fool for not stepping up and admitting that a gross error has been made here in his camp."
Janel Herald, the founder of the National Collective of Concerned Parents, said the case was feeling like another crime against Native Americans that was to be swept under the rug until the State's Attorney's Office became involved.
"Silence speaks volumes," Herald said. "I've taken away a lot from that silence. To Governor Burgum, senators Hoeven and Heitkamp, and especially Congressman Cramer who used Mrs. Betty Jo Krenz in his campaign advertisement, this is what your silence has spoken: you chose not to speak out against the protection of children and child exploitation. You chose not to speak on protection of the citizens against fraud, theft by deception or conspiracy to commit kidnapping. Why is that? Why do you choose to take 'wait and see' approaches on even the matters that would matter the most to your constituents – humanity.
"It is a shame to have you as the leaders of North Dakota."
Cramer's office has been contacted repeatedly for comment, but has said nothing about the situation.