​Bill to help murdered and missing Indigenous approved, moves toward House and Senate
by C.S. Hagen | .(JavaScript must be enabled to view this email address) | News | January 29th, 2019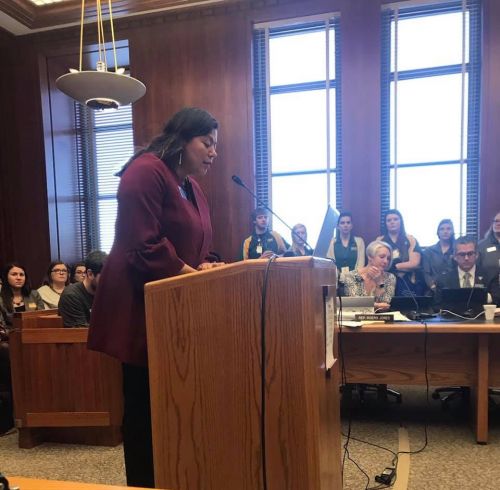 BISMARCK – Ruth Buffalo "ate no for breakfast" Tuesday morning and put on her red lipstick before the House Human Services Committee unanimously approved her bipartisan bill to help murdered and missing Indigenous people.
"Sounds like a recipe for awesome," one friend responded to her Facebook post. Eating no for breakfast means Buffalo won't take a refusal for an answer.
House Bill 1311 provides law enforcement with training regarding murdered and missing Indigenous. The Human Trafficking Commission will provide the training.
A second bill heard by committee and waiting for results is House Bill 1313, which will maintain a criminal justice data information sharing system with the North Dakota Bureau of Criminal Investigation for exchange of data to judicial agencies, law enforcement, emergency services, and the Department of Transportation. The bill must still be approved by the House and the Senate before it becomes law.
Buffalo, a Democrat and registered member of the Mandan, Hidatsa, Arikara Nation, is a newly elected legislator from South Fargo and the state's first Native woman to be elected to the House of Representatives.
The House Judiciary Committee heard testimony for Buffalo's third bill, HB 1507 Tuesday afternoon. The bill focuses on providing training on hotel establishments regarding human trafficking, prevention, and awareness, and provides a misdemeanor penalty for hotel noncompliance. The Human Trafficking Commission would also provide training. Buffalo's fourth bill and second aimed at combating human trafficking, House Bill 1541, has not been assigned a hearing date yet.
"I have hope, but anything can happen," Buffalo said about her bills passing the House and the Senate.
Buffalo's bills differ from former Senator Heidi Heitkamp's Savanna's Act, proposed at the national level, which suffered a setback shortly before the legislature ended for Christmas. Former Congressman Bob Goodlatte of Virginia was the lone dissenting vote on the bill and blocked the act.
Approximately 84 percent of Native women and girls experience violence in their lifetime. Actual records of missing and murdered women are difficult to find, but the National Crime Information Center reported 125 cases of Native American women and girls who went missing in North Dakota in 2016.
Savanna's Act, if passed, will allow the gathering of data on missing and murdered Indigenous women, and men, improve law enforcement databases and create a clearer set of guidelines on how missing persons are reported in Native country. The act is named after Savanna LaFontaine Greywind who was murdered in Fargo for her unborn baby in August 2017.
Goodlatte was on the House Committee of the Judiciary, which is responsible for oversight of the Department of Justice and Homeland Security regarding matters related to immigration, terrorism, and crime.
This week, senators Kevin Cramer and John Hoeven both Republicans, added their names as sponsors to Savanna's Act after the bill was reintroduced by senators from Alaska and Nevada.
"Savanna's Act is legislation that will help the federal government better coordinate with tribal law enforcement in addressing the crisis of murdered and missing Native women and girls," Hoeven said. "One of my priorities as Indian Affairs chairman is to improve public safety in tribal communities, and this legislation is part of these efforts and dovetails with other legislation I introduced that will reauthorize and increase resources for tribal governments and law enforcement."
Hoeven has also introduced the Tribal Law and Order Reauthorization and Amendments Act, with extends critical programs to establish greater agency oversight, improve data collection, and strengthen protections for Native youth, and the Securing Urgent Resources Vital to Indian Victim Empowerment Act, known as SURVIVE. This bill authorizes a five percent allocation from the Crime Victims Fund to Native tribes through a grant program.
Other bills
Another bipartisan bill, Senate Bill 2303, meant to prohibit discrimination in housing and employment based on sexual orientation and gender identity failed to pass.
The state Senate also killed a bill with a vote of 42 to 5 to require all schools to offer classes on the Bible. Recently, President Donald Trump has tweeted and offered support for instituting laws to introduce Bible classes into public schools.
Online, many have pounced on Trump's support of the bills, which have not only been introduced in North Dakota, but also West Virginia, Alabama, Iowa, and passed in Kentucky, as the President has admittedly had affairs in all three of his marriages, and reportedly made hush payments to porn star "Stormy Daniels."
The "abortion reversal" bill that provided legislation to require doctors to tell women undergoing drug-induced abortions that they could still have a live birth if they changed their minds passed this week. The bill passed 73 to 16 on Monday, and is not supported by the American Congress of Obstetricians and Gynecologists who say there is no evidence medically accepted that says drug-induced abortions can be interrupted.