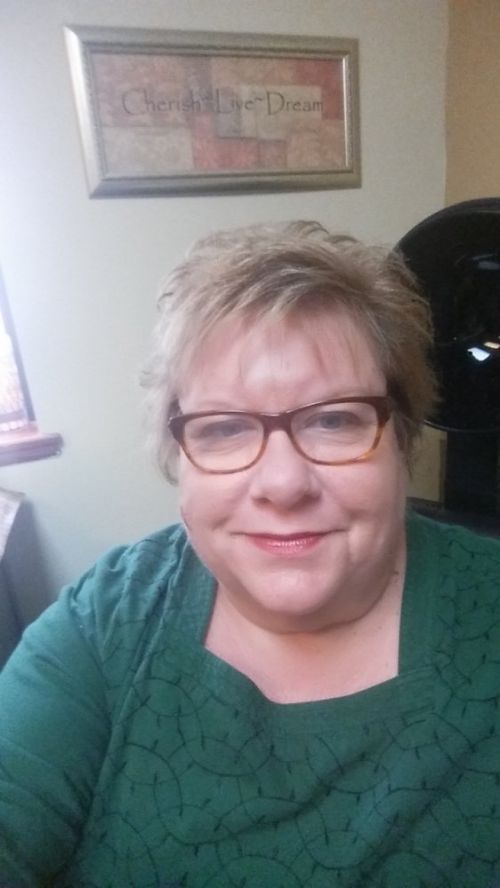 GRAND FORKS – The United Way of Grand Forks and the organization's leadership are facing a lawsuit five months after firing long time president and CEO, Patricia Berger.
Filed in the Northeast Central Judicial District by attorney David Thompson on Thursday morning, Berger is suing for wrongful termination and being unlawfully deprived of her salary. Although in February she was willing to settle, she is now seeking a financial amount greater than $50,000, according to court documents.
Thompson is also arguing that Berger's First Amendment rights – her freedom of expression and speech – were violated as her sudden firing came after she made a comment on Facebook. United Way Board Chair Nikki Jackman and United Way Board Vice-Chair Phyllis Johnson are named in the lawsuit as they acted "In concert with one another, engaged in conduct and actions which were not undertaken in good faith, which… constituted willful misconduct and/or gross negligence," court documents stated.
Johnson is currently the interim president for the United Way of Grand Forks, according to the organization's website. Both Johnson and Jackman did not return calls for information.
"I think it's a violation of free speech," Thompson said. "It's an interesting case because North Dakota is an at will employment state, but the North Dakota Supreme Court has recognized some exceptions."
An at will state means a private employer in North Dakota can fire an employee for no reason at all.
Despite being an at will state, a private person's freedom of speech is protected by the North Dakota Constitution, Thompson said. The Constitution states: "Every man may freely write, speak, and publish his opinions on all subjects."
"That doesn't differentiate between public and private employment," Thompson said.
"This will be the first case of its kind in North Dakota," Thompson said. "Essentially we're saying these are comments on matters of serious public concern. Many people are worried about losing things and losing things to Fargo. Our position is that you can't fire for a reason that violates a strong public policy that is articulated in a statute or constitutional provision."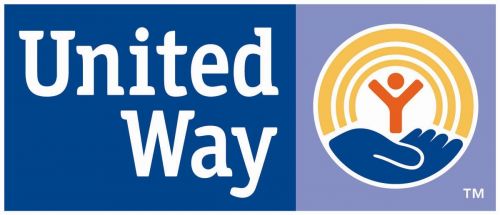 Berger's November 30, 2018 post came after Terry Dullum, a well-known news anchor and program host for WDAZ since the 1970s, expressed disappointment after Fargo-based Forum Communications announced the shutdown of WDAZ Channel 8, the last remaining television station located in Grand Forks.
"Some of us saw it coming for years," Dullum posted to Facebook on November 30, 2018. "WDAZ newscasts will no longer be broadcast from Grand Forks after December 21. Although the newsroom remains, several production staffers were let go this morning. Very sad day."
Dullum's complaint generated 573 reactions, 286 comments, and 282 shares, with no "likes," according to court documents. Berger posted twice, sharing Dullum's sadness.
"So Fargo is the only thing of interest in ND?" Berger wrote. "Wow. I guess they really don't care about GF or the Northern Valley."
Later, Berger added: "Feel like soon we will only have a Fargo Forum as our 'local' newspaper too!"
Although North Dakota is an at will state, Berger's Constitutionally protected freedom of expression was infringed upon because she commented on a public issue, court records stated. Citing a 1982 court case NAACP v. Claiborne Hardware Co., Thompson is arguing that although Berger is not a government employee, she was wrongfully terminated. Published editorials naming Berger and apologizing for her Facebook statement are proof that her Constitutional rights were violated, Thompson said.
"It is well settled that a state cannot condition public employment on a basis that infringes the employee's constitutionally protected interest in freedom of expression, that being protected by the First Amendment of the United States Constitution," court documents stated. "In that setting, there is doubt that speech on public issues "has always rested on the highest rung of thehierarchy of First Amendment values.
"Reduced to the essentials, plaintiff Patricia Berger's comments on Terry Dullum's Facebook page were, without question, comments made about a matter of serious and growing public concern among the public citizenry of the greater Grand Forks/East Grand Forks/North Red River Valley – namely the loss and decline of local newspaper and television services which that public considered virtually essential to their communities, and even to their way of life," court documents stated.
Six days after Berger's post, Forum Communications employee and Grand Forks Herald Publisher Korrie Wenzel, a native of Watertown, South Dakota, published a column entitled "Still here, reporting the news," naming Berger and belittling her sentiment.
"Oh, for heaven's sake," Wenzel wrote. "The contributions of this company to the Grand Forks United Way - literally thousands upon thousands of dollars each year in cash and nearly the same again in free advertising - have been great, portraying in just one way how much this company cares about Grand Forks and the Northern Valley.
"It's disappointing that Forum Communications Co. ownership is taking such a beating, considering the commitment the company has made to Grand Forks over the years…"
Later that same day Jackman instructed Berger to make no comment to anyone about Wenzel's column, then fired her the next day, according to court documents.
"The next day, Friday, December 7, 2018, Board Chair Nikki Jackman entered Patricia Berger's office at United Way, with Ms. Jackman immediately berating Ms. Berger for her two Facebook comments to the Terry Dullum post which had been published by Forum Communications employee Korrie Wenzel in his editorial of the day before, December 6, 2018," court documents stated.
Then on December 8, a letter Jackman wrote apologizing for Berger's comments was published in the Grand Forks Herald.
"It's frustrating for our community to lose the local presence of WDAZ-TV, but that was not a reason to lash out," the published apology stated.
Berger's post was not lashing out, Thompson said.
"It was furthering the United Way because she was worried about losing WDAZ, which was promoting their activities and their fundraising," Thompson said. "For them to do what they did was awful."
Four days before Christmas 2018, Berger was given notification by Jackman that she was under investigation, and had five minute to gather her possessions before being "unceremoniously escorted out of her office," according to paperwork. She was put on administrative leave with pay until further notice.
After 24 years working with the United Way, Berger planned to retire from the organization by the end of June 2019. After being fired Berger made an offer to United Way for half a year's annual salary asking for approximately $38,500, according to court documents.
The United Way rejected her offer and on January 21, 2019, Berger was placed on administrative leave without pay and was told that her termination would be final by February 12, court documents stated.
United Way denied Berger was fired because of her social media comments, and then accused her of "unprofessional conduct," court documents stated.
Berger denied the accusations. An investigation was conducted, and the United Way found nothing, Thompson said.
"They cast a big net out like 'Does anybody have a problem with Pat?' And it came to nothing," Thompson said. "She was never disciplined, and after the fact saying Pat behaved unprofessionally was nonsense."
Attorney Elizabeth Alvine of Vogel Law Firm was previously involved in correspondence between the United Way and David C. Thompson Law Office in Grand Forks. She was contacted for comment but did not reply.
The United Way of Grand Forks was established in 1957 and is a nonprofit organization seeking to eliminate poverty, and provide children with books with the Dolly Parton Imagination Library, and toys with Toys for Tots program, among other charitable activities. The United Way is insured for these types of liabilities, Thompson said.
"I had initially said 'Look, make good what I said, pay me to the end of June and I will retire now,' and they didn't want that," Berger said. "They insisted they had to do this investigation and they never told me what they were investigating. They thought I had done something illegal and that wasn't the case at all."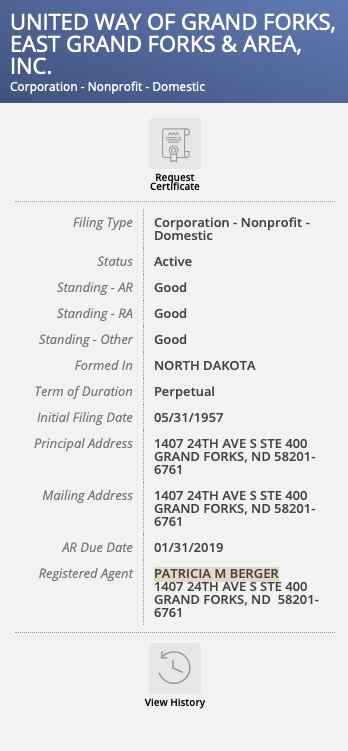 After being fired she returned once back to her former office and cleaned out 24 years of belongings. Her personnel files were gone, she said. She is still listed as the registered agent for the United Way of Grand Forks by the North Dakota Secretary of State.
"It has been a journey as I've thought about this," Berger said. "I wanted to pursue this because the more I realized that the action taken against me had a lot to do fundamentally with a Facebook post and my freedom of speech."
Berger did not mention her former employer in her post, she said.
"The second thing that makes me sad is for five months, I've not heard from a single board member, I've not heard from staff. In terms of the board, these were people I respected, these were leaders in our community, the Superintendent of Grand Forks Schools, the Administrator for the city of Grand Forks, respected bankers."
Last March, more than 15 organizations and other friends threw Berger a retirement party, she said, which helped ease the strain of the past months.
"You think you can treat someone like this?" Berger said. "United Way is not a big company, nor were we a bank. We were a nonprofit that had five fulltime and one part time employees, and I walked out of there four days before Christmas and that was it. That is still quite a shock.
"If you could have talked to me, if you had expressed concerns to me, this didn't have to go this route. But it did. And it is devastating. You don't treat someone like this, and you certainly let someone speak, I would have said that publicly, and I don't take any of that back.
"This is where I live."