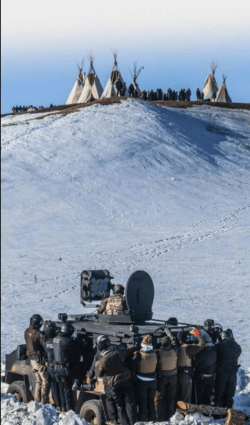 CANNON BALL - Dozens of police and National Guard swarmed Last Child's Camp Wednesday afternoon, arresting approximately 76 activists including attorney Chase Iron Eyes.
Officials called those who moved to Last Child's Camp a "rogue camp," and that they refused to move from the hilltop south of Backwater Bridge after repeated warnings.
"The group was told they were committing criminal trespassing on private property and needed to leave," Morton County Sheriff Kyle Kirchmeier said. "The group was given a period of time to start dismantling the camp and leave. They did not show signs of starting to leave even after multiple warnings… this led to the law enforcement decision to take action to enforce the law and evict the rogue group of protesters."
Representative from Standing Rock Sioux Tribe coordinated with Morton County Sheriff's Department, according to Kirchmeier, and collected the tipis from the camp site. Some media were reporting police burned tipis posting a picture from the movie "Bury My Heart At Wounded Knee" Wednesday night.
No tipis were burned; police did not enter the main camp area, and military vehicles were turned around at dusk. Morton County Sheriff's Department took down the militarized barrier on Highway 1806 to make the incursion, and then replaced barriers on the north and south sides of the bridge after the operation was finished.
Those arrested were taken to Morton County Correctional Center, Mercer County Jail in Stanton, Cass County Jail in Fargo, Stutsman County Correctional Center in Jamestown, and the Barnes County Correctional Center in Valley City.
Iron Eyes was anticipating a move by police earlier Wednesday morning when coals were taken from Oceti Oayte Camp's fire and moved up the hill to start a new sacred fire at Last Child's Camp. He is an attorney, and ran for Congress against Kevin Cramer, R-N.D., in 2016. Iron Eyes has spent the bitter winter months since November primarily at the camps pitched against the Dakota Access Pipeline.
"I won't diminish anyone's struggle," Iron Eyes said. "I will be honored to stand next to them. They gave up their lives, their families, their comforts, jobs, college, they traveled thousands of miles with the clothes on their backs, they have sacrificed and they are ready to face the enemy.
"This is an unarmed revolution."
Iron Eyes' wife, Dr. Sara Jumping Eagle, was found guilty on the misdemeanor charge of disorderly conduct in Morton County District Court around the same time her husband was arrested Wednesday. Her charge stemmed from early August when Standing Rock Sioux Tribe Chairman Dave Archambault II was also arrested. Motions to consider free speech rights and change of venue were denied.
"I think we did not really expect much from Morton County trial, but we gave it our best," Jumping Eagle said. Jumping Eagle is a pediatrician and the clinical director at Fort Yates Hospital. "A lot of us are feeling a bit of relief that this is over for now. We all have suspended sentences, some people received fines."
Since August, a total of 696 arrests have been made, according to Morton County Sheriff's Department.
On Tuesday, the Acting Secretary of the Army, Robert Speer, directed the U.S. Army Corps of Engineers to proceed with the easement needed under the Missouri River at Lake Oahe despite the pending environmental impact study, according to Senator John Hoeven, R-N.D.