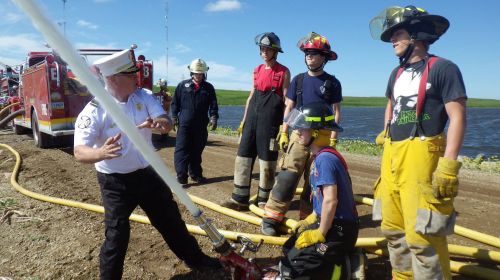 Former Medina Police Chief Darrell Graf was 23 years old when Gordon Wendell Kahl and his posse-men killed two and wounded three lawmen along rural Highway 30 outside of Medina. Kahl's son Yorie was also severely wounded during the shootout, and is currently in prison.
Graf attended Dr. Clarence Martin's Constitution Party meetings at the Medina clinic before the shootout in 1983, and listened to Kahl's speeches, finding some truth, including Kahl's belief that income taxes only go toward paying the national debt.
"The only reason I went to the meetings was to find out was going on with the farmers," Graf said. "The way the federal government came to our community was like they were the kings and we owed them something. The last thing I wanted to do was to get into a shootout with a farmer."
For the past 10 months current Congressman Kelly Armstrong has been an online member of a grassroots group promoting Constitutional interpretations shadowing anti-government movements called the North Dakota Constitutional Grassroots Group, or CGM.
Among other beliefs the group backs candidates who adhere to strict Constitutional interpretations, back a citizenry-led militia, who want an end to public schools, who believe Western civilization is in danger of annihilation, who desire a return to pre-1913 state taxation system, the repeal of the 16th Amendment of 1909, and limited immigration with the immediate deportation of law violators, among other goals.
Graf understood the group's desire for maintaining a citizen militia, but said racism - evident with the group's belief that Western civilization is currently in danger of disappearing - is not a part of his belief system.
"If the government would treat people like people, like small town cops treat people, there would be no need for a militia," Graf said. "But this government is like a steamroller. You can't stand up and say I want a fair shake, or say I want to do what is fair, and right, and just - because that steamroller is rolling and you will be pressed out dead before you ever get to first base. There needs to be a wake-up call to our government. I know a whole bunch of different ways have been tried, but we're dealing with a lying organization.
"They will tell a lie to cover up a lie to cover up another lie. There are different sets of laws in this country, some for some people and some for others.
"There is some crooked stuff going on, and well, government and crooked should be spelled the same way."
Struggling farmers – not militias – were the predecessors to Medina's shootout, Graf said. In 1983, Graf didn't know Kahl was wanted for tax evasion until three days before the confrontation.
"The name Posse was attached to this deal and it really wasn't, it really wasn't Posse," Graf said. "That was brought up and it was described what it was at that time it was in the federal Constitution and it was for anyone from 15 and 45 years old to support the sheriff, it had a different meaning. These tax protest people took this name on and ruined it. It had a good purpose, but they screwed it up. The Forefathers were thinking ahead of time as usual, but by mixing the tax movement into it, that wasn't right.
"There are people who still think the Posse Comitatus was a big thing here, and it wasn't. I don't think there were any members – including Gordon – was not a member because he didn't agree with some of their stuff."
Instead of spies and months-long investigations, or setting up roadblocks along county highways, law enforcement should first try "conference tables" when dealing with extremist groups, Graf said.
"I think as far as law enforcement should start attending the meetings and not undercover but go in with their uniforms on and say 'Hey, I am a concerned citizen about what's going on in America too.' I don't think it would slow anyone's rhetoric up, I think they'll say exactly what they want to say anyway."
Citizen-led militias have their use, Graf said, especially when protecting the 2nd Amendment. After serving as police chief in Medina, Graf turned to firefighting, and now has more than 40 years experience.
"As far as the militia I can understand what they're talking about and why they plan on holding their ground," Graf said. "If the United States government turns against the 2nd Amendment there will be a lot of problems in this country and I will be one of those problems. The best job then would be an undertaker because there will be a lot of use for one. If that game is played, look out America."
The North Dakota Constitutional Grassroots Group holds meetings pertaining to state sovereignty and Constitutional study groups at the New Song Church in Bismarck early on Saturday mornings, according to the church and political organization's Facebook pages.
Repeated efforts were made to contact the administrator of the North Dakota Constitutional Grassroots Group and the church in which they meet. No one responded to inquiries.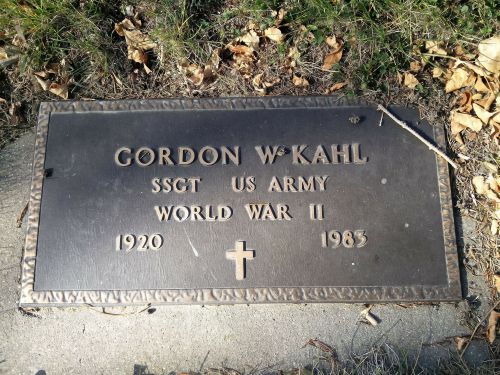 History of the Posse
Ideology such as a citizenry-led militia and no income taxes go back to the early 1970s and to the founder of the Posse Comitatus, William Potter Gale, born a short horse ride from Bismarck to Jewish parents. Formation of citizenry-led militias were justified because of federal intervention in education and schools, a corrupt Federal Reserve System, the graduated income tax, and 'unconstitutional' judiciary actions, attorney Daniel Levitas wrote in his book.
Keeping the federal government out of public schools, the polling booths, maintaining segregation, and fighting for state sovereignty can also be traced back to the 1878 Posse Comitatus Act, an attempt by Southern Democrats to keep federal marshals in the South from using troops to protect the lives of black citizens during Reconstruction, Levitas wrote. Ten centuries before the 19th century, the posse comitatus in common law was a group mobilized, usually under a sheriff, to confront lawbreakers.
"The Posse Comitatus Act [1898] was an exceptionally significant piece of legislation," Levitas wrote. "The Act was a symbolic and actual triumph for defiant Southerners who sought to undermine black rights, maintain white supremacy, overthrow Republican state governments, and establish 'home rule.' Passage of the Posse Comitatus Act was significant because it disempowered the federal marshals and gave white supremacists free reign."
So-called "patriot" groups have been surging back since 2008, according to the Southern Poverty Law Center. Two catalysts fueled the movement, which saw a 755 percent growth rate by 2012: the national economy going south and Barack Obama elected president.
"The swelling of the patriot movement since that time has been astounding," the Southern Poverty Law Center reported. "From 149 groups in 2008, the number of Patriot organizations skyrocketed to 512 in 2009, shot up again in 2010 to 824, and then last year [2011], jumped to 1,274."
Not all Patriot-minded groups are violent. Some seek the same change through politics, the Southern Poverty Law Center reported.
The FBI has little information pertaining to anti-government groups, defining them as extremists who believe that even though they physically reside in this country, they are separate or "sovereign" from the United States, differing from militias.
"Sovereign citizens are often confused with extremists from the militia movement," the FBI's description reported. "But while Sovereign Citizens sometimes use or buy illegal weapons, guns are secondary to their anti-government, anti-tax beliefs. On the other hand, guns and paramilitary training are paramount to militia groups."
Such a statement by the FBI reveals that government's overall knowledge about such groups is lacking, according to a 2016 Naval Postgraduate School thesis paper by Brian S. Slater.
"The last segment of the FBI's Sovereign Citizen description gives reason for concern and demonstrates the lack of study in the field," Slater wrote. "A fixation on weapons does not make someone a terrorist or militia member, nor does the lack of a fixation on weapons prevent someone from becoming a terrorist. Moreover, as is discussed below, the tactics employed by Sovereign Citizens today were born from the militia movements. To claim that they are not related demonstrates a clear gap in research regarding the Sovereigns."
Gone aremost of the swastika-waving militants. Many white supremacist groups are attempting to normalize prejudice through legislation, benign-sounding names, flashy fliers, but a large percentage secretly support acts of terror such as the mosque shootings in Christchurch, New Zealand, according to leaked information from Identity Evropa's Discord chats and Daily Stormer chats.
"The so-called Christian right, paleo-conservatism, and other far-right movements exist in a symbiotic relationship with Nativism and white nationalism; and ideas and people flow between these movements, sometimes creating a whole that is bigger than its parts," the Institute for Research and Education on Human Rights reported.
Organizations such as the Posse Comitatus may have disbanded, but their members turned elsewhere, said Levitas, the Atlanta attorney and published author.
"You don't hear that many folks on the radical right these days screaming and yelling about the income tax," Levitas said. "They'll talk about IRS abuses, but the old refrain of the Posse Comitatus was about the income tax itself is unconstitutional. When Gordon Kahl killed those federal marshals because he had refused to pay his taxes and he was out on probation and they were bringing him in on probation violations."
Militias have existed in America since colonial days, but the citizen militia movement is defined as a paramilitary group that can be used offensively or defensively and seeks to "turn back the clock to a point in time that is perceived to have been better than the present," according to the book "Encyclopedia of Right-Wing Extremism in Modern American History" by Steven E. Atkins.
Militias recruit by appealing to people's senses regarding land use, property rights, banking foreclosures, bad economic times, gun control, abortion, education, and welfare, Atkins said. The militia movement seeks to roll back the Constitution to the original document and the first 10 amendments.
In the 1980s, Kahl and others used farmer angst over deflating crop prices and farm foreclosures to sow unrest. Farmers at that time attended meetings thinking that the Posse Comitatus, which means "power of the country" in Latin, were opportunities to speak about their troubles.
Today, the ongoing trade war is still hurting North Dakota farmers, and there is little hope the trade situation can be efficiently reversed once the "war" is over. North Dakota politicians have frequently petitioned Agriculture Secretary Sonny Perdue to provide assistance as quickly as possible to struggling farmers.
The North Dakota Constitutional Grassroots Movement is part of the nationwide Constitutional Grassroots Movement, which supports the North Dakota Constitution Party, according to Facebook posts.
The Constitution Party is a far right ideological group that Posse Comitatus leader James Wickstrom joined to run for elected office in the 1980s, according to Levitas's book.
A year before North Dakota Posse member Gordon Kahl participated in killing two U.S. Marshals and fled, Wickstrom begin preaching fiery sermons while running for governor of Wisconsin. He used the February 13, 1983 incident to vault to national prominence establishing himself as a Posse leader with racist rhetoric, patriotism, theocratic beliefs, and a champion of ordinary farmers and working people.
Posse Comitatus and the Constitution Party have deep roots in North Dakota, and worked hand in hand in the 1980s. The ripple effects spread to include local cult leader Gordon Winrod, a defrocked Lutheran minister, who served years imprisonment after kidnapping eight children. Winrod and Kahl also attended Christian Constitution Party meetings at the Medina clinic of Dr. Clarence Martin, which marshals were investigating at the time.
Kahl was a member of Dr. Clarence Martin's Constitution Party in Medina, which believed that state militias based on 'family units of honest citizens' for the security of a free state. The organization also believed in the unification of church and state, the Christian Identity, taxpayer resistance, and white supremacist messages.
Some of the people other than Congressman Kelly Armstrong the North Dakota Constitutional Grassroots Group endorsed are: Gary Emineth for the state Senate, Judge Roy Moore for the U.S. Senate in Alabama, David R. King for the Alabama Constitution Party, according to the group's Facebook page.
To learn more about the Institute on the Constitution follow this link to the third part in the series. To learn more about Congressman Kelly Armstrong's connection to the ND CGM follow this link.