Haisley Jo comes home
by C.S. Hagen | .(JavaScript must be enabled to view this email address) | News | September 12th, 2017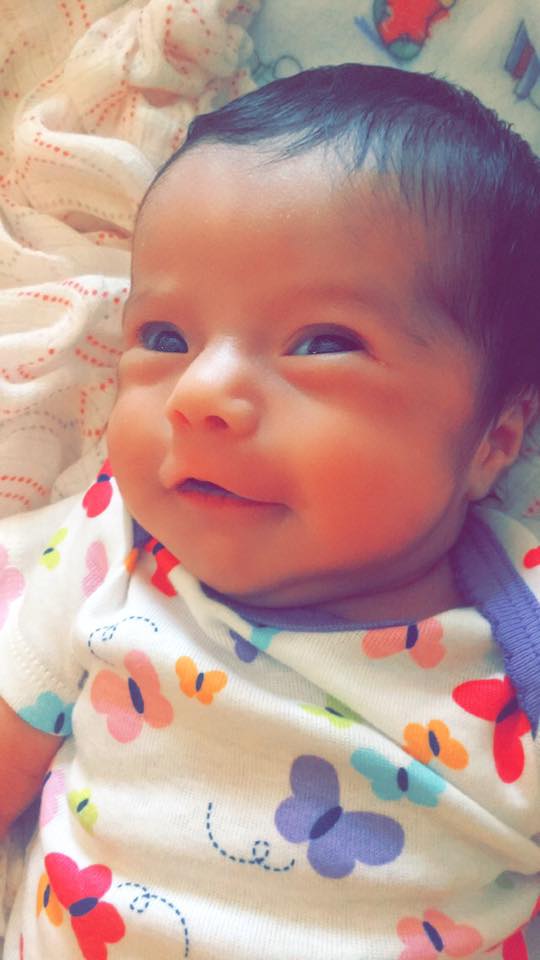 FARGO - Twenty-four days after baby Haisley Jo was brutally taken from Savanna Marie LaFontaine-Greywind, the infant girl returned home to her father.
Ashton Matheny, who according to DNA results released Monday is the father of the nearly one-month-old child, was awarded full legal custody of the baby, according to Krista Andrews, Matheny's attorney. The infant girl had been in the custody of Cass County Social Services during the legal process and DNA testing.
"She's good, she's a beautiful baby," Andrews said. "They're both doing well."
Haisley Jo was found in the care of Brooke Lynn Crews, 38, in the apartment she shared with William Henry Hoehn, 32, at Apartment 5, 2825 Ninth Street North. Both were arrested five days after Greywind - eight months pregnant with Haisley Jo at the time - went missing. The couple share identical charges of conspiracy to commit kidnapping, conspiracy to commit murder, and conspiracy to give false information to police.
Andrews, an attorney with Anderson, Bottrell, Sanden & Thompson, practices family law, and said that although authorities took nearly a month before returning Haisley Jo to her family, the case was unique and tragic, and Matheny retained custody immediately following the DNA test.
"Why so long is that social services, the courts, and everybody wanted to make sure they were doing the right thing," Andrews said. "It probably felt like it took longer than it did."
Greywind's body was found wrapped in plastic and duct tape in the Red River, according to police. Although Fargo Police Chief David Todd so far refuses to say that Greywind was the victim of fetal abduction, her death was a "cruel and vicious act of depravity," according to Todd.
Both suspects are being held in Cass County Jail under a $2 million bond. Crews' preliminary hearing is scheduled for September 28 at 1:30pm, and Hoehn for October 4 at 9am.
Little miracles
Neighbors of the Greywind family say Savanna's spirit is watching over them.
Sweet scents of burning sage waft from the apartment complex. Pictures, candles, and flowers now adorn the complex's front door and lawn.
Christopher Miranda and girlfriend Rhonda Grimli live on the floor between the Greywind's and the suspects' rooms, and discovered a stray boxer and pit bull mix over the Labor Day weekend at the apartment building. The dog was found by a neighbor, who gave the go-ahead to post a picture of the dog on Facebook.
Shortly afterward, the dog's owner replied, and was reunited with the dog, named Milton.
"I believe it was Savanna who brought him here," Miranda said. "It felt good, it was the first time really we felt good around here since this happened. The dog made me forget all this stuff that has been going on constantly in my mind."
To help the Greywind family, a local three-year-old sold more than $1,000 in lemonade for Haisley Jo. A Fargo North High School football game led a "miracle minute in honor of the Savanna Lafontaine-Greywind family," where cheerleaders collected $1,270 from fans to deposit into the family's registered bank account at US Bank, under the name of Haisley Jo.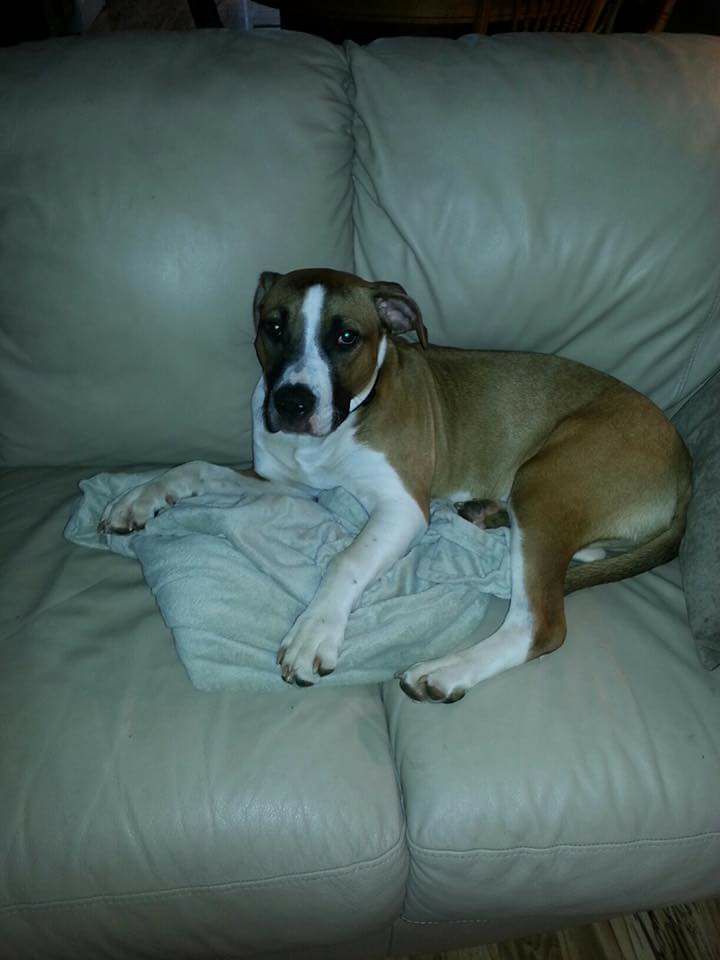 A young man named Skylor Charboneau took first place at a powwow over Labor Day Weekend and donated his winnings to the Greywind family.
An online petition to the City of Fargo to tear down the apartment building in which the Greywind family lived has already been signed by 2,250 petitioners.
Candlelight vigils have been held across the state as concerned citizens placed red light bulbs in their front porch sockets to honor the 22-year-old's memory. GoodBulb, Inc., which sold the bulbs for $5 apiece, donated $3,125 to the Haisley Jo Donation Fund.
Greywind began her nursing career in Devils Lake, and then transferred to Eventide in Fargo. She had been dating Ashton Matheny since her freshman year in high school, and the couple were looking forward to starting a family.
"All of Savanna's family and Ashton will miss her tremendously," Greywind's obituary stated.
Savanna is survived by her daughter, Haisley Jo, her parents, Norberta and Joe, her brothers and a sister, her grandparents, and nieces and nephews, the obituary reported.
"The pain I feel is like no other," Norberta said in a public Facebook post. "All my children are my world and the loss of my oldest daughter is very devastating. Just don't know how to pick myself up from this. So much guilt, anger just every emotion.
"I apologize if I shut out the ones closest to me along with everyone else. I'm sure I will continue to do that. It's just how I am dealing with this. Just want to thank my Lafontaine family for being there for my family from the beginning and I know you will continue to be there. I love every one of you.
"The Fargo community, Turtle Mountain, Spirit Lake communities, and the entire world have been so supportive.
"My goal is to fight for justice for Savanna. My baby did not deserve this. She was an amazing person, so much love to give and she was the rock of our family, her pregnancy was the most exciting time for us, to lose that and my grandbaby will never know her mother just tears me up."
Frustration
Many aspects of Greywind's case have frustrated family and friends. From the police investigation after her disappearance and consequent murder, to Haisley Jo's absence, to claims of people attempting to profit online from the tragedy, to the apartment Greywind and her boyfriend Matheny planned to rent.
When Greywind paid a deposit of $700 for an apartment across the street from where her family lives, no contract was prepared, family reported.
The property Greywind was planning to rent at 3013 10th Street North is owned by McIntosh Properties, LLC, according to the City of Fargo assessment information, and has an appraised value in 2017 of $572,400. Margaret McIntosh signed the receipt with Greywind in August.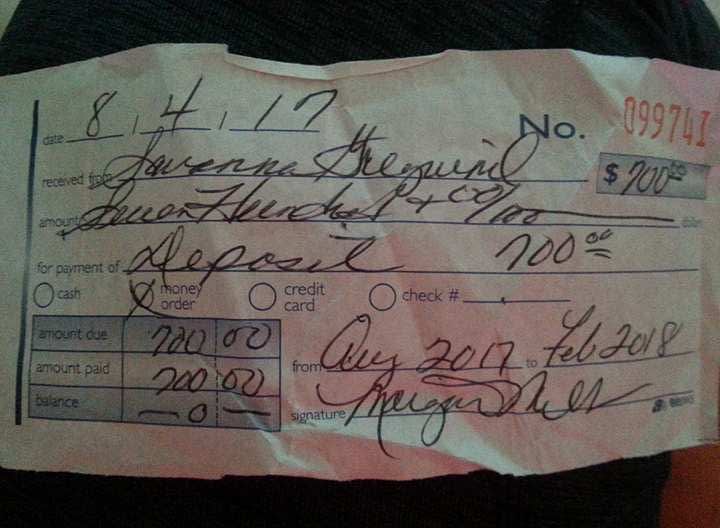 McIntosh Properties, LLC is active and in good standing, and is authorized to invest in, own, and manage real estate, according to the North Dakota Secretary of State. McIntosh is listed as the registered agent of the company.
The property, which has total square footage of 12,288 square feet, is listed as a 12-unit complex with an addition name of Cedarholm, and is legally authorized to be used as an apartment building. Taxes for 2016 of $7,674.46 have been paid, according to the City of Fargo assessment information.
North Dakota law states that landlords can require a prospective tenant to complete an application, and charge an application fee, which my not be refundable. The fee is typically used to cover the costs of checking a tenant's references, and an applicant can request a receipt for payment, which Greywind received. Such fees, however, are not considered security deposits.
An agreement between a landlord and tenant is a lease agreement, which can be oral or written. A lease is legally binding on both landlord and tenant and cannot be changed without both parties' consent.
"For the protection of both the landlord and tenant it is best that the lease agreement be in writing," the Legal Services of North Dakota stated.
Either party may terminate a lease agreement with at least one calendar month's written notice. Failure to give proper notice could result in loss of a security deposit.
A landlord also has the right to require a security deposit, which is what Greywind's family said she paid for. Her boyfriend's name was not included in the receipt as he was currently unemployed. Any security deposit must be returned to the tenant at the end of a lease within 30 days, or the tenant given a written accounting as to why the deposit was not returned. Disagreements are usually taken to Small Claims Court.
The Greywind family and supporters believe a special case should be made for Savanna Greywind, however, and the deposit should be returned.
McIntosh refused to answer questions regarding the situation, and hung up the telephone.
Although police no longer consider what was thought to be a crime scene on a farmstead in Clay County, Minnesota a place of former interest in connection to Greywind's murder, they're still asking the public for information. The police tip lines number has changed to (701) 241-5777.