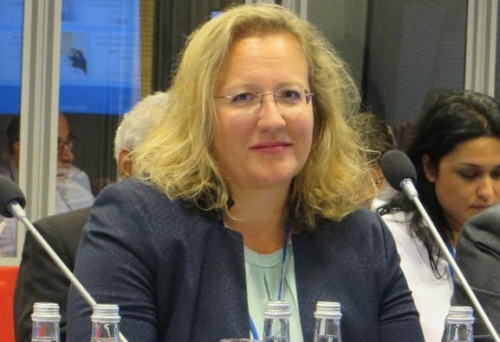 FARGO – A Bismarck pastor opened the city's arms to one of the world's leading "Alt-right" hate groups Saturday after inviting Elisabeth Sabaditsch-Wolff, an Austrian anti-Muslim activist, to speak.
Reverend John Boustead of Solomon's Rest in Bismarck, and his organization, called For Our Children.care, invited Wolff to speak on her belief that Sharia law is determined to end First Amendment rights in America.
The event, held at Quality Inn, 1030 E. Interstate Avenue, sparked protest among the Muslim community and concerned citizens from Bismarck to Fargo. In response, Bismarck residents Eichelle Marie and Reilly Hedegaard organized an impromptu peaceful rally, which met outside the hotel, with speakers, brownies, and hot chocolate, in an effort to provide an alternative narrative to the "Alt-right" position, Marie said.
The event was free and open to the public, but registration with photo identification was mandatory at the door. Hotel management was contacted for comment, but no one replied or returned telephone calls.
Wolff, known as a Viennese housewife and anti-Jihad activist, paid fines after being convicted of hate speech against Muslims and "denigrating religious beliefs" in her home country, Austria, in 2011. She has a direct line to President Donald Trump through Kansas Secretary of State Kris Kobach, an advisor to the President. Her articles are frequently published in "Alt-right" online media such as "The Counter Jihad Report."
Wolff is also frequently supported by ACT for America, an anti-Islamic and pro-Trump advocacy group, listed as one of the Southern Poverty Law Center's hate groups for its vehement anti-Muslim rhetoric. ACT for America was founded in 2007, and with reportedly 750,000 members is one of the largest of such groups in the U.S.
"Dear Patriots… Elisabeth is an Austrian human rights and anti-Sharia activist," the For Our Children press release stated. "She recently led an international team, including five Americans, to Warsaw, Poland, to protect and defend our freedom of speech from powerful, malevolent forces that seek to implement blasphemy laws globally, according to Islamic (Sharia) law. Her talk on December 2 will focus on this and the ongoing crisis in Europe, and how these issues affect the American people."
Wolff marched with 75,000 skinheads, anti-Semites, nationalists and fascists in Warsaw on Poland's Independence Day. The peaceful march promoted the exclusion of all minorities and everyone not Polish enough, according to news sources.
"The Western public is being manipulated into supporting the migration of fighting-age Muslim men into Europe," Wolff said on her website. "There are already far too many Muslims in the ranks of the military in France and Britain. What will happen when the tipping point is finally reached, and the sleeper cells are activated?"
Wolff is also known for using conspiracy theories and fear-mongering tactics, according to the Southern Poverty Law Center, frequently saying Muslims, backed by liberals, are responsible for infiltrating all levels of world governments and militaries. She has also called the prophet Mohammed a pedophile, according to the Austrian Independent.
Boustead, a senior pastor at Solomon's Rest in Bismarck, and the founder of For Our Children.care, was one of the people who spoke out against SB2252, an anti-discrimination bill, saying the proposal would "permanently affect the moral direction of North Dakota."
He believes in strong state autonomy, unfettered by federal regulations. "We must admit that the federal government has become incompetent in its duty to the American people," Boustead said on For Our Children.care. "Therefore, we must oppose unjust and unconstitutional federal laws, as this is to betterment of our citizens."
The reverend also says he only recognizes the U.S. Constitution's jurisdictions within the nation and North Dakota. "Any foreign legal systems or forms of government will not be acknowledged, recognized, or allowed power in the United States or North Dakota. This includes the United Nations, Communism, or Islamic Sharia Law."
By Saturday afternoon, For Our Children.care's Facebook page had 71 likes and 77 followers.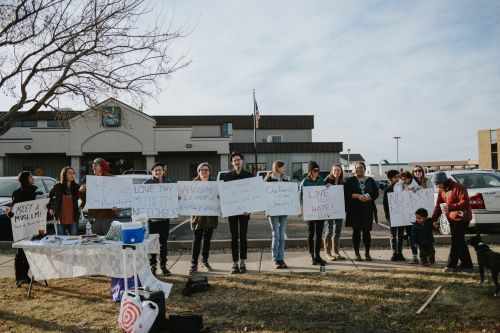 Bismarck residents who helped organize the counter protest said Bismarck is an inclusive city, and will not change. Organizers released a statement condemning the meeting, which included the following:
"As anti-Arab and anti-Muslim sentiment grow every day across the US and in our own state of ND, evidenced by various xenophobic events and violent hate crimes perpetrated on Muslims and anyone with similar skin color or dress, we, a broad coalition of individuals, families, human rights activists, faith groups (of all kinds), health workers, university faculty, want to respond in solidarity with our Muslim community members by saying, We are not afraid.
"We see through the obfuscation of the 'free speech' activism and now call xenophobia for what it is. Muslim and Arab communities are deserving of the same respect, rights, freedoms, and security that all humans desire. We are not afraid. We are not afraid of people who don't look like us. We value ethnic diversity. We are better when we learn how people of diverse backgrounds live and thrive in our world.
"We are not afraid of people who believe things differently than us. We value diversity of thought. We are better when we consider opinions and viewpoints that aren't quite like our own. We are not afraid of people who speak different languages. We value diversity of speech and language. We are better when we understand how speech and language create rich culture, community, and systems of knowledge.
"We are not afraid of people who worship differently than us. We value diversity and freedom of worship. We are better when we, as diverse secular and faith groups, come together to build a better world."
Fargoan Barry Nelson, of the North Dakota Human Rights Coalition, condemned Boustead's meeting, by saying hate rhetoric from anyone, especially from a person convicted of a hate crime, is wrong, but also dangerous.
"North Dakota Human Rights Coalition works actively to make sure that all people in the state can realize and appreciate all rights that are inherent in them being human," Nelson said. "It is very disturbing when local groups, when local so-called Christian churches actively promote this hate rhetoric by sponsoring an individual who has been convicted of hate crimes in her own country, Austria.
"NDHRC encourages all residents to stand in solidarity and support of our Muslim brothers and sisters, our Muslim neighbors and family members. Only when we can come together in understanding and respect can the divisiveness, fear and hatred actively being sown by the likes of Elisabeth Sabaditsch-Wolff and the local organizers be overturned."