FARGO – Six months after receiving a more than four-year sentence, Betty Jo Krenz was released to a minimum-security rehabilitation center.
Krenz, 48, of Woodworth, pleaded guilty in January under the Alford plea, which means she acknowledged there was enough evidence to be convicted, but refused to admit to felony theft of property involving faking adoptions of Native children.
Krenz was released to the Centre in Fargo, or Centre, Inc., according to the North Dakota Department of Corrections and Rehabilitation records. The Centre, Inc. is a private nonprofit facility that provides transitional living facilities for pre-release adults, helping inmates through substance abuse, home detention services, day reporting, community service programs, and job placement, according to the Centre in Fargo's website.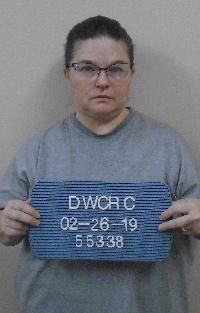 Krenz attempted to sell Jodie Blackboy's daughter, Julissa, without Blackboy's knowledge to Autym Burke, a victim from Oregon. Krenz's release from prison also upset her own daughter, Amber Schulz.
"I am sick of the justice system," Schulz said on Facebook. "She is a con artist. She is manipulating and she has not received the help she has needed. I have been told women's prison here in ND is overloaded, they took someone they considered 'low risk' and put them in a treatment center and back to the community. Anybody that truly knows Betty, knows she may not be violent, but she's high risk for the community."
Joshua Helmer, the executive director of the Centre, Inc. wouldn't confirm that Krenz had been transferred.
"Since our facilities are also treatment facilities, there are steps we need to go through to confirm or deny a person's status within our program and or to speak in regards to the circumstances surrounding them being referred to our facility/program," Helmer said. "The first step, if that person is in one of our programs, would be to contact the referral source and inform them of the news media inquiry/request and get direction on how to process your request."
Generally speaking not all residents at the Centre, Inc., are considered inmates, Helmer said.
"Most of our residents are permitted to leave the facility for employment, school, and other approved appointments/activites," Helmer said. "There are strict accountability, sign out requirements that are monitored by staff. We conduct telephone and in person checks on residents when signed out in the community."
Krenz was a former caseworker for the Spirit Lake Tribal Social Services until she was fired in 2011. She made national headlines about her work, including a 2014 campaign advertisement approved by Senator Kevin Cramer, and by speaking at a congressional subcommittee involving Cramer about her work at Spirit Lake.
During the time she was involved in faking adoptions, she frequently mentioned Cramer, and U.S. Secretary of Housing and Urban Development, Ben Carson, according to Autym Burke. Burke initially paid Krenz $1,800 in adoption fees, which were later mostly paid back.
Krenz was also a nominee for the 2017 L'Oreal Paris Women of Worth Award, but was not selected, according to L'Oreal management staff. She has a long criminal record involving forgery and writing bad checks, both under her current surname and former surname, Edland, according to North Dakota court records.
On September 27, 2017, the Spirit Lake Tribal Council banned Krenz from entering the Spirit Lake Reservation, tribal administration reported.
"It's disturbing to know that she did not and will not receive any consequences to her actions and will not get any treatment for her," Schulz said. "The victims get less rights than the convicted do as we get conflicting answers and will never get to see justice to what she has done to all her victims. She is already harassing the public. She is already back into her circle of manipulation and conning. It's only a matter of time again."
Why Krenz was moved or has received preferential treatment was not clear, but Michelle Linster, the public information officer for the North Dakota Department of Corrections and Rehabilitation, said Krenz arrived from the Dakota Women's Correctional and Rehabilitation Center.
"Ms. Krenz is currently serving for theft of property," Linster said. "The ND DOCR has an obligation to place individuals in their custody with the least restrictive environment where public safety is concerned."
The women's Centre, Inc. facility in South Fargo resembles a modern condominium or small hotel. The front door is locked, and visitors have to be buzzed in.
Autym Burke said Krenz's transfer was more than disappointing.
"I actually have seen some of her correspondence with people through text," Burke said. "She's up to the same old things. Trying to manipulate people to help her get some creature comforts while she is in there. It's sad really. Here we all thought we had really done some good having her removed from society for awhile. We felt like morally we did some good there. Maybe protecting others. But now she has access to everything she needs and has used historically (phones, computers, social media) to victimize people. It's just sad to me. Sad and disappointing really."
"The only justice we get is her being publicly shamed," Amber Schulz said. "And quite honestly, I don't know if that is enough for me. After 30 years of this… you just learn how to deal with it I guess and I learn how to deal with it by being open about it."