​NORTH DAKOTA ECONOMIC PICTURE DIMS
by Chris Hennen | .(JavaScript must be enabled to view this email address) | News | April 13th, 2016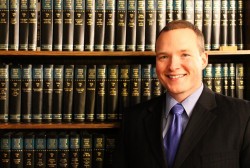 This week, North Dakota Tax Commissioner Ryan Rauschenberger announced that taxable sales and purchases in the state are down 19% to $22.9 billion, the lowest total since 2011, affected no doubt by low oil prices. This follows a $1 billion budget shortfall which resulted in agency-­wide cuts in state government and a recent rejection by Governor Jack Dalrymple to calls from Democrats for a special session to deal with all of this. High Plains Reader caught up with ND Senate Minority Leader Mac Schneider (D ­ Grand Forks) to get his reaction to all of this news and get his thoughts on how this may affect things moving forward.
HPR: What is your reaction to taxable sales and purchases numbers being down 19% in North Dakota in 2015 from 2014?
Mac Schneider: I think it's another reminder that we need to continue efforts to diversify our economy, because our state budget currently is far too dependent on the price of one commodity in particular and commodities in general. Obviously that one commodity being the price of oil, and farm commodities certainly play a role in our state budget as well. It's obviously a ripple effect, you see a downturn in the oil industry, you see a decline in commodity prices, that means fewer entities buying frac sand, fewer farmers buying agriculture implements and so that's where you see the decrease in taxable sales. Again, it's a reminder we need to continue to invest in education, continue to invest in our workforce, to make sure that we have a broad-­based economy that is more capable of containing swings in the commodity prices, in the commodities markets.
I think we can do a better job too of insulating our budget from these swings in revenue. The resolution I introduced last session would've called for a deeper look at how we can respond to revenue volatility. For instance, taking some of these reserve funds which are numerous and possibly consolidating some, maybe beefing up others. I think we are seeing clearly that the budget stabilization fund, which is now pretty much depleted, could probably be beefed up in future sessions for purposes of weathering these downturns in the price of oil and low commodity prices and agriculture commodity prices.
HPR: Do you think this is another sign that the oil boom is dead in the state?
MS: I think the Bakken is going to be a long­term resource for the state of North Dakota that is going to generate economic activity for years to come. Oil is a commodity; prices go up, prices go down, and in large part that is something that is out of our control as state policy. We are a small ship on a rocky geo­political scene when it comes to oil prices. What we've seen is the price of oil go down in response to the Saudis essentially flooding the market, saying that they're no longer going to lose market share to American shale producers and they are going to step on the gas in terms of production.
We don't have authority over decisions that are made in Riyadh; the best that we can do is control how we react to those kind of decisions and I think that's where taking a look at revenue volatility, how our state budget can best respond to these kind of swings that happen all the time when it comes to commodities, that's what we should be focused on as policymakers.
HPR: What did you make of the Governor's decision to reject calls for a special session to deal with the budget issues?
MS: It's very disappointing. This is really the first downturn that we've seen since the oil and hydraulic fracturing boom. The budget process that's in place, this allotment process is really a 1980s solution to a 2016 problem. What we've seen as part of the allotment process is that hundreds of millions of dollars in cuts have occurred across the board on an agency by agency basis. There's not the ability to thoughtfully adjust budgets one by one, and in part that's the legislature's fault. The legislature could have and should have saved a handful of legislative days so that we could bring ourselves back into session and make those adjustments on a budget-­by-­budget basis rather than just sitting idly by as more allotments take hold.
I wish we didn't have to go to the Governor to ask for a special session but because the Legislative majority essentially frittered away four of the five legislative days in a fight over the Public Employee's retirement system bill, we don't have the option to call ourselves back into session, so we had to turn to the Governor and had to ask him to call a special session.
He declined. I think that was the wrong decision for several different reasons. One, it threatens ongoing property tax relief, the 12% property tax credit that's subject to an allotment. Might there be enough money to sustain that 12% credit even in the face of the allotments? Maybe yes, maybe no, but the way valuations are going up, it certainly results in a lot of uncertainty for homeowners and local governments who will be left holding the bag if the state doesn't meet its commitment to fund that 12% property tax credit, so there's one justification for a special session.
The other is that a lot of these cuts, especially the ones that were made within the Department of Human Services, threaten tens of millions of dollars in federal matching funds, that go to rural hospitals and urban hospitals for that matter, and they go to entities that help individuals with developmental disabilities live independently. Matching dollars that go to long­term care facilities in the state, so really those entities were counting on federal matching funds. This is being hit two times over ­­ they lose the state funding and they also lose the federal match. I don't think any sensible legislator, had we been in session, would have voted for those kinds of cuts. But those are exactly the kinds of cuts that we are seeing under this automatic allotment process which is just highly flawed in North Dakota's area of revenue.
HPR: What do you think will be the major consequences of waiting until the next session to deal with this?
MS: You talk about the matching funds, I want to talk about some of the funds that aren't matched with the Department of Human Services that are going to be subject to cuts. For the sake of perspective, these are all priorities which were voted on by a majority of the Legislature, so these are not pet projects of Democrats or one party or the other. These are priorities that were funded. Some of them serve absolutely critical needs.
Additional funding for the Robinson Recovery Center that literally saves lives, helps people that are dealing with addiction to drugs as powerful as heroin and opiates, that additional funding has been cut as part of the allotment process. That is deeply disconcerting, especially in the wake of the tragic heroin overdose deaths that we've seen in the Fargo/­Moorhead area. I think that is a serious consequence for those who are seeking access to treatment for addiction.
Same goes for those who are seeking access to assistance for mental health needs. There's a voucher program that was funded by the Legislature in 2015, that provides access to care for seriously mentally ill individuals across the state, regardless of where they are or whether they are in the four big cities. That has been cut back as well, again without a vote of anyone with this automatic budget process. So those are cuts that fall most heavily on some of the most vulnerable in our state and the very people who are least able to bear the burden of those cuts.
HPR: You recently had your state party convention where you picked your statewide candidates, we of course will have Legislative races coming up here too in addition to the Governor's race in November, how much of this do you expect to be a part of the campaign in showing the differences between either side?
MS: The reason why we called a special session was to address these policy concerns, giving up tens of millions of dollars in matching funds, making sure that we honor our commitments to property tax relief, providing assistance to individuals who are looking for lifelines whether they are suffering from addiction or mental health issues. That was not a political calculation, that was a matter of making the right policy choices for North Dakota citizens.
That said, we are absolutely excited by who we have running for the Legislature. We have 20 out of 23 Senate races filled. That is the most races that have been filled since I have been in the Legislature. So we are going to be competing and making the case for political balance in Bismarck and across the state, all four corners. We think that whether calling for a revenue volatility study, looking for ways that we could avoid this situation, calling for backup budgeting, opposing the very flawed and overly rushed cut to the oil extraction tax, that we've proven we have the ideas that would more effectively govern North Dakota. Our candidates will be making that case as they go door to door in the neighborhoods across the state this Fall.