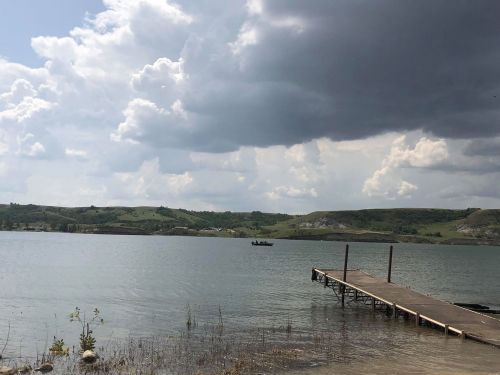 NEW TOWN – Winter's ice thawed months ago on the Fort Berthold Reservation, but no water search was conducted until last week when volunteers using sonar discovered a pickup truck in Lake Sakakawea that Olivia Lone Bear was seen driving.
Olivia Keri Lone Bear, 32, disappeared nearly nine months ago, and was last seen outside the Sportsman Bar on October 26 driving a teal 2011 Chevy Silverado, license plate 839 BRC, with a silver toolbox in the bed. The truck was pulled from Lake Sakakawea on Tuesday, according to authorities, and a female body was found inside.
Jim Hofhenke, an oil field worker and a friend of Lone Bear, said during an interview last year that Lone Bear borrowed the truck from him before her disappearance.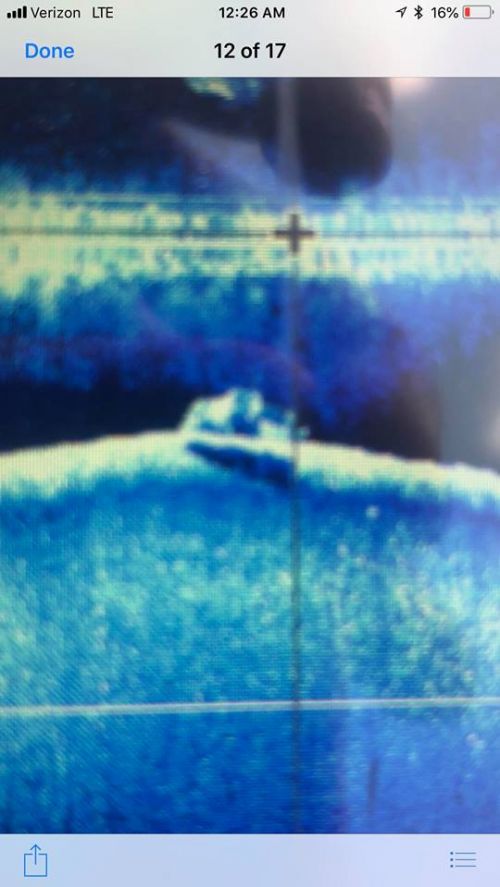 Lissa Yellowbird-Chase, founder of Sahnish Scouts of North Dakota, said she discovered the truck using sonar in her investigative organization's 14-foot outboard motor boat in Sanish Bay. She made the discovery last week in 31 feet of water, near a boat dock approximately a quarter mile from Lone Bear's father's house. She then alerted authorities who pulled the vehicle out of the lake late Tuesday.
She watched as the truck was pulled out of the lake Tuesday night.
"I wanted to hit that bay the minute Olivia went missing," Yellowbird-Chase said. "She was in it, it's unofficial though, they told the family that there was a female in there, but can't be official until there is autopsy."
Matthew Lone Bear, Olivia's brother, posted late Wednesday afternoon that the body inside the truck was Olivia.
Melaine Stoneman, a Sicangu Lakota woman from the Rosebud Tribe, who ran logistics and coordinated meals and timelines for the Sahnish Scouts of North Dakota, also watched as authorities pulled the truck from Lake Sakakawea.
"When they pulled the truck out of the water, we already knew the divers knew a body was in there," Stoneman said. "They cut off traffic, they put their lights on, Game, Fish & Park came whizzing by, and they already had family there, on their knees crying."
With help from a mentor and friend, Yellowbird-Chase searched Lake Sakakawea last November, and knew where to start searching once her boat, which was having motor problems, was useable. For days, Yellowbird-Chase and volunteers withstood direct sunlight, summer heat, not knowing where their next meal or shower would come from, or where they might spend the night.
"We were on a budget and I was trying to do what I could," Yellowbird-Chase said. "It's called determination; a girl [Lone Bear] needed to go home. We really believed we were going to find her and it paid off."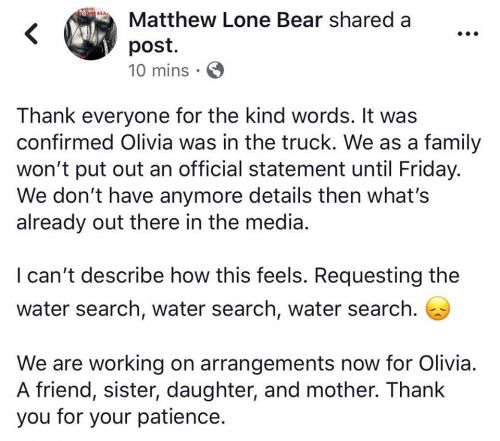 At times local residents provided food and hot showers, and helped wash clothes.
After finding the vehicle, her mentor advised her to keep photographing from every angle possible. "We were out there for days, taking pictures, taking pictures, and sending them. She was right there all this time, and I told them that. As soon as we got over there, boom, we flipped the sonar on and we picked it up."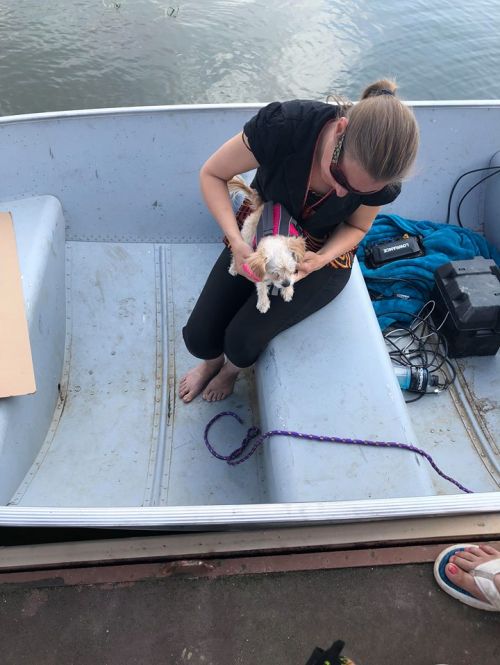 Searches last November were hampered by ice, and by the lack of a boat, she said.
Lone Bear, a mother of five who reportedly loved her children, wasn't married, and was described as someone who liked to have a good time, but was also having employment issues. According to volunteer searchers, Lone Bear left her cell phone, her wallet, and a note on her bedroom dresser before disappearing.
Since mid July, representatives from the Mountrail County Sheriff's Office, Tribal Police, and an agent from the Bureau of Indian Affairs were working on finding Lone Bear, according to Matthew Lone Bear. Matthew could not be reached for further comment.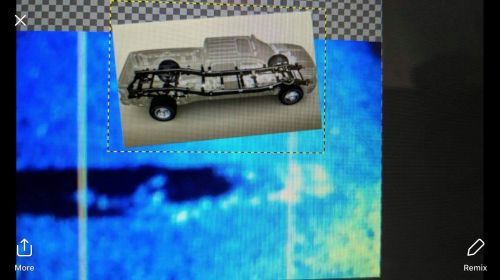 Yellowbird-Chase said that cooperation between investigative agencies was improving.
"It was a collaborative effort from all these people that took ten months," Yellowbird-Chase said. "The thing I find magical is that you can clearly see in this case that a lot of people involved in this effort left their egos at the door."
Melaine Stoneman gave credit to Yellowbird-Chase's persistence when some in the area did not want her searching Sahnish Bay, she said. Yellowbird-Chase gave credit to the agencies and the volunteers involved.
"A lot of the credit goes toward Lissa, you know how it goes, we were barely making it," Stoneman said.
"If I was to add to this is that it's all about a spiritual movement and not giving up, always having the hope and faith and prayer. Olivia led us to her, she presented herself on a spiritual level, because she came to us in our dreams. I had a dream and it had to do with an embankment."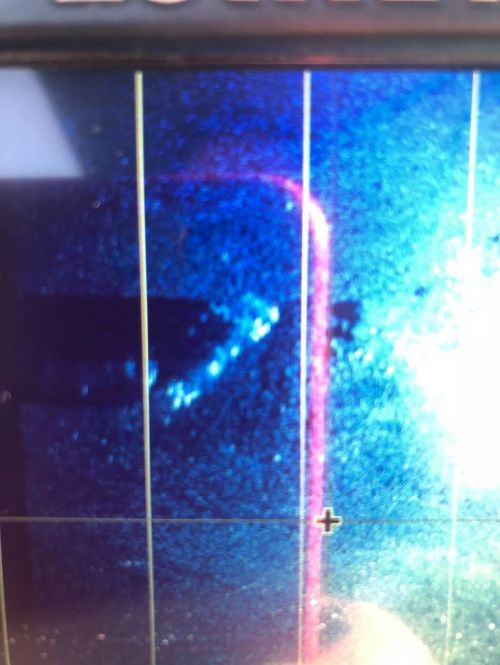 While taking pictures from the bank with Yellowbird-Chase over the spot the pickup truck was found, her camera stopped working. Another boater with sonar trying to help had his equipment break down over the same spot. Yellowbird-Chase's original boat motor, hardly used, also broke down during the search.
Authorities would not confirm if the body inside the truck belonged to Lone Bear, and at this time could not report if foul play was involved.
"I'm happy she's on her way home," Yellowbird-Chase said. "Those little kids, that's what bothered me, her kids not knowing. I'm a mom, I couldn't imagine my kids not knowing."
With dozens more cases of missing and murdered Indigenous people, Yellowbird-Chase is heading out to the next search soon.
"We are going to continue on to search," Stoneman said.
[Editor's note: this story was updated after family confirmed the body inside the truck was Olivia Lone Bear.]