​Plea bargain struck in Minnesota MMIW case
News | March 27th, 2018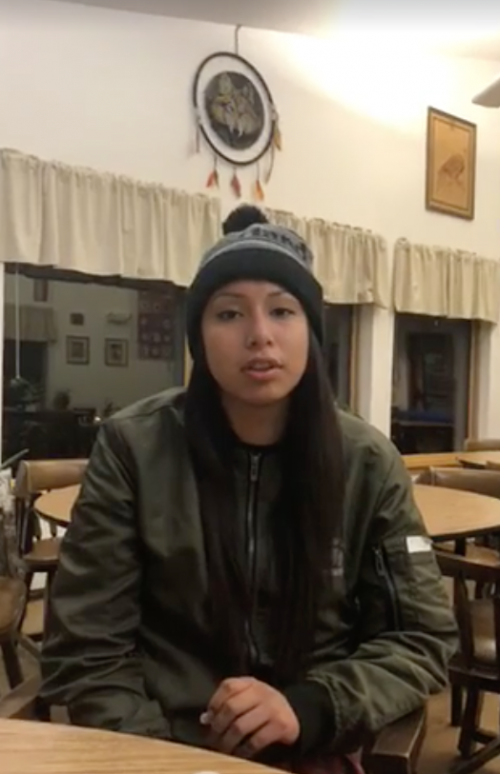 ST. PAUL – The case of a man charged with multiple counts – including kidnapping and strangulation assault – against an Indigenous woman, will not be going to trial.
On Monday, Derrick Jonathan Fasig, 24, pled guilty to felony kidnapping, but not guilty to four other charges of third degree criminal sex conduct – forced or coerced, possession of ammunition and a firearm, felony domestic assault, and domestic assault by strangulation, according to Ramsey County District Court records.
Laycie Jean Williams, the reported victim, met Fasig while protesting the Dakota Access Pipeline at Oceti Sakowin, or the Standing Rock camps, she said. Williams claimed that she was raped and beaten, threatened with a knife, strangled, and forced to kneel on a broom after the protests ended when she traveled to St. Paul en route to another pipeline protest in northern Minnesota.
"He admitted to everything he did and took the plea agreement for kidnapping," Williams, a registered member of the Crow Creek Tribe, said. "Made me feel good that he took responsibility for what he did. He wasn't remorseful, but I wasn't expecting him to be. It's a type of emotional freedom. It's going to be a long healing process to feel content. It wasn't easy going there to face him face-to-face, but I want to be the strong example for every other women who's scared to speak up."
Williams' mother, Melaine Stoneman, a Sicangu Lakota woman from the Rosebud Tribe, believes Fasig should face rape charges.
"I can tell you that's what has happened so far was truly detrimental in moving forward," Stoneman said in a Facebook live feed. "It's not over. There were also other women who were raped at camp."
Some women have spoken about their experiences; others wish to remain anonymous, fearing retribution or victim shaming.
"We had over 25 women raped at Oceti Sakowin," Stoneman, who worked as a chef at the Oceti Sakowin main camp kitchen, said.
Because victims were scared and activists at the camps believed police would not protect or serve them, the reported cases were kept internal, and not reported to the authorities, she said.
"In the near future, for those of you who have an agenda you should not be profiteering off Oceti Sakowin," Stoneman said. "We need to take Oceti Sakowin back, it's not made for this kind of dysfunction that is happening to our women."
Since Williams story was first published, many people have sent Stoneman messages trying to shame her, and her daughter, Stoneman said.
Fasig's sentencing is set for May 14, at 1:30 p.m., according to Ramsey County District Court records.
Shortly after Fasig pled guilty, Angelo Sison, co-founder of Withstand With Wolves, an environmental conservation organization near Cannonball, North Dakota, posted a live feed video to Facebook addressing men and missing and murdered Indigenous women.
"It's one thing to post a live feed, but it's another to walk in that way," Sison said. "My post earlier said that I will probably be losing some friends today, but I want to practice what I preach."
"This is more of a callout, this is more of a challenge for all the men including myself, we need to do better, we need to do so much better. Speak your truths… whether you lose friends or not, you have to stand for what's right."
Indigenous women in Indigenous communities are repeatedly targeted, and shamed, and silenced, he said.
"Society loves to point fingers at women who come forward with accusations," Sison said. "That's why a lot of women are scared. We as a society point our fingers at them and say they are lying, that they are trying to set someone up and frame them. We have to stop that.
"Men are a huge part of that problem. Stop victim shaming."
Men cannot know what women go through, he said, but he's seen the violence, he is guilty of keeping his mouth shut, but he has chosen to stop.
"I do stand with Laycie… stand for what's right," Sison said. "Stand for justice. Stand for all these voices that are often silenced. Stand for the people who have had their voices taken away, and as men we need to do so much better. We need to hold each other to a higher standard, as men. This is what our youth are looking at. We lead by example.
"This system wasn't built for us to strive or to succeed, and it makes it that much harder, but I don't want the youth, the young men of tomorrow to be statistics. I don't want them to be… we just need to do better as men. When we say respect women, when we say we honor them, we need to walk that walk.
"We have to admit when we are wrong, when we have done wrong to women."