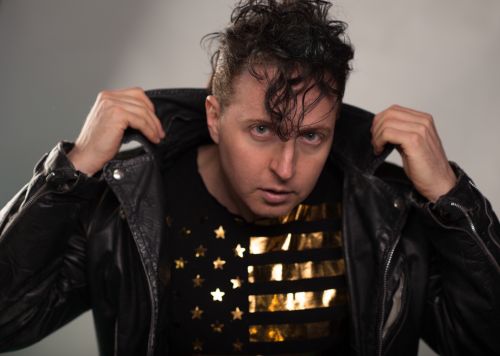 Minneapolis-based musician Mark Mallman is extremely prolific. Since his stint with short-lived band The Odd in 1998, he has released eight full-length studio albums, with the most recent being 2016's "The End is Not the End." He has a well-earned reputation as being one of the Twin Cities' must-see live acts and his own star on the wall outside First Avenue, and for good reason.
As well as prolifically recording albums since his debut almost two decades ago, there are points where he has performed 150 shows per year. He has composed music for films such as "Adventureland," "10,000 BC," and a 2007 remake of "The Hitcher." He has performed four uninterrupted music "Marathons" starting with a 26 hour long song titled "Marathon 1" in 1999 and going all the way to "Marathon IV: Road Rogue, an eight day, 150+ hour performance from New York to Los Angeles in the back of a van. He even operates his own music composition company in Minneapolis called Bermuda Music.
Mallman's musical resume is certainly long and varied. He has even been doing performances in Fargo since around 2006. However, his next visit to Fargo is not for a musical performance, but an absolute first for him: a book release. While he has a prior history of writing music articles, "The Happiness Playlist" is his first foray into writing a full length book, and has already started to receive its fair share of praise.
When asked if it was daunting making the transition from a field he is so clearly experienced in such as music to that of writing a book, Mallman admitted that it came with its own set of challenges. "There's a lot I didn't know about writing," said Mallman. He noted how he had to set goals for himself and have a basic outline of where he wanted the book to go or he would never get it finished. "I set out to write a book that I'd want to read," he said. Eventually he had written enough that he had reached what he called the tipping point, and told himself, "Well, I guess I have to finish this thing." Finish it he did, and he can now add author onto his long list of accomplishments.
"The Happiness Playlist" is a true story, a memoir of an incredibly difficult period in Mallman's life marked by the death of his mother, the end of a relationship, and the cold, unforgiving winter of the American Midwest. "It's a memoir about using positive music," said Mallman. "It's an up-tempo book about processing trauma." Over the course of six months, Mallman assembled a Spotify playlist full exclusively of feel-good songs which he listened to nonstop in order to help lift himself out of the dark pit of depression. "You can use music as medicine," said Mallman, noting that while it doesn't necessarily "cure" what ails you it can go a long way in helping ameliorate the pain.
Mallman said that while it's not what the book is about, there is certainly a time and place for "unhappy music", noting that less upbeat music can be cathartic in its own way. "I go back and forth between major and minor key and usually gravitate toward minor key," he said, noting his appreciation for groups like Joy Division. However, he said, there is a point "where the s*** goes down" where it is ultimately in your best interest and best for your health to try to embrace unrelenting positivity.
His criteria for what was considered positive music for his therapeutic playlist was that the music had to help you "get out of your head". "You listen with your body, not your mind," he added. The playlist included a wide variety of music, with artists as diverse as Van Morrison, St. Vincent, Whitney Houston, and Junior Senior. You can even stream his "Happiness Playlist" on Spotify, but while The Happiness Playlist is his story, it also aims to help people compose their own "Happiness Playlist" to help come to terms with difficulty and loss in their own lives.
The reading of "The Happiness Playlist" is an all-ages event which will take place at Zandbroz in downtown Fargo. Plenty of copies of the book will be available for purchase and signing after the reading. As mentioned before, Mallman's first foray into writing is already garnering praise, as are his book readings, and from Fargo he plans to take his readings all the way out to Washington. You've probably heard plenty about the healing power of music, but "The Happiness Playlist" promises an intensely personal yet universal proof of that truth.
IF YOU GO:
An Evening with author and musician Mark Mallman
Saturday, October 12, 6:30-8 p.m.
Zandbroz Variety, 420 N Broadway, Fargo